ЗНАКОМСТВА
КРАСОТА
ЗДОРОВЬЕ
ТУРИЗМ
АВТОНОВОСТИ
НОВОСТИ СПОРТА
Road markings applied to the backbone of Vladivostok
Brigades of the municipal enterprise "Roads Vladivostok" continue to update the markup on the streets. On busy highways works are carried out at night, when the volume of traffic subsides.
Last night, the road markings applied to Vsevolod Sibirtseva (Avenue Beauty) on the rise of Gogol Street to the funicular, "zebra" appeared intersection of the Aleutian - Semyonov, fountains - Aleutian.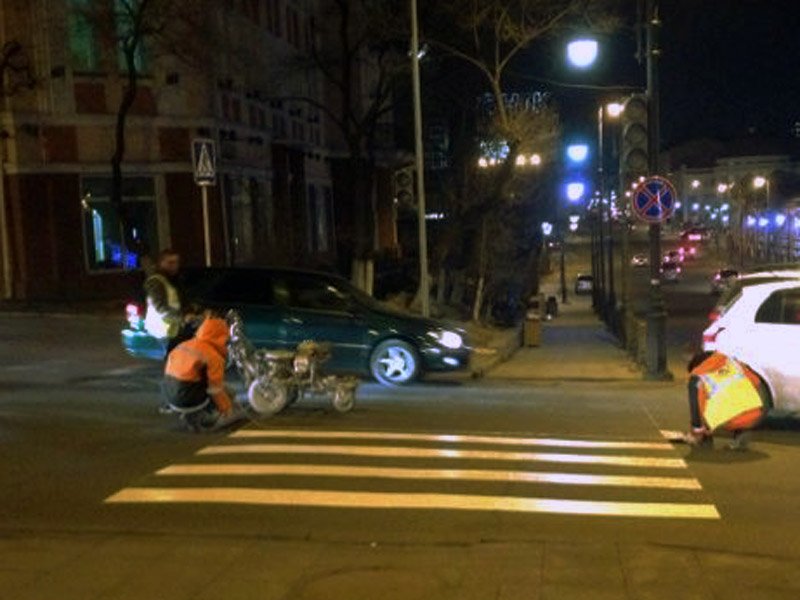 As reported by the Department of Road Safety MUPV "Roads of Vladivostok," today, April 27 marking the type 1141 "Zebra" will be applied on the street Oleg Koshevogo, Sukhanov, Lutsk, the Ocean Avenue.

5-04-2013, 02:30, eng news
Generally supported the bill, the Russian government to make a few comments......

10-07-2013, 14:32, eng news
Work continues in the schools number number 4856591166. And also in kindergarten number 28 and number 140. In addition to aesthetics, this will help keep the heat in the institutions of the winter...
6-06-2013, 18:00, eng news
This decision came today participants of the working group under the leadership of Vladivostok mayor Igor Pushkarev on proposals of the Vladivostok city public organization of veterans of war,...
21-05-2013, 17:20, eng news
The chosen form of the preliminary internal party voting allows electors and national experts to not only get to know the candidates and their experience, but to get the full information about their...

23-08-2013, 22:17, eng news
There will be swings, sandpit, play and sports facilities, as well as benches for adults. Recall that the repair of surrounding territory is held in Vladivostok on behalf of the mayor Igor Pushkarev....

21-03-2013, 06:20, eng news
Head of housing maintenance and urban areas of the Administration of Vladivostok Leonid Wilczynski told about the fate of one of the busiest highways in Vladivostok. He said that the second Rudnevsky...

23-03-2013, 05:38, eng news
Interior Ministry investigators have opened a criminal case of fraud on a large scale in respect of LLC "GC" Control "Roman Barbashova and his accomplice Alexei Kudryavtsev......
13-06-2013, 17:00, eng news
Yesterday at the bar «Chkalov» an evening of poetry readings «Fiction. One year. Flight normal», dedicated to the anniversary of the updated project. The audience, flushed with half an hour waiting...

5-03-2013, 11:35, eng news
With the beginning of the year Dalnegorsk "Bor" produced 4300 tons of boric acid, and up to March the company plans to reach a mark 9000 tons......
12-06-2013, 12:15, eng news
On Tuesday 11 June, it was reported that voluntarily dismissed the deputy head of the administration of the city of Vladivostok Roman pocket. He supervised the work of the Department of International...