ЗНАКОМСТВА
КРАСОТА
ЗДОРОВЬЕ
ТУРИЗМ
АВТОНОВОСТИ
НОВОСТИ СПОРТА
Russia calls on North Korea to return to negotiations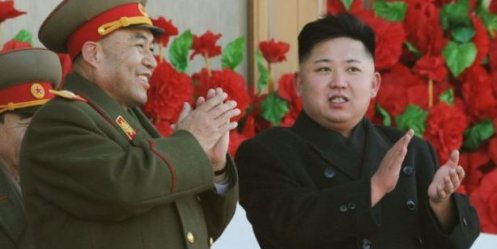 Photo: MFA RF

The deputy head of the Ministry of Foreign Affairs of Russia Igor Morgul meeting with DPRK Ambassador to Russia Kim Yong Jae urged North Korea to return to the negotiating table and to refrain from actions that could provoke an escalation of tensions in the region.

"North Korea were urged to refrain from actions that could lead to a further escalation of tensions, the unconditional compliance with the relevant UN Security Council resolutions and return to the format of a political and diplomatic settlement of the nuclear and other issues on the Korean Peninsula" - Noted in the text, posted on the Russian Foreign Ministry.
28-06-2013, 12:00, eng news
God be with her, with промокашкой - she really is gone. But I'm sure a lot more people today prefer reading paper books, rather than electronic, traditional Newspapers, not their version of the...
19-06-2013, 13:15, eng news
The morning of June 18 the dispatcher service, "01", it was reported that in the village of Olga lit a private home. On fire in the Primorye man died first firefighters arrived at the scene within 6...

6-09-2013, 18:00, eng news
The channel is blocked the sale of adulterated alcohol in the Primorye Territory. The police have established that alcohol was stored in a warehouse in the industrial area of Vladivostok. A large...

22-04-2013, 18:10, eng news
On stage, Mummy Troll Music Bar will perform the rising stars, creating new traditions of Russian music - the group IOWA. Their video for "Simple Song" and "Mama" can be seen on MTV, MUZ-TV, RU-TV,...
10-06-2013, 16:47, eng news
The Prosecutor's office of Terneisky Raion audited the enforcement of labour legislation in the activity of the enterprise - Пластунский plot Тернейского branch state enterprise of Primorsky Krai...
27-06-2013, 11:45, eng news
June 25 ZAO «Crocus international» - the General contractor of construction of the far Eastern state University on the Russky island transferred to the address of open society «ДВЭУК» more 107.6...

1-04-2013, 08:10, eng news
Tram and trolleybus depot Vladivostok decided to support the artist and offered him the position of the driver. Lagutenko did not even have to study, he had a few trips with the instructor TTP......

12-09-2013, 11:30, eng news
New marine species discovered by scientists of Primorye and Germany in the course of research in the Sea of Japan and in the Kurile-Kamchatka Trench, off the coast of the Kuril Islands. In two...

15-07-2013, 14:48, eng news
Workers have already installed the metal poles for fencing, now works on the installation of wooden boards. Ahead - painted boards, installation of mesh fencing and other work. According to experts,...

24-08-2013, 16:46, eng news
Governor Vladimir Miklushevsky talked with the students of the Far Eastern Federal University. Students asked the governor of a variety of issues - from devices on campus life to affect the scope...