ЗНАКОМСТВА
КРАСОТА
ЗДОРОВЬЕ
ТУРИЗМ
АВТОНОВОСТИ
НОВОСТИ СПОРТА
Russians dream of traveling to other countries, and resting at home -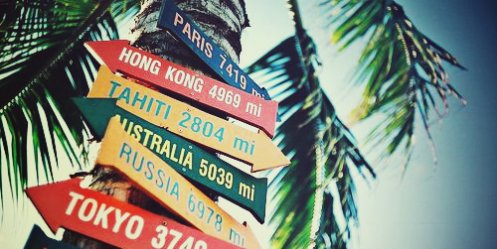 Photo: yes.com.ru

All-Russian Public Opinion Research Center (VTsIOM) presents data on what Russians prefer to holiday and how they plan to conduct the current summer vacation, how much money to spend on average expect those who intend to go on a trip somewhere.

When thinking about where they want to relax, Russians often dream of traveling abroad (33%), while holidaying at home would prefer to only 16%.

Beach Holidays - permanent leader preferences of Russians - 38% say it is a way to spend a vacation. In second place - cognitive rest (25% a year ago - 21%). A few less of those who prefer treatment in sanatoria (21%), rest homes (20%), hiking (17%). The least popular option - rest in sanatoriums and rest homes (10%).

According to his memoirs, the majority of Russians spent last summer at home (47%). The other most frequently selected to the country (25%), at least - to other cities of Russia, on the Black Sea coast (10%), abroad (8%), and only a few - in other places in the former Soviet Union (3%) or in the Baltic States (2%).

Most Russians believe that this year's holiday will be no better and no worse than a year ago (59%). But with each passing year more and more becoming those optimistic about the coming summer holidays (from 13% in 2009 to 24% in the current year).

In the current summer season, 45% of respondents intend to stay at home (last year the figure was 50%). One in five is going to rest in the country (22%). Less commonly, respondents have plans to go traveling - to other cities in Russia (11%), on the Black Sea coast (10%), overseas (9%), in other places in the former USSR (2%), in the Baltic States (1%) . Those who stay at home this summer, still tend to explain this lack of funds to travel (47%). Less valid reasons such as lack of holidays due to busy at work (12%), health (10%), as well as family circumstances and the lack of desire to go anywhere (7%), and employment of the household (4 %).

As for the rest of the summer, the 37% reported that their children will stay at home (a year ago - 42%). 17% of respondents reported that their children will spend holidays in the country (17%). 12% plan to send them to summer camp or took on vacation on the Black Sea coast of the Caucasus, 9% - to go with them to rest in a different place in Russia, 7% - abroad, 2% - in the CIS countries. The other report that the children will have a rest without them - on the territory of Russia (4%) and abroad (1%) or go hiking with other children (2%).

Respondents who are going to go somewhere to rest, plan to spend on a trip to an average rate of 27636 rubles per family member (a year ago - 27220). Thus, the rate of growth compared to last year was 2%.

27-08-2013, 18:31, eng news
As the organizer of the awards, leader of the "Patriot Primorye" Alexander Scheryakov, most recently in the region is more and more people who, each in itself, change the world around for the better....

4-04-2013, 12:30, eng news
Vladivostok arrested car thief hunted thefts in the village of Labor. The investigation revealed that almost all stolen cars seaside "Detochkin" later burned as useless. As the press-service of...

21-04-2013, 18:10, eng news
On the east coast of North Korea now has up to ten ballistic missiles of various types, including "Musudan" with a blast radius of up to 4 thousand kilometers......
22-05-2013, 13:30, eng news
May 21 of this year about a karaoke bar on Verkhneportovaya Vladivostok man opened fire from a traumatic weapons and killed one of the parties to the conflict. In Vladivostok, a man killed an...

30-05-2013, 18:30, eng news
Nakhodkinskaya customs officers using a mobile inspection and customs examination center, in a container in Japan have discovered undeclared minibus «TOYOTA HIACE». Annual salary of physicians will...
26-06-2013, 21:32, eng news
This was announced at the yesterday's session of the Primorsky Legislative Assembly. With a question on the adjustment of the budget in 2013 appealed to the deputies of the regional authorities....

6-03-2013, 02:58, eng news
In the last 64-kilometer high-speed site Houma - Mohe turned most serious fighting - its main Chinese rival Russian team ahead by no more than 20 seconds......

5-07-2013, 18:45, eng news
In the city of Vladivostok investigation check is conducted into the death of a fall in the hatch. In Vladivostok, a homeless person died after falling into a manhole July 5 this year in one of the...

30-04-2013, 17:10, eng news
April 29 about seven o'clock in the control room of the Ministry of Emergency Situations received a report that the burning cottage in the village of Barabash Khasan district of Primorye. 2 people...

3-04-2013, 05:30, eng news
The investigating authorities in Primorye have opened a criminal case against a resident Mikhailovsky district of Primorye. Primoretz raped a little girl April 2 this year, in a state of...