ЗНАКОМСТВА
КРАСОТА
ЗДОРОВЬЕ
ТУРИЗМ
АВТОНОВОСТИ
НОВОСТИ СПОРТА
Russians dream of traveling to other countries, and resting at home -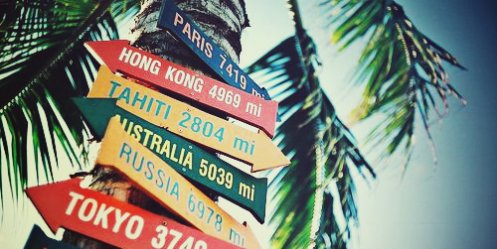 Photo: yes.com.ru

All-Russian Public Opinion Research Center (VTsIOM) presents data on what Russians prefer to holiday and how they plan to conduct the current summer vacation, how much money to spend on average expect those who intend to go on a trip somewhere.

When thinking about where they want to relax, Russians often dream of traveling abroad (33%), while holidaying at home would prefer to only 16%.

Beach Holidays - permanent leader preferences of Russians - 38% say it is a way to spend a vacation. In second place - cognitive rest (25% a year ago - 21%). A few less of those who prefer treatment in sanatoria (21%), rest homes (20%), hiking (17%). The least popular option - rest in sanatoriums and rest homes (10%).

According to his memoirs, the majority of Russians spent last summer at home (47%). The other most frequently selected to the country (25%), at least - to other cities of Russia, on the Black Sea coast (10%), abroad (8%), and only a few - in other places in the former Soviet Union (3%) or in the Baltic States (2%).

Most Russians believe that this year's holiday will be no better and no worse than a year ago (59%). But with each passing year more and more becoming those optimistic about the coming summer holidays (from 13% in 2009 to 24% in the current year).

In the current summer season, 45% of respondents intend to stay at home (last year the figure was 50%). One in five is going to rest in the country (22%). Less commonly, respondents have plans to go traveling - to other cities in Russia (11%), on the Black Sea coast (10%), overseas (9%), in other places in the former USSR (2%), in the Baltic States (1%) . Those who stay at home this summer, still tend to explain this lack of funds to travel (47%). Less valid reasons such as lack of holidays due to busy at work (12%), health (10%), as well as family circumstances and the lack of desire to go anywhere (7%), and employment of the household (4 %).

As for the rest of the summer, the 37% reported that their children will stay at home (a year ago - 42%). 17% of respondents reported that their children will spend holidays in the country (17%). 12% plan to send them to summer camp or took on vacation on the Black Sea coast of the Caucasus, 9% - to go with them to rest in a different place in Russia, 7% - abroad, 2% - in the CIS countries. The other report that the children will have a rest without them - on the territory of Russia (4%) and abroad (1%) or go hiking with other children (2%).

Respondents who are going to go somewhere to rest, plan to spend on a trip to an average rate of 27636 rubles per family member (a year ago - 27220). Thus, the rate of growth compared to last year was 2%.

19-07-2013, 18:49, eng news
The relevant decision of the Primorsky Territory Administration signs installed Municipal Enterprise "Roads of Vladivostok." Resolution is set to maximum speed permitted on the following road...

31-07-2013, 20:31, eng news
In the duty of Vladivostok turned 26-year-old resident of the regional center. According to the applicant, near the women's clinic in the street Ostryakov 6 beat her unknown. The victim,...

5-08-2013, 15:33, eng news
The majority of offenders - the citizens of Uzbekistan, China, Armenia and Vietnam. All of them were taken to the police station for Ocean fingerprinting, photographing, and checking for involvement...

18-04-2013, 13:00, eng news
Lady's bag was found on the turnpike at the entrance to the territory of the television center. The main entrance was cordoned off, but employees of radio and television continued to operate as...

23-08-2013, 15:00, eng news
In the province of short rains in parts of thunderstorms. Wind west, north-western moderate. Air temperature 18 28 ° C. In Vladivostok, partly cloudy, no precipitation. Wind west, north-western...
18-06-2013, 18:32, eng news
The Pacific Fleet continued delivery of the second course task, ships and submarines. The cruiser "Varyag" To perform artillery and missile firings in the areas of combat training in the Sea of Japan...

6-03-2013, 03:10, eng news
Driver training in Russia: the learning process - itself, the legislation - in itself......

18-04-2013, 14:00, eng news
Students in urban schools to conduct action "Clean City". Competition for selective waste collection is held control of the environment and natural resources administration of Vladivostok......
22-04-2013, 19:30, eng news
The jury chose to set on the banks of the Amur Bay sculpture Konstantin Novikov (study number 8)......

8-05-2013, 10:20, eng news
The main area of basketball club "Spartak-Primorye" next season will be a new sports arena campus of the Far Eastern Federal University on the island of Russian. (PHOTOS)......