ЗНАКОМСТВА
КРАСОТА
ЗДОРОВЬЕ
ТУРИЗМ
АВТОНОВОСТИ
НОВОСТИ СПОРТА
Russians dream of traveling to other countries, and resting at home -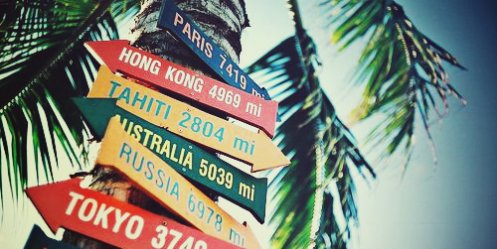 Photo: yes.com.ru

All-Russian Public Opinion Research Center (VTsIOM) presents data on what Russians prefer to holiday and how they plan to conduct the current summer vacation, how much money to spend on average expect those who intend to go on a trip somewhere.

When thinking about where they want to relax, Russians often dream of traveling abroad (33%), while holidaying at home would prefer to only 16%.

Beach Holidays - permanent leader preferences of Russians - 38% say it is a way to spend a vacation. In second place - cognitive rest (25% a year ago - 21%). A few less of those who prefer treatment in sanatoria (21%), rest homes (20%), hiking (17%). The least popular option - rest in sanatoriums and rest homes (10%).

According to his memoirs, the majority of Russians spent last summer at home (47%). The other most frequently selected to the country (25%), at least - to other cities of Russia, on the Black Sea coast (10%), abroad (8%), and only a few - in other places in the former Soviet Union (3%) or in the Baltic States (2%).

Most Russians believe that this year's holiday will be no better and no worse than a year ago (59%). But with each passing year more and more becoming those optimistic about the coming summer holidays (from 13% in 2009 to 24% in the current year).

In the current summer season, 45% of respondents intend to stay at home (last year the figure was 50%). One in five is going to rest in the country (22%). Less commonly, respondents have plans to go traveling - to other cities in Russia (11%), on the Black Sea coast (10%), overseas (9%), in other places in the former USSR (2%), in the Baltic States (1%) . Those who stay at home this summer, still tend to explain this lack of funds to travel (47%). Less valid reasons such as lack of holidays due to busy at work (12%), health (10%), as well as family circumstances and the lack of desire to go anywhere (7%), and employment of the household (4 %).

As for the rest of the summer, the 37% reported that their children will stay at home (a year ago - 42%). 17% of respondents reported that their children will spend holidays in the country (17%). 12% plan to send them to summer camp or took on vacation on the Black Sea coast of the Caucasus, 9% - to go with them to rest in a different place in Russia, 7% - abroad, 2% - in the CIS countries. The other report that the children will have a rest without them - on the territory of Russia (4%) and abroad (1%) or go hiking with other children (2%).

Respondents who are going to go somewhere to rest, plan to spend on a trip to an average rate of 27636 rubles per family member (a year ago - 27220). Thus, the rate of growth compared to last year was 2%.

13-09-2013, 03:03, eng news
Russian Deputy Prime Minister - Ambassador to RFE Trutnev today visited Nanay and Komsomol district of Khabarovsk Krai. Trutnev today continued monitoring of work in the aftermath of large-scale...

29-07-2013, 18:31, eng news
In Vladivostok, near Cape Kungasny discovered human limbs. Cut off the legs of a man, presumably men, were in the storm sewer under the train tracks and was wrapped in a cellophane bag. The identity...

17-08-2013, 17:30, eng news
Prosecutor's Office of the Leninsky district of Vladivostok revealed numerous violations in the activities of subordinate Far Eastern Branch of the Russian Academy of Sciences institutions using...

24-08-2013, 16:31, eng news
Map of the problems of the educational process in the Far Eastern Federal University campus on about. Russian. In the editorial office of "Novaya Gazeta in Vladivostok" was a curious document -...
11-06-2013, 12:45, eng news
The beginning of summer. A day off. Wonderful weather!!! Couples walking with children along the Sports promenade. Kites, ice cream, sweet smile and sparkling eyes! Rainbow plays all its colors on...

29-07-2013, 18:33, eng news
Here, every day, all day long ride skateboards and roller skates kids of all ages, bringing their skills to perfection. Also open area for bike trial. The site has been built in the past year as part...

28-04-2013, 14:00, eng news
Wealden Psychology and Victor Simonov started on April 6 at the North Pole and set a goal to reach the southern tip of Greenland......
25-06-2013, 17:02, eng news
As you know, growing tariffs are unlikely to have someone to make happy. But recent events show that grow on the territory of Primorye tariffs cause dissatisfaction not just specific individuals, and...
11-07-2013, 11:47, eng news
Investigative team arrived at the scene. During the inspection of the apartment forensic expert found traces of the fingers. Fingerprint examination found that the traces belong to two of the 24-year...

18-09-2013, 22:10, eng news
The group - 38 parents and 56 children, including toddlers 2012 and 2013 birth. It's free and residents of villages Grodekovo, Ust-Ivanivka, Upper and Chigiri Blagoveshchensk, Amur Region. In...