ЗНАКОМСТВА
КРАСОТА
ЗДОРОВЬЕ
ТУРИЗМ
АВТОНОВОСТИ
НОВОСТИ СПОРТА
Russians dream of traveling to other countries, and resting at home -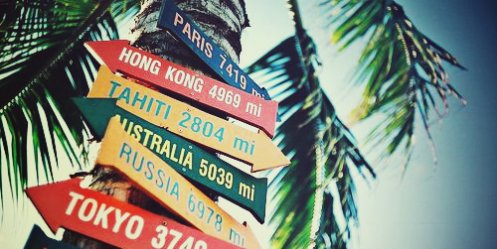 Photo: yes.com.ru

All-Russian Public Opinion Research Center (VTsIOM) presents data on what Russians prefer to holiday and how they plan to conduct the current summer vacation, how much money to spend on average expect those who intend to go on a trip somewhere.

When thinking about where they want to relax, Russians often dream of traveling abroad (33%), while holidaying at home would prefer to only 16%.

Beach Holidays - permanent leader preferences of Russians - 38% say it is a way to spend a vacation. In second place - cognitive rest (25% a year ago - 21%). A few less of those who prefer treatment in sanatoria (21%), rest homes (20%), hiking (17%). The least popular option - rest in sanatoriums and rest homes (10%).

According to his memoirs, the majority of Russians spent last summer at home (47%). The other most frequently selected to the country (25%), at least - to other cities of Russia, on the Black Sea coast (10%), abroad (8%), and only a few - in other places in the former Soviet Union (3%) or in the Baltic States (2%).

Most Russians believe that this year's holiday will be no better and no worse than a year ago (59%). But with each passing year more and more becoming those optimistic about the coming summer holidays (from 13% in 2009 to 24% in the current year).

In the current summer season, 45% of respondents intend to stay at home (last year the figure was 50%). One in five is going to rest in the country (22%). Less commonly, respondents have plans to go traveling - to other cities in Russia (11%), on the Black Sea coast (10%), overseas (9%), in other places in the former USSR (2%), in the Baltic States (1%) . Those who stay at home this summer, still tend to explain this lack of funds to travel (47%). Less valid reasons such as lack of holidays due to busy at work (12%), health (10%), as well as family circumstances and the lack of desire to go anywhere (7%), and employment of the household (4 %).

As for the rest of the summer, the 37% reported that their children will stay at home (a year ago - 42%). 17% of respondents reported that their children will spend holidays in the country (17%). 12% plan to send them to summer camp or took on vacation on the Black Sea coast of the Caucasus, 9% - to go with them to rest in a different place in Russia, 7% - abroad, 2% - in the CIS countries. The other report that the children will have a rest without them - on the territory of Russia (4%) and abroad (1%) or go hiking with other children (2%).

Respondents who are going to go somewhere to rest, plan to spend on a trip to an average rate of 27636 rubles per family member (a year ago - 27220). Thus, the rate of growth compared to last year was 2%.
25-06-2013, 21:46, eng news
The idea of the regional Ministry of internal Affairs about the organization of members of the Public Council of reception of citizens in non - stop mode for a full day has produced tangible results....

3-05-2013, 16:20, eng news
"Victor Faleev" will set the navigation buoys, coastal navigation service the station and remote lighthouses, as well as control the smooth operation of navigation equipment......

30-03-2013, 06:00, eng news
Police suspect drove on the hood of his car more than two hundred meters......

2-03-2013, 02:35, eng news
The concert - arias from operas by Russian composers, songs, the choir......

10-04-2013, 10:50, eng news
Sergei Andrienko previously held the position of first deputy chairman of the Far Eastern military district court experience as a judge - more than 22 years......

24-05-2013, 17:20, eng news
About VKADe, new bypass roads of the island and tell Russian Igor Pushkarev live on channel Russia-1......

15-05-2013, 20:30, eng news
This year, in the Primorsky Territory exam will take 11 thousand 130 people. The main test will be held from May 27 to June 13. USE in Primorye will take 11500 people there and back to the days of...

15-04-2013, 21:00, eng news
With companies whose leaders turn a blind eye to hamyaschih or smoking at the wheel drivers talk at City Hall will be short......

2-08-2013, 10:30, eng news
August 1 the application team were officially introduced two new players: 25-year-old defender Aleksandr Kulikov (№ 20) and 25-year-old midfielder Anton Kozlov (№ 44). Claim Ukrainian defender Dmytro...
5-06-2013, 20:01, eng news
In Primorye, try to create a comfortable environment for adoptive and foster families. To make suggestions in the future law can all inhabitants of the region. Primorye may make proposals to the law...