ЗНАКОМСТВА
КРАСОТА
ЗДОРОВЬЕ
ТУРИЗМ
АВТОНОВОСТИ
НОВОСТИ СПОРТА
In Vladivostok, the concerts will be held in memory of the Great Victory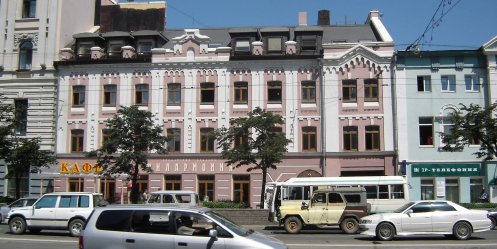 In honor of Victory Day in Vladivostok cultural institutions have prepared a thematic program.
May 9 at 18:00 in the great hall of the Maritime Regional Philharmonic concert sounds great "Victory Day". Plays the Pacific Symphony Orchestra, conductor Dmitry Butenko.
Program: E. Petersburg "Blue Scarf" Novikov "Darkie" Pahmutowa "Do you know what a guy he was," "Old Maple", M. Nozhkin "The Last Battle", K. Molchanov, "Wait for Me" , D. Tukhmanov "Victory Day".
Soloists - Honored Artist of Russia Igor Volkov (baritone), winner of the international competition Sergei Pleshivtsev (bass), Elena Brykina (soprano), Elena Morozova (mezzo-soprano), Victoria Schegoleva (pop vocal).
May 9 at 16:00 in the Primorsky Krai Youth Theater gala concert dedicated to the Day of Victory. The concert, entitled "Memory of Victory" will feature songs from World War II, as well as songs written about the war and later the Soviet army, such as "Evening on the roads," "Two of Maxim," "Goodbye rocky mountains", "Darkie" "We needed a win," "Mahna not looking," "Last Fight", "The Cossacks," "Road to Berlin", "Return", "For that guy", "May Waltz" and others.
Artists - Pop group members "Vladivostok".
May 11 at 15:00 at the Officer's Pacific Fleet Concert "With the war finished we abacus ", dedicated to the work of Bulat Okudzhava. The concert will feature the People's Artist of Russia Alexander Stolyarov, Honored Artist of Russia Alexander Seagull vocal group Drama Theatre Navy "Mirror of the river," Honored Artist of Russia Vladimir Baskakov.

18-03-2013, 05:00, eng news
For a day on the road edge in the accident suffered eleven people, one person was killed - said the press service VestiRegion.ru STSI Primorye. In Primorye, killed a female driver in the Soviet area...

23-03-2013, 04:48, eng news
Interior Ministry has set new defendants in the criminal case of embezzlement of budget funds allocated for the preparation and holding of the APEC summit in Vladivostok. Director of "Civil Control"...

4-04-2013, 08:20, eng news
In a raid involved the maximum number of traffic police, their main objective - to detect violations of traffic rules, first of all - it's a failure in the movement of pedestrians benefits drivers......

21-09-2013, 15:06, eng news
A new and very interesting information comes at a slightly hushed 'Affairs Gregory Vedernikaova. " According to the statement of the Nadezhda district prosecutor, the court returned to the...

9-08-2013, 17:16, eng news
The deputies of the regional parliament supported the initiative of the governor of Primorye on amendments to the law "On regulation of land relations in the Primorsky Territory." Vladivostok...
24-06-2013, 22:01, eng news
It turned out that the items of technical inspection Department of the Federal state institution «Centre of the State Inspectorate for small vessels of the Ministry of Russian Federation for civil...
12-06-2013, 17:16, eng news
Previously, up to 10 of June, started their 589 camps. From 11 to 20 June will work 26 camps, after 21 June - 43 camp. Just in 2013 it is planned to cover various forms of recreation and health...

17-07-2013, 13:31, eng news
There will be swings, carousel, sandpit, large swing set and benches for adults. Installation of children's play equipment was preceded by a major overhaul of territory, which, according to...

4-04-2013, 07:20, eng news
On April 1 the directorate staff stopped going to work due to wage arrears in the current year. In this regard, a number of workers have applied in the Frunze district court of Vladivostok......

28-08-2013, 15:00, eng news
Tomorrow, August 29 at 16 o'clock library facilities to them. AS Pushkin (St. Svetlanskaya 55) invites citizens to poetic sketches "City, sung by poets." MBUK "Vladivostok Central Library System"...