ЗНАКОМСТВА
КРАСОТА
ЗДОРОВЬЕ
ТУРИЗМ
АВТОНОВОСТИ
НОВОСТИ СПОРТА
In the Far East, the family, who lived in a barrel, stripped of rights to the child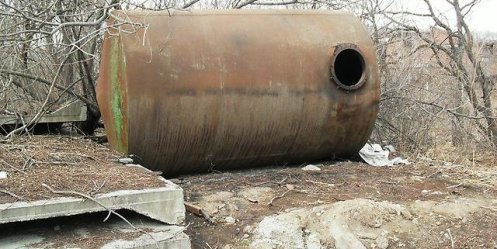 In the Amur region family "Diogenes" living in a metal drum, stripped of custody-year-old girl. The court found the conditions of life-threatening child, and gave it to social care agencies.
Odd couple standing on the account by a psychiatrist, lives in a metal container area of 12 square meters in the industrial area of Blagoveshchensk. Electricity hosts had in your house by yourself, it is fired-oven stoves. No facilities provided inside.
The father did not immediately surrendered. In particular, he told the court that he was going to expand the "flat", having bought two more metal barrels for the mother and the child, and after the verdict appealed. However, the court upheld the verdict unchanged. In the local Ministry of Education said that trying to persuade parents to move into the social room, but they are "categorically refused".
21-05-2013, 19:20, eng news
Motor vessel will depart tomorrow from 30th berth in 14:00 return flight to Vladivostok appointed to 15:40. Tickets will be sold on a flight in a temporary sea passenger terminal, which was built in...

11-03-2013, 05:00, eng news
A criminal case against a resident Dalnerechensk suspected of committing a crime against a woman's life......

29-07-2013, 13:15, eng news
Guilty could face a life sentence until death......

23-07-2013, 16:03, eng news
The Fifth Appellate Court, located in Vladivostok, in the next few days to consider the appeal, LLC "Pacifico Marine" on the decision of the Arbitration Court of Primorye, rastorgnuvshego contract...

8-04-2013, 11:50, eng news
Bailiff in Spassk-Far instituted enforcement proceedings against the debtor. He had to 73.5 thousand rubles, and for a long time hiding from the bailiffs. Debtor in Primorye sentenced to two years...

31-08-2013, 20:16, eng news
The first eco-tunnel will be built in a national park, "Land of Leopard" in the Primorsky region, said Friday the head of the Russian presidential administration Sergei Ivanov at a meeting of the...
22-05-2013, 09:20, eng news
Khabarovsk - on the eighteenth place. In addition to us, from DFO rating has got only Yakutsk......

13-08-2013, 17:34, eng news
The real situation on the roads still scares my statistics, since the beginning of the year there were more than 280 traffic accidents involving minors, which resulted in 10 children and teenagers...

6-08-2013, 14:45, eng news
Investigators in Primorye a criminal against a local resident born in 1969. He is suspected of attempted rape. The rapist arrested in guerrilla August 4 this year in the yard of the house on Pushkin...

13-08-2013, 22:45, eng news
The controversial statue will appear in Vladivostok on September 1 Poplar alley. Primorya24 correspondent spoke with the author of the monument. "During the blacksmith exhibition, which was held at...