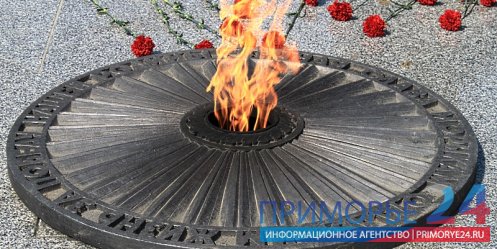 Photo: Anatoly Filatov

Today, May 6 on the eve of the Victory Day fire was lit in memory of the dead memorial Merchant Seamen (PHOTOS).

The ceremony was attended by the head of Vladivostok Igor Pushkarev, rector of Moscow State University named after Sergei Nevel Ohio, as well as veterans of the Great Patriotic War. Under the solemn music fire was lit in memory of 1200. It is noteworthy that at this time the bells rang out the nearest temple.

After that, the Fire, equipped according to the head of the city, a fundamentally new system of gas supply, flowers were laid.


Recall three years ago on the personal initiative of the head of Vladivostok Igor Pushkarev was organized by the extensive work on the restoration and conservation of monuments. The mayor insisted that the city government should take responsibility for the monuments, memorials and graves in the seaside capital.

At that time, only three of the monument - Fighters for Soviet Power in the Far East, an area of Fighters Revolution, a monument to Admiral SO Makarov and the memory wall vladivostoktsev who died during the Great Patriotic War were in the city property.

"Unfortunately, all the other memorials of the former administration were not needed, I was surprised to learn that they have abandoned, and, of course, no one ever is budgeted money for their restoration and preservation, - said the head of the seaside capital Igor Pushkarev. - This casual attitude to the memory - is unacceptable. We fix this situation, already taken to the balance of the city and took the responsibility of about 50 monuments, restored and repaired in three years 39 objects of cultural heritage. "

Update gas Eternal Flame monument to Merchant Seamen who died during World War II ended in the year.

Also last year, restored gas supply system Eternal Flame memorial "Battle Glory of the Pacific Fleet." It made installation of underground pipeline, reservoir and installation of the system of autonomous control of the reserve power supply.

Standalone uninterrupted power now will not let the fire go out during emergency power outages - thanks to this system, the gas supply will continue.