ЗНАКОМСТВА
КРАСОТА
ЗДОРОВЬЕ
ТУРИЗМ
АВТОНОВОСТИ
НОВОСТИ СПОРТА
Auto Show "Seaside Spring-2013" will be held this weekend in Vladivostok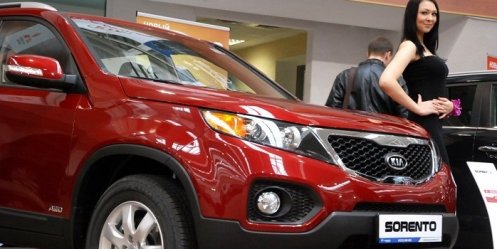 Vladivostok State University of Economics and Service for the third time spends on its site showroom "Seaside Spring".
On the first day of the Motor Show will be a press conference by participating companies and partner conference companies' Saturn High Tech "and" MMS "(Moscow), dedicated to car multimedia, navigation and security systems.
The second and third day Dealer provide a rich entertainment program with sports and art groups, beauty contest "Miss Seaside Spring - 2013" competition for viewers with prizes from the organizers and participants of the Motor Show.
"The highlight of the" Dealer will premiere the documentary «RFC-2012", a story about the incredible adventures of coastal avtosportsmenov on the world famous road race in Malaysia in December last year. After showing the film characters - absolute champions of RFC-2012 Roman Kulbak and Alexey, bronze medalists RFC-2012 Valery Lyubarenko and Alexander Leonov and filmmaker Oleg Kabalik - shared with the audience his impressions of events and plans for the future victories. Show will be held April 14 at 16:00 in the Music Center "Underground."

4-04-2013, 02:00, eng news
A group of local residents simulate an accident, but when the Russian tourists tried to help, they were attacked and stripped of my bag......

19-04-2013, 20:00, eng news
from 2014 to Russian homeowners will put a new payment for repair of apartment houses. This money will have to come at the expense of the HOA, HBC or regional operator......

19-09-2013, 21:58, eng news
This at a regular meeting of the city tripartite commission on regulation of social and labor relations, said its chairman, deputy head of the administration of Vladivostok Elena Schegoleva. Thus,...

16-04-2013, 16:00, eng news
Total investment in its implementation is more than 2 billion yuan. The first phase of installations can desalinate up to 200 thousand tons of sea water per day......

17-03-2013, 08:09, eng news
From the stage musical groups perform folk songs, and the square itself pretty girls handing out free bagels had come up to people and smile. (PHOTOS)......

5-04-2013, 06:30, eng news
City Duma Speaker Helen Nowicka spoke about the experience hospital № 3 as a result of individual interviews with the number of failures Pregnant Women from newborns was reduced by half......

5-03-2013, 12:13, eng news
According to statistical data, which data sharing doctors give birth in Russia in general and the Primorye Territory in particular have become more......

3-09-2013, 16:32, eng news
Yesterday, on the island of Russian was solemnly opened a new school. The school, which has long been waiting for. - It is a special day, especially for children - said Mayor Igor Pushkarev on the...

18-07-2013, 17:18, eng news
Four medals won a third-year student-Palo Victoria Andreeva. As a part of the Russian national team in swimming-relay 4 x 100 meters, she won "gold". Another two top awards Victor Andreev managed to...
13-06-2013, 21:31, eng news
Five members of the crew «Prok» returned from China in Primorye. The ship standing on repairs in the neighboring country remained 4 people. Initially, the boat had 14 people, the sailors sent a...