ЗНАКОМСТВА
КРАСОТА
ЗДОРОВЬЕ
ТУРИЗМ
АВТОНОВОСТИ
НОВОСТИ СПОРТА
Auto Show "Seaside Spring-2013" will be held this weekend in Vladivostok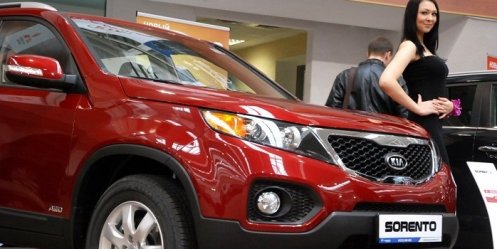 Vladivostok State University of Economics and Service for the third time spends on its site showroom "Seaside Spring".
On the first day of the Motor Show will be a press conference by participating companies and partner conference companies' Saturn High Tech "and" MMS "(Moscow), dedicated to car multimedia, navigation and security systems.
The second and third day Dealer provide a rich entertainment program with sports and art groups, beauty contest "Miss Seaside Spring - 2013" competition for viewers with prizes from the organizers and participants of the Motor Show.
"The highlight of the" Dealer will premiere the documentary «RFC-2012", a story about the incredible adventures of coastal avtosportsmenov on the world famous road race in Malaysia in December last year. After showing the film characters - absolute champions of RFC-2012 Roman Kulbak and Alexey, bronze medalists RFC-2012 Valery Lyubarenko and Alexander Leonov and filmmaker Oleg Kabalik - shared with the audience his impressions of events and plans for the future victories. Show will be held April 14 at 16:00 in the Music Center "Underground."

1-08-2013, 19:31, eng news
As the press service of the AP computer, children's associations will be able to receive state support. Consequential amendments to the regional law "On youth policy in the Primorsky Territory" took...

2-08-2013, 20:01, eng news
According to the magazine "Forbes", Russian Prosecutor General Yuri Chaika July 18 to the Prime Minister of Russia Dmitry Medvedev a letter in which he accused the Russian air inflating the prices of...

22-03-2013, 09:40, eng news
First vice-president "of the Russian Union of Engineers' Ivan Andrievsky on ways to increase the popularity of Russian universities......
22-05-2013, 13:40, eng news
In Primorye, is home to about 130000 people with disabilities......

8-05-2013, 08:20, eng news
In the region, partly cloudy, no precipitation. Patchy fog. Wind southwest moderate. Air temperature +12 +32 ° C......

18-05-2013, 18:20, eng news
Electors: "Candidates must prove that all words and promises will not remain only on paper."......

18-03-2013, 10:55, eng news
unique instruments. Unique traditional Russian songs sounded in Vladivostok, performed by famous musicians. (PHOTOS)......

24-04-2013, 10:10, eng news
In Nakhodka took place Championship of Primorsky Krai in orienteering. A route with compass and map in his hands ran over 150 participants aged 12 to 60 years. (PHOTOS)......

3-09-2013, 16:32, eng news
Recall that the newspaper "Vladivostok", "Arguments and Facts Primorye" radio "Lemma", "ViBiSi", 8-Channel, news agencies "Primore24" and Vladnews announce action: "Enter into the Guinness Book of...
25-06-2013, 17:00, eng news
The procedure of transfer of land plots and objects of military bases, located in the city of Vladivostok, from the order of the Ministry of defense of the Russian Federation in a municipal property....