ЗНАКОМСТВА
КРАСОТА
ЗДОРОВЬЕ
ТУРИЗМ
АВТОНОВОСТИ
НОВОСТИ СПОРТА
Chinese authorities are willing to pay for the funeral of the citizens in the sea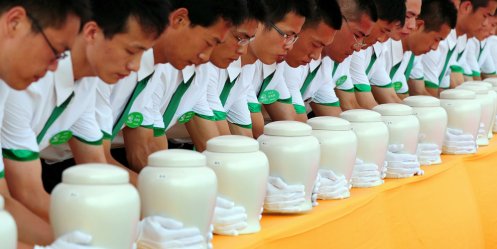 China has a very rich tradition of ancestor worship, which originated in ancient times. But, as the land is getting smaller, and place in the cemetery - more expensive, these traditions can belong to the past.
The population of China is moving to a mark of 1 billion 400 million. Officials in several parts of China has begun to convince people to switch to alternative ways of disposal. Namely: burial at sea.
In the central city of the Chinese province of Guangdong place in the cemetery will cost $ 1200 per square meter. This is even more expensive than luxury apartments.
But in Shanghai, Shaoxing and Wenzhou government will pay you 320800 or 1290 dollars for scattering ashes of the dead into the sea. Even including the cost of travel by boat and petals, which are mixed dust.
April 5 across the country celebrate Qingming - feast of All Souls. On this day, the Chinese come to the graves of their ancestors, bringing them flowers, food and wine.
And is there a chance that they will abandon their traditions, remains controversial.
4-05-2013, 13:40, eng news
Master classes, competitions on knowledge of Russian language and culture, concerts, art groups Studtsentra FEFU were held in Suifenhe and Mudanjiang......
14-06-2013, 16:45, eng news
13 June mayor Igor Pushkarev discussed with the residents of the houses on the street Ovchinnikov build the future of the square of memory. In addition to the Park, which will be located between...

11-03-2013, 11:22, eng news
FDCS of the end of March will develop a program for the rehabilitation of drug addicts, who will be called upon to solve a problem that has arisen due to the elimination of 90-s......

27-08-2013, 18:32, eng news
From Monday, September 22013 just three new route buses connect different areas of the city with the Far Eastern Federal University on the island of Russian - the press service of the city...

19-09-2013, 01:04, eng news
The decor is associated with flooding in Komsomolsk-on-Amur, still remains difficult, but manageable. Now the city is flooded 911 houses with a population of more than 13000 people of which more than...

14-05-2013, 16:20, eng news
New modern transportation came to marshut "Bus station - Teaching Hospital." (PHOTOS)......
25-06-2013, 12:16, eng news
The son of my friend, who lives in the town of Ussuriisk, this year is in the first grade. Before school must pass a medical examination. Specialists in the polyclinic is equipped weak: there is one...
18-06-2013, 18:45, eng news
Today, 18 June, in 90-th post office in Vladivostok held celebrations devoted to the Day of the subscriber. Everyone could subscribe to their favorite publications on the second half of 2013....

4-04-2013, 10:20, eng news
Citywide Fair will run on the central area weekly on Fridays and Saturdays from 9 to 18 hours. The first fair of the season will take place tomorrow - April 5......

22-07-2013, 19:30, eng news
All this pretty podzatyanuvshuyusya story could be considered a PR and disassembly of large corporations, if not a "but" On the scales of Themis - historical Soviet candy brands, familiar from...