ЗНАКОМСТВА
КРАСОТА
ЗДОРОВЬЕ
ТУРИЗМ
АВТОНОВОСТИ
НОВОСТИ СПОРТА
Vladivostok "Kinokurs" met with the first applicants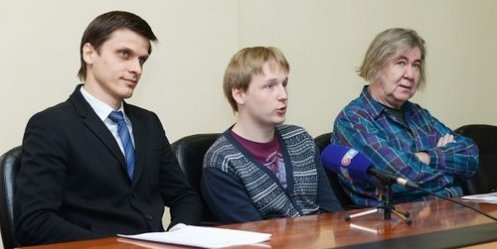 April 5 completed accepting applications in the project "Kinokurs" of young people from Artem and Vladivostok. Now the main selector first film school in the Far East, a film critic Yuri Stroikov (pictured - right) begins a full-time meetings with potential students.
"In applications the main criteria for selection were an essay on" What would the world be without movies ", a cover letter and a brief biography." Based on these points, we evaluated the guys on 10balnoy scale. Among the participants was already defined list of leaders - about 40 people. In the near future we will meet with them to meet in person, find out what they want from the project and ready to serious work within it. As a result of these meetings, and will be decided who will be among the 20 students of film schools. "
" Number of applications - they are the authors of more than 100 people only in Vladivostok - shows that social request to film school in the region have. Now we have to justify the credibility of, first, on of guys who believe in us, and secondly, we have to show federal authorities that it should form filmmaking film school in the country, not fat cats with bloated budgets and frankly weak paintings . Not to be unfounded about credibility, is such an example: the International Film Festival "Pacific Meridian" is also held kinoobrazovatelny project "Audition", but the organizers have never collected more than 50 applications. But they accept applications from all over the Far East "
First meeting of young people who applied, with Yuri Stroykovym held today in the Design Factory" Dawn ", where will film school. Names with will be announced a few days before the launch of film school. exact date has not been announced, but the organizers are going to launch it in the second half of April.
4-06-2013, 19:47, eng news
Loading on a network of JSC "Russian Railways" in may of 2013 was 1056 million tons, which is lower than the same period of the last year by 34%. Accordingly decreased compared with the same period...

18-07-2013, 17:17, eng news
The main accused of the incident is Igor Belikov. On 9th May, employees of a separate battalion traffic police MOI of Russia for the city of Vladivostok, located on route patrol in the streets...
22-06-2013, 22:00, eng news
Прокуратура в Приморье следит за тем, как соблюдается закон по организации и проведению азартных игр. Подпольный игорный клуб обнаружен во Владивостоке На минувшей неделе в Советском районе...

21-03-2013, 07:05, eng news
Just six projects proposed by non-profit organizations Artemovsky urban district, received financial support from the local budget for its implementation in the amount of one million two hundred...

27-05-2013, 18:20, eng news
More or less dangerous places where stray dogs can attack passers-by, our source did not call in his opinion, the whole town is equally dangerous......
22-06-2013, 22:02, eng news
В Кемеровской области начались выплаты материальной помощи пострадавшим от землетрясения. По 5 тысяч рублей получили уже более 300 человек.  Пострадавшие от землетрясения в Кемерово получают...

8-08-2013, 18:35, eng news
In the Days of Latin America in Vladivostok from 15 to 17 August at the Sports waterfront will dance workshops. To learn the basic movements of fiery passionate tango and samba will be able to...

12-07-2013, 15:00, eng news
Late at night on the street Soviet employees of the private security department of the Russian Interior Ministry, "Savior", while on patrol route, close to public transport noticed the child. The kid...

21-05-2013, 18:20, eng news
The guests expressed their intention to co-operation with colleagues from Vladivostok in the fields of electric power, energy and heat saving, sanitation, supply of power equipment and...

23-08-2013, 22:17, eng news
Every day, the level of the Amur River in the village of Pashkovo EAO growing. The village was on the waterlogged island. As of August 23 Amur added another 8 cm dangerous phenomenon is already...