ЗНАКОМСТВА
КРАСОТА
ЗДОРОВЬЕ
ТУРИЗМ
АВТОНОВОСТИ
НОВОСТИ СПОРТА
Vladivostok "Kinokurs" met with the first applicants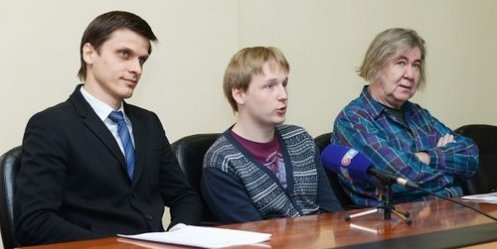 April 5 completed accepting applications in the project "Kinokurs" of young people from Artem and Vladivostok. Now the main selector first film school in the Far East, a film critic Yuri Stroikov (pictured - right) begins a full-time meetings with potential students.
"In applications the main criteria for selection were an essay on" What would the world be without movies ", a cover letter and a brief biography." Based on these points, we evaluated the guys on 10balnoy scale. Among the participants was already defined list of leaders - about 40 people. In the near future we will meet with them to meet in person, find out what they want from the project and ready to serious work within it. As a result of these meetings, and will be decided who will be among the 20 students of film schools. "
" Number of applications - they are the authors of more than 100 people only in Vladivostok - shows that social request to film school in the region have. Now we have to justify the credibility of, first, on of guys who believe in us, and secondly, we have to show federal authorities that it should form filmmaking film school in the country, not fat cats with bloated budgets and frankly weak paintings . Not to be unfounded about credibility, is such an example: the International Film Festival "Pacific Meridian" is also held kinoobrazovatelny project "Audition", but the organizers have never collected more than 50 applications. But they accept applications from all over the Far East "
First meeting of young people who applied, with Yuri Stroykovym held today in the Design Factory" Dawn ", where will film school. Names with will be announced a few days before the launch of film school. exact date has not been announced, but the organizers are going to launch it in the second half of April.

18-03-2013, 05:25, eng news
The group made sure that all possibilities exist today water supply fully utilized......

13-04-2013, 15:00, eng news
Cossacks and police together bear patrol service in the streets, holding joint preventive measures, as well as to detect and deter crime in the environmental field......

24-07-2013, 22:03, eng news
The draft law "On the Ombudsman entrepreneurs in the Primorsky Territory" today, July 24 adopted at first reading. As RIA «VladNews» the press service of the Governor of the Primorsky Territory, edge...

23-05-2013, 18:30, eng news
In the seaside town police Lesozavdska approached by a man and told him that with tal witnessed the accident on the highway Lesozavodsk - Mountain Keys. A police officer was killed in a car accident...

15-04-2013, 19:00, eng news
Now utilities, Gorzelenstroya and townspeople have two weeks to prepare for a citywide campaign of cleanliness and health......

15-04-2013, 17:00, eng news
According to experts, the research presented is an analog of the drug substance JWH - 018......

29-04-2013, 17:10, eng news
Rosselkhoznadzor experts by checking two foreign vessels coming to Nakhodka, find the products with insects. Laboratory studies have confirmed that the mung beans in food stores on board «Heng Shun...

6-09-2013, 18:32, eng news
The parties discussed various aspects of Russian-Japanese relations in the sphere of education, innovation and research activities, and identified promising areas of cooperation of the Far Eastern...
27-05-2013, 15:31, eng news
Evening of May 26 in the Center for Crisis Management, it was reported that on the mountain Pidan Shkotovsky in lost tourist district of Primorye was born in 1987. On the mountain Pidan lost tourist...

9-07-2013, 12:30, eng news
Reason - 522 pounds of lettuce infected thrips, which has a quarantine status in the territory of the Russian Federation. Currently, all 23.2 tons of unsafe vegetable production returned back to...