ЗНАКОМСТВА
КРАСОТА
ЗДОРОВЬЕ
ТУРИЗМ
АВТОНОВОСТИ
НОВОСТИ СПОРТА
From 21 to 26 August at the Museum of Contemporary Art "Artetage"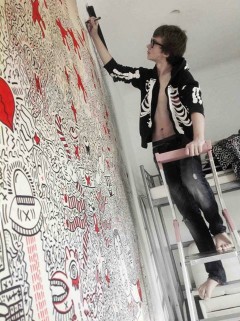 From 21 to 26 August at the Museum of Contemporary Art "Artetage" exhibition will be held in commemoration of the artist, sculptor and social activist Keith Haring. The interpretation of his work to the audience present young Moscow artist, anti-fascist and antiartist Plato Shmakov. Shmakov Plato was born in Vladivostok in 1998. He currently lives and studies in Moscow, but it is often in your hometown. With no art education, a year ago he became interested in creativity and Keith Haring started to paint, imitating the works of an idol. When accumulated more than fifty works, Plato Shmakov had the idea to do an exhibition, devoted to her memory favorite artist. The young author in his work uses black and red markers, acrylic paint, cardboard, canvas, walls and any other surfaces. Plato defines his style as "anti-art", as in his paintings try to capture the problems of modern society: for example, the stupefaction of young people through television, religion, alcohol, drugs, and the imposition of Western standards of living. The exhibition opens today, Aug. 21 at 15 pm at Aksakov, 12 (Museum of Contemporary Art "Artetage"). Admission is free.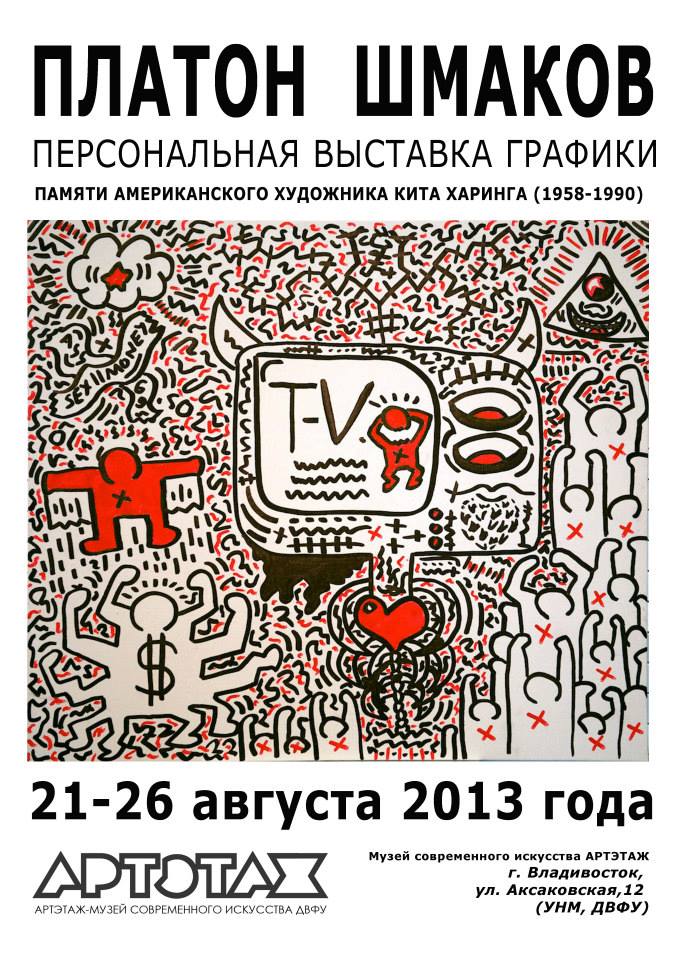 11-07-2013, 17:48, eng news
On Saturday, July 13 White Bear, Bunny and Leopard will take part in sports and incendiary dance performance, which will begin at 12:00 at the Sports waterfront, next to the fountain, then moved to...

2-07-2013, 20:45, eng news
The Arbitration Court of Primorye found more counterfeit goods 12000 units - parts for the manufacture of footwear. The total amount of the fine for two administrative cases instituted Khasanskaya...
18-06-2013, 09:45, eng news
Situation is aggravated by the fact that the residents themselves should vote for his improvement. The essence of the problem is that this rate has not changed since 2005 when the sphere of housing...

17-07-2013, 19:48, eng news
On the road Nakhodka - Lazo, near the village of Frolovka head-on collision occurred motor vehicle "Toyota Crown" with a motorcycle "Honda HR 250." The driver of the motorcycle died without...

1-08-2013, 13:45, eng news
The Investigative Committee of Russia in the Primorsky Territory continues to work on the criminal case on the fact of injury causing death culprit. Earlier it was reported that on the track Nakhodka...

8-08-2013, 18:32, eng news
Logging in the Far East will increase, as the "northern" forest is always competitive - stated this chapter Minvostokrazvitiya - Ambassador in Far Eastern Federal District Viktor Ishayev - by...
25-06-2013, 17:02, eng news
In the campus of the University were able to visit those disciples who during all school years faithfully studied science and showed brilliant knowledge. In the certificate of these clever men and...

13-04-2013, 15:00, eng news
In Moscow, no one gets a pension less than 12 thousand rubles, and the average pension in Primorye barely reaches 10 thousand rubles......

28-03-2013, 10:00, eng news
The members of the advisory council noted that the ideas are interesting, and encouraged developers to prepare a feasibility study......

8-05-2013, 13:30, eng news
In the capital of Primorye for animal feed produced more than 50000 overdue eggs, which are sold at wholesale and retail base near Fadeev. A large consignment of expired eggs found in Vladivostok...