ЗНАКОМСТВА
КРАСОТА
ЗДОРОВЬЕ
ТУРИЗМ
АВТОНОВОСТИ
НОВОСТИ СПОРТА
Popular American reporter to share experiences with journalists in Vladivostok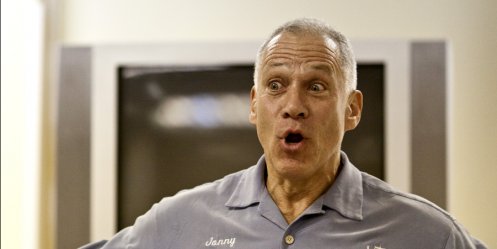 23 and May 24 in Palo perform John Alpert (USA) - a reporter and documentary filmmaker, founder of the NGO "Center City public television" (Downtown Community Television Center, DCTV) in New York.
Jon Alpert is known for having visited almost all the world's trouble spots. He earned a reputation as a reporter who can get access to the most private and uncommunicative world leaders, called by the world press as nothing but a "dictator." So, for example, was the only Western reporter admitted to Saddam Hussein, and the only one who has interviewed Fidel Castro during his stay in the United States.
For his documentary films, he has received 15 awards "Emmy" award three "Columbia-DuPont" and many other awards. His film "non-attribute disaster in China: The Tears of Sichuan Province" was included in the list of nominees for the "Oscar" in 2010 for the prize for best documentary short film. Alpert was preparing reports and films from Cambodia, Iran, Nicaragua, the Philippines, Cuba, Afghanistan.
May 23 from 10:00 to 13:20 master classes Jon Alpert for students specializing in the field of media. Topic: "Documentary and journalism."
May 24 from 10:00 to 11:40 John Alpert will make a presentation to the public on the topic "Modern documentaries, new challenges and new opportunities."
Location: st. Aleut, 56 (Humanities Building Palo), the audience is 420. Admission is free, with him it is desirable to have an identity document.

12-07-2013, 20:48, eng news
From July 18 to August 3 at the gallery "Arka" will be held solo exhibition by Valery Shapranova «№ 270", which will feature about 20 works from the series "Labyrinth", "limitless" and "Romans"....

26-04-2013, 13:40, eng news
April 25 in the first stop river rider at high speed crashed into a car «Toyota Corona», and then flew into the opposite lane and collided with a car «Toyota Belta». The motorcyclist crashed into two...

5-09-2013, 11:48, eng news
About the case of corruption in higher education Primorye regional prosecutor's office said. Prosecutor of the city of Vladivostok in the court directed the criminal case against a citizen of B, who,...

13-08-2013, 17:34, eng news
The real situation on the roads still scares my statistics, since the beginning of the year there were more than 280 traffic accidents involving minors, which resulted in 10 children and teenagers...

19-03-2013, 09:57, eng news
The company "Aeroexpress" began its work in Vladivostok last year. Our city is the third in Russia, where there is a similar service (PHOTO)......
30-06-2013, 16:45, eng news
In squares Vladivostok again voices favorite of several generations of citizens of the melody is played brass bands. Performances of brass bands - one of the directions of the project of the...

21-05-2013, 10:20, eng news
Consulting Centre will work on May 23 at the Centre for Business Development at Prospect 100th anniversary of Vladivostok, 52b (2nd floor)......

22-08-2013, 18:01, eng news
Yesterday, Deputy Prime Minister Dmitry Rogozin and the Governor of the Amur Region Oleg Kozhemyako visited the under construction cosmodrome "East". They flew over and familiarization with the...
4-03-2013, 03:20, eng news
Last Sunday the remote fire was reported that burning apartment in a building on the street in the Find Makarov. 9 people rescued from fire in Nakhodka Firefighters arrived at the scene within 7...
15-05-2013, 14:30, eng news
In Krasnoarmeyski region of Primorsky Krai has overflowed river Big Ussurka. Because of this, with the villages Sarovka, Pokrovka, Far Kut, Dersu and insular. Much Ussurka in Primorye burst its banks...