ЗНАКОМСТВА
КРАСОТА
ЗДОРОВЬЕ
ТУРИЗМ
АВТОНОВОСТИ
НОВОСТИ СПОРТА
Popular American reporter to share experiences with journalists in Vladivostok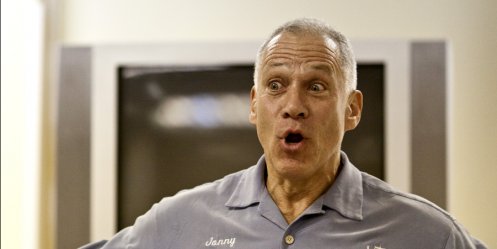 23 and May 24 in Palo perform John Alpert (USA) - a reporter and documentary filmmaker, founder of the NGO "Center City public television" (Downtown Community Television Center, DCTV) in New York.
Jon Alpert is known for having visited almost all the world's trouble spots. He earned a reputation as a reporter who can get access to the most private and uncommunicative world leaders, called by the world press as nothing but a "dictator." So, for example, was the only Western reporter admitted to Saddam Hussein, and the only one who has interviewed Fidel Castro during his stay in the United States.
For his documentary films, he has received 15 awards "Emmy" award three "Columbia-DuPont" and many other awards. His film "non-attribute disaster in China: The Tears of Sichuan Province" was included in the list of nominees for the "Oscar" in 2010 for the prize for best documentary short film. Alpert was preparing reports and films from Cambodia, Iran, Nicaragua, the Philippines, Cuba, Afghanistan.
May 23 from 10:00 to 13:20 master classes Jon Alpert for students specializing in the field of media. Topic: "Documentary and journalism."
May 24 from 10:00 to 11:40 John Alpert will make a presentation to the public on the topic "Modern documentaries, new challenges and new opportunities."
Location: st. Aleut, 56 (Humanities Building Palo), the audience is 420. Admission is free, with him it is desirable to have an identity document.
25-06-2013, 21:46, eng news
The idea of the regional Ministry of internal Affairs about the organization of members of the Public Council of reception of citizens in non - stop mode for a full day has produced tangible results....

3-05-2013, 16:20, eng news
"Victor Faleev" will set the navigation buoys, coastal navigation service the station and remote lighthouses, as well as control the smooth operation of navigation equipment......

30-03-2013, 06:00, eng news
Police suspect drove on the hood of his car more than two hundred meters......

2-03-2013, 02:35, eng news
The concert - arias from operas by Russian composers, songs, the choir......

10-04-2013, 10:50, eng news
Sergei Andrienko previously held the position of first deputy chairman of the Far Eastern military district court experience as a judge - more than 22 years......

24-05-2013, 17:20, eng news
About VKADe, new bypass roads of the island and tell Russian Igor Pushkarev live on channel Russia-1......

15-05-2013, 20:30, eng news
This year, in the Primorsky Territory exam will take 11 thousand 130 people. The main test will be held from May 27 to June 13. USE in Primorye will take 11500 people there and back to the days of...

15-04-2013, 21:00, eng news
With companies whose leaders turn a blind eye to hamyaschih or smoking at the wheel drivers talk at City Hall will be short......

2-08-2013, 10:30, eng news
August 1 the application team were officially introduced two new players: 25-year-old defender Aleksandr Kulikov (№ 20) and 25-year-old midfielder Anton Kozlov (№ 44). Claim Ukrainian defender Dmytro...
5-06-2013, 20:01, eng news
In Primorye, try to create a comfortable environment for adoptive and foster families. To make suggestions in the future law can all inhabitants of the region. Primorye may make proposals to the law...