ЗНАКОМСТВА
КРАСОТА
ЗДОРОВЬЕ
ТУРИЗМ
АВТОНОВОСТИ
НОВОСТИ СПОРТА
"Chief time-Vladivostok" welcomes "Vladivostok Boat Show-2013" at the VIP party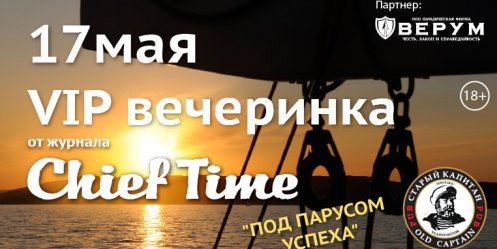 Even today, in the pub "Old Captain" VIP-parties will be held by the magazine Chief Time!
Incendiary presenter, the lovely girls from the duo "Crystal" will entertain partners and readers of the magazine. A highlight will be a performance of the famous Vladivostok "Coin"! We promise a festive buffet, informal communication, entertainment contests and performances.
Our Partner Law Firm "Verum" - the leading company in the market of legal services of the Far East - has provided extraordinary prizes for contests. Collection of business elite of the city at 20:00. Stay with us! This Chief Time!

15-08-2013, 10:02, eng news
This year, the Primorye Territory's regional staff of the Interior Ministry and Federal Security Service detained 930 Russian citizens who were in the federal and international wanted for crimes....
22-06-2013, 12:45, eng news
One of the tasks of customs identification and prevention of illegal movement across the customs border of the Russian Federation of narcotics, potent and psychotropic substances. These features,...
18-06-2013, 14:30, eng news
Sown in 2013 slightly lower than last year, farmers constantly adjust plans on the areas planted crops to meet deadlines......

11-07-2013, 17:45, eng news
Woman reported that around porch on Blucher Street in the village of Slav is a girl who fell from the window of the fifth floor. At the scene immediately came investigative team. The police found...

29-04-2013, 17:00, eng news
Street lighting here before was never, as long as the work does not come from the city administration Igor Pushkarev......

12-04-2013, 20:00, eng news
Architects generally favorably evaluated the changes that made the developer. Experts also suggested some additional adjustments. (PHOTOS)......

29-07-2013, 12:47, eng news
A woman reported that she was attacked by a man, raped and stole the bag. Arrived on the scene investigative team interviewed police officers injured. Dog handler with a dog surveyed the surrounding...
11-06-2013, 17:30, eng news
In the Oktyabrsky district of Chinese citizens while staged a five landfills. Landfill required to address with regard to foreign growers report was drawn. When carrying out enforcement activities...

29-08-2013, 15:15, eng news
In Primorye, continues to increase the birth rate and death rate falls, the press service of the Primorsky Territory Administration. According to the department of civil status of Primorsky Krai, for...

13-05-2013, 10:20, eng news
In the city administration decided to hold an international festival of brass bands. Idea was supported by the head of Vladivostok Igor Pushkarev......