ЗНАКОМСТВА
КРАСОТА
ЗДОРОВЬЕ
ТУРИЗМ
АВТОНОВОСТИ
НОВОСТИ СПОРТА
"Chief time-Vladivostok" welcomes "Vladivostok Boat Show-2013" at the VIP party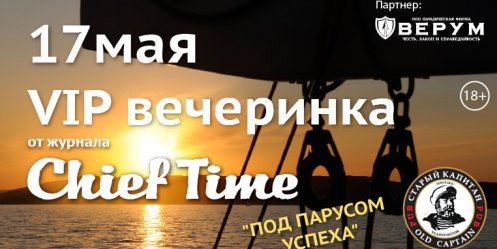 Even today, in the pub "Old Captain" VIP-parties will be held by the magazine Chief Time!
Incendiary presenter, the lovely girls from the duo "Crystal" will entertain partners and readers of the magazine. A highlight will be a performance of the famous Vladivostok "Coin"! We promise a festive buffet, informal communication, entertainment contests and performances.
Our Partner Law Firm "Verum" - the leading company in the market of legal services of the Far East - has provided extraordinary prizes for contests. Collection of business elite of the city at 20:00. Stay with us! This Chief Time!

25-07-2013, 21:01, eng news
According to the press service of the Ministry of Internal Affairs of Dagestan, tonight in Derbent unidentified persons fired religious leader of the local synagogue - a rabbi. The man was taken to...

28-02-2013, 08:57, eng news
Work on the multi-service centers in Primorye to be activated. This order gave the corresponding structures of Governor Vladimir Miklushevsky. 30 centers will be opened in public services Primorye...

7-03-2013, 04:57, eng news
8 and 9 March in Vladivostok will open chess tournament for students, dedicated to the 85th anniversary of the national teacher of the USSR Nikolai Dubinin......

18-07-2013, 17:19, eng news
July 17 was held meeting of the Public Youth Chamber of the Duma of Vladivostok. At the meeting, attended by a member of the student council TSMU Ekaterina Nikiforova. Future doctor advocated...

22-09-2013, 19:09, eng news
Dozens of flights canceled on September 22 at the Hong Kong International Airport, Chek Lap Kok in connection with the approach of a powerful Pacific typhoon "Usagi", which promises to be the...
5-04-2013, 06:50, eng news
If confirmed, against the officer fired a number of leaders of Russia OMVD to the guerrilla zone......

9-09-2013, 00:30, eng news
According to the prosecutor's inspection in June 2013 the investigation department of the Defense Ministry of the Russian Federation "Dalnegorsky" was initiated two criminal cases on the grounds of...

7-08-2013, 13:02, eng news
According to the department of licensing and trading of Primorsky Krai, uncovered the unlicensed sale of alcohol in Vladivostok at: Mountain, 31. Police seized 87 liters of alcoholic beverages in the...

24-05-2013, 16:30, eng news
Prosecutors Primorye summed up the prevention of crimes against defenseless children. They are, to put it mildly, disappointing - like every year more and more crimes are committed. Cases of violence...

3-08-2013, 20:04, eng news
French legend parkour show Vladivostok class athletes. Classes will hold Tom Le Gruane, Aur'elien Bonhomme, Charlotte Dekvoviye and Melvin Wren. The program of events is already known. On Friday,...