ЗНАКОМСТВА
КРАСОТА
ЗДОРОВЬЕ
ТУРИЗМ
АВТОНОВОСТИ
НОВОСТИ СПОРТА
More than a thousand veterans have already received gifts from the head of Vladivostok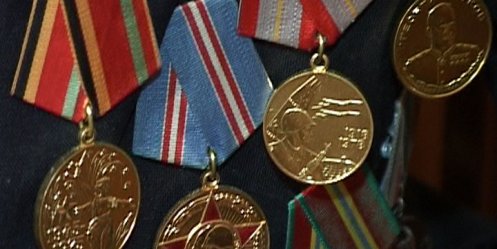 Vladivostok disabled and war veterans continue to congratulate the upcoming holiday - the Day of Victory.
Recall that the Mayor Igor Pushkarev ordered all persons with disabilities and war veterans on the eve of the holiday greetings in addition to hand and cash gifts.
To date, about 1070 participants and disabled veterans have already received congratulations and gifts of money in the amount of three thousand. Total cash gifts and gifts from the head of the city will receive about 1180 disabled and war veterans.

16-07-2013, 09:47, eng news
Administrative proceedings brought more than 11000 offenders. The Office of the Primorsky Territory of private security meeting held at the end of the first half of 2013. The meeting was chaired by...

16-08-2013, 17:30, eng news
In the department of bailiffs Pershamaiski district of Vladivostok is the enforcement proceedings to recover from the men alimony in the amount of 1/4 of all types of income. At present, negligent...
29-05-2013, 18:30, eng news
Bailiffs in Pozharsky district of Primorye are trying to help sort out family quarrel parents of five children. His mother had spoken strongly against child with his father. Under court order, the...

5-08-2013, 15:34, eng news
The new airport terminal airport "Vladivostok", which is already hard at work and takes guests is the hallmark of Primorye. But After its commissioning a question - what to do with the old one?...

6-05-2013, 19:30, eng news
During Tuesday, May 7 in order to ensure traffic safety during the rehearsal of the Victory Parade in the center of Vladivostok will be partially restricted movement and parking of vehicles. From...

1-05-2013, 10:10, eng news
In the next three days in the Primorsky Territory remain erratic weather patterns. Being under the influence of high-altitude cold cyclonic vortex in Primorye places will be light rain. Daytime...

29-03-2013, 11:11, eng news
In Ussuriysk city district, near the village of Korsakovka Rosselkhoznadzor specialists found on the landfill, which rented the Chinese. Annual salary of physicians will increase na20% Zhao Lijun...

9-08-2013, 17:18, eng news
Prosecutor's Office of the Primorsky Territory recognized as a legitimate institution of criminal proceedings against the deputy head of the investigative department of the district Chuguyivske SC SC...

22-03-2013, 13:24, eng news
A member of the FAS unanimously decided to support the JSC "Primorsky confectioner" in search of a solution......

26-03-2013, 14:40, eng news
In the future, more than 2 million tons will be allocated to the planned construction of the Ussuri CHP......