ЗНАКОМСТВА
КРАСОТА
ЗДОРОВЬЕ
ТУРИЗМ
АВТОНОВОСТИ
НОВОСТИ СПОРТА
Rector, teachers and students participated in the clean Palo Vladivostok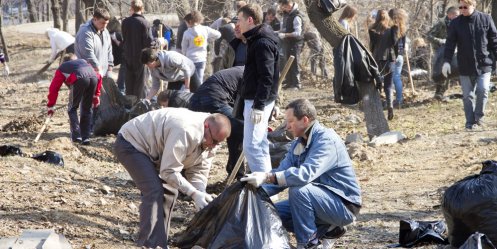 On Saturday, April 27 more than 100 students, faculty and staff of the Far Eastern Federal University took part in the traditional spring cleaning citywide territories.
On this day, improvement works have covered all the main streets and yards of Vladivostok, sidewalks and highways, pedestrian crossings and public gardens. The university was busy cleaning the Intercession City Park. Along with all the work involved in Palo rector Sergei Iwaniec.
"Landing" of the University went virtually undeveloped area of the park - the lower walkway along Ocean Avenue, which is not yet completed construction work. It was necessary to remove last year's leaves and branches, lay in piles of building stone, put in order the playground and walking path. To do this, it took several hours.
As the rector said Sergei Palo Iwaniec, participation in such events - normal for any man desire to make a cleaner and more beautiful city in which you live.
- I'm sure do not need a special citizenship or extra big words in order to clean your yard or city park. I myself take it very simply, this is a traditional springtime activity in the company of colleagues, which, except for use, and brings a more cheerful mood - Says the rector.
Students kept up the teaching staff. For some cleaning of the area - the usual occupation. As the freshman-biologist Edgar Polyakov, while still a schoolboy, he often participated in various environmental events, so sanitation for it is nothing new.
Note maid assigned to Palo territories began a week earlier. The guys have painted railings, curbs, benches, ennobled recreation and sports grounds around the school buildings and dormitories. Total in cleanup was attended by over 1500 people.

19-05-2013, 13:30, eng news
Primorsk heating networks are moving to the second stage hydraulic testing of heat - from May 20 to June 3 will experience heating energy coming from the central steam-boiler. At this time, there...

27-04-2013, 16:50, eng news
Sausage, milk, fish and seafood from the beginning of the year, on average rose 1.1%, 1.3% and 1.9%, respectively......
21-06-2013, 17:30, eng news
They should have your dealer a large sum of money, and not to repay, they decided to kill him and burn with the car. "Procurers" saved from death only a chain of coincidences. Three drug addicts to...
19-06-2013, 14:00, eng news
The criminal case was heard by the court in a special order......
18-06-2013, 09:45, eng news
For the past day on the roads of Primorye affected eight people in two cases were traumatized children: boys 5 and 6 years, told RIA «VladNews» in the press-service of traffic police Primorye. In the...
1-04-2013, 05:20, eng news
First Vice-Governor of Primorye Alexander Kostenko signed a decree according to which the administration will establish a working group on a draft law "On the free provision of land for housing in...

1-08-2013, 19:30, eng news
Workers have already repaired the roof, replaced the old wooden windows with modern double-glazed windows. Now in full swing internal repairs. In the sports complex number 1 where their classes...

16-09-2013, 14:01, eng news
Vladivostok International Airport OJSC ("MAV") reports that since September 132013 domestic passengers are check in for 6 hours before departure. The exception is the airline "Vladivostok Avia",...
27-06-2013, 16:30, eng news
It is designed to receive messages about the fires and emergency situations. on June 26 at the regular meeting of the Legislative Assembly deputies discussed amendments to the laws "On protection of...
22-06-2013, 22:02, eng news
Депутаты Думы Владивостока большинством голосов назначили дату выборов мэра приморской столицы. Они пройдут, как и ожидалось, в единый день голосования — во второе воскресенье сентября, то есть 8-го...