ЗНАКОМСТВА
КРАСОТА
ЗДОРОВЬЕ
ТУРИЗМ
АВТОНОВОСТИ
НОВОСТИ СПОРТА
Rector, teachers and students participated in the clean Palo Vladivostok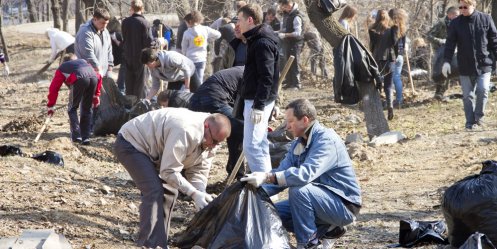 On Saturday, April 27 more than 100 students, faculty and staff of the Far Eastern Federal University took part in the traditional spring cleaning citywide territories.
On this day, improvement works have covered all the main streets and yards of Vladivostok, sidewalks and highways, pedestrian crossings and public gardens. The university was busy cleaning the Intercession City Park. Along with all the work involved in Palo rector Sergei Iwaniec.
"Landing" of the University went virtually undeveloped area of the park - the lower walkway along Ocean Avenue, which is not yet completed construction work. It was necessary to remove last year's leaves and branches, lay in piles of building stone, put in order the playground and walking path. To do this, it took several hours.
As the rector said Sergei Palo Iwaniec, participation in such events - normal for any man desire to make a cleaner and more beautiful city in which you live.
- I'm sure do not need a special citizenship or extra big words in order to clean your yard or city park. I myself take it very simply, this is a traditional springtime activity in the company of colleagues, which, except for use, and brings a more cheerful mood - Says the rector.
Students kept up the teaching staff. For some cleaning of the area - the usual occupation. As the freshman-biologist Edgar Polyakov, while still a schoolboy, he often participated in various environmental events, so sanitation for it is nothing new.
Note maid assigned to Palo territories began a week earlier. The guys have painted railings, curbs, benches, ennobled recreation and sports grounds around the school buildings and dormitories. Total in cleanup was attended by over 1500 people.

11-09-2013, 15:20, eng news
Into the ill-treatment of animals by the police Investigative Committee in the Primorsky Territory conducts preliminary inquiry. Information about what to Nakhodka on Kirov Street police shot dead...

6-09-2013, 18:31, eng news
said. The President Vladimir Putin in Moscow on September 4 said the U.S. shows on Syria: "They're lying, and they know in fact that they lie." U.S. authorities have been debated in Congress, the...

21-03-2013, 03:20, eng news
In Primorye, arrested 15-year-old telephone terrorist. The guy called the police and reported that in the village Smolyaninovo Shkotovo mined area school. Teenager "mined" school in Primorye caller,...

24-05-2013, 16:30, eng news
Prosecutors Primorye summed up the prevention of crimes against defenseless children. They are, to put it mildly, disappointing - like every year more and more crimes are committed. Cases of violence...

8-07-2013, 13:30, eng news
For the first 6 months of this year, total passenger traffic increased by 14%......

3-04-2013, 07:20, eng news
The project provides for the increase of the authorized capital VPOPAT-1 to 26.9 million and an increase in the authorized capital Spetszavod № 1 at 19.5 million......

16-03-2013, 09:07, eng news
A brief overview of the traditional performances on tour that we please all ages, talents and callings......

20-03-2013, 07:28, eng news
Pupils put Wrangel contemporary musical based on the fairy tale "Fly Tsokotukha." (PHOTOS)......

19-08-2013, 12:15, eng news
Only a month remains until the end of the popular Sberbank "Successful Summer", which runs from July 15 to September 152013. To participate you need to pay for cellular communication through payment...

25-04-2013, 11:10, eng news
Vehicular traffic on the site will not overlap, but in view of the large number of vehicles lanes will be reduced......