ЗНАКОМСТВА
КРАСОТА
ЗДОРОВЬЕ
ТУРИЗМ
АВТОНОВОСТИ
НОВОСТИ СПОРТА
Savings Bank invites you to the "Green Marathon" in Vladivostok on May 18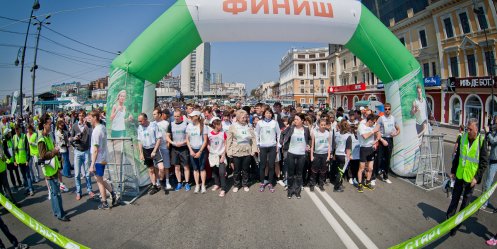 Photo: Savings

Exactly a month later, May 182013 the residents of Primorye for the second time to take part in All-Russian project "Green Marathon" which will take place simultaneously in 42 cities, including Beijing. The large-scale event is sponsored by Sberbank of Russia to support healthy lifestyles and the Olympic Winter Games Sochi 2014 the general partner of which is a bank. To take part in the race, you must register by April 30 Xia Online www.sochi2014-sberbank.ru . Recall that last year's race brought together more than 1000 fans of a healthy lifestyle, not only from Vladivostok, but also in other cities of the Primorsky Territory, becoming a veritable sports holiday.

The massive event will be held with the support of Vladivostok City Administration for Sports waterfront from 10:00 to 15:00 hours, the start of the running of the program is scheduled for 12:00 am. Olympic race route will be 4.2 km (1/10 marathon) and it will be on the street. Svetlanskaya from its intersection with the street. Panther (landmark - the hotel "Versailles", st. Svetlanskaya 10) to the intersection with the street. Dalzavodskoy (for the stop. "Circus") and back. Participant in the marathon can be anyone, regardless of age and physical fitness. The distance to overcome not necessarily - just go to start and enjoy the atmosphere of universal unity and passion for sport. The winners and prize-winners will receive medals, awards and prizes, and good humor will be provided to all participants regardless of the outcome.

In addition, the "Green Marathon" - it is also part of the environmental program of the Organizing Committee "Sochi 2014". After all, in the final event, the participants share will contribute to the greening of the city, landed saplings. For those who want to cheer on the athletes, provides a varied entertainment program, which includes demonstrations of creative teams, competitions and quizzes, playgrounds and much more. All this makes the "Green Marathon" great family holiday for adults and children.

- "Green Marathon" Sberbank - a unique opportunity for everyone to join the sport, as well as take part in greening the city and just have a wonderful time as a family, - says Olga Dolgov, managing Primorsky branch of OJSC "Sberbank of Russia".

Anyone wishing to take part in the "Green Marathon" should be registered at the Olympic site Sberbank www.sochi2014-sberbank.ru . Note: Online registration ends April 302013! "Green Marathon" awaits its heroes!

26-08-2013, 16:18, eng news
The largest enterprises - producers of milk and dairy products from Vladivostok, Ussuriysk, Arsenyev, Artem, stones and other cities of Primorye - the festival will present the best samples of their...

20-09-2013, 12:09, eng news
The court found him guilty of Ussuriysk local resident in the false report of a ticking bomb in a residential home and school. Another "lzheterrorist" punished in Primorye for his "joke" he was...
14-06-2013, 12:02, eng news
Summed up of absentee contest «My family - my Motherland», held within the framework of the all-Russian festival of author's song «Greenland». Competition has found a broad response among the authors...

8-09-2013, 19:30, eng news
"The elections are held in Vladivostok today quietly enough - commented with a vote in the capital of Primorye political analyst Viktor Boatmen. - Pronounced conflicts have been recorded. Residents...

6-09-2013, 18:34, eng news
Mikhail well known and respected in the Maritime region. For many years, this talented teacher and scholar led the regional fund Pacific Center for Strategic Studies. Mikhail was a member of the...

2-09-2013, 17:30, eng news
Not far from the seaside village of Pokrovka car accident occurred in which two people died. In an accident in Primorye people were killed 29 year old Toyota Sprinter Carib driver lost control, drove...

6-04-2013, 18:30, eng news
Ninth Pacific Fleet detachment, next to the Indian Ocean meets the eighth squad, who returns from the Gulf of Aden......

2-04-2013, 10:10, eng news
Conduct lessons activists of youth organizations of Vladivostok, who were trained and participated in training on the prevention of drug use......

5-09-2013, 18:01, eng news
The investigating authorities in Primorye have completed an investigation of a criminal case against an employee Palo - Associate Professor of Business Administration School of Economics and...

6-08-2013, 14:45, eng news
July 16 this year in an apartment down the street in Vladivostok Russian man has received from an unknown person 057 g. heroin. An employee policy distribute drugs crime was not brought to an end, as...