ЗНАКОМСТВА
КРАСОТА
ЗДОРОВЬЕ
ТУРИЗМ
АВТОНОВОСТИ
НОВОСТИ СПОРТА
Savings Bank invites you to the "Green Marathon" in Vladivostok on May 18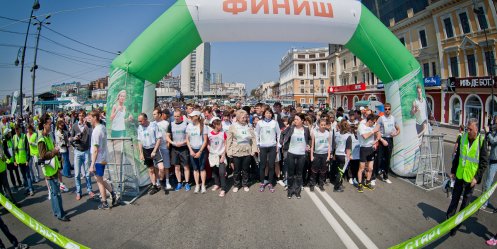 Photo: Savings

Exactly a month later, May 182013 the residents of Primorye for the second time to take part in All-Russian project "Green Marathon" which will take place simultaneously in 42 cities, including Beijing. The large-scale event is sponsored by Sberbank of Russia to support healthy lifestyles and the Olympic Winter Games Sochi 2014 the general partner of which is a bank. To take part in the race, you must register by April 30 Xia Online www.sochi2014-sberbank.ru . Recall that last year's race brought together more than 1000 fans of a healthy lifestyle, not only from Vladivostok, but also in other cities of the Primorsky Territory, becoming a veritable sports holiday.

The massive event will be held with the support of Vladivostok City Administration for Sports waterfront from 10:00 to 15:00 hours, the start of the running of the program is scheduled for 12:00 am. Olympic race route will be 4.2 km (1/10 marathon) and it will be on the street. Svetlanskaya from its intersection with the street. Panther (landmark - the hotel "Versailles", st. Svetlanskaya 10) to the intersection with the street. Dalzavodskoy (for the stop. "Circus") and back. Participant in the marathon can be anyone, regardless of age and physical fitness. The distance to overcome not necessarily - just go to start and enjoy the atmosphere of universal unity and passion for sport. The winners and prize-winners will receive medals, awards and prizes, and good humor will be provided to all participants regardless of the outcome.

In addition, the "Green Marathon" - it is also part of the environmental program of the Organizing Committee "Sochi 2014". After all, in the final event, the participants share will contribute to the greening of the city, landed saplings. For those who want to cheer on the athletes, provides a varied entertainment program, which includes demonstrations of creative teams, competitions and quizzes, playgrounds and much more. All this makes the "Green Marathon" great family holiday for adults and children.

- "Green Marathon" Sberbank - a unique opportunity for everyone to join the sport, as well as take part in greening the city and just have a wonderful time as a family, - says Olga Dolgov, managing Primorsky branch of OJSC "Sberbank of Russia".

Anyone wishing to take part in the "Green Marathon" should be registered at the Olympic site Sberbank www.sochi2014-sberbank.ru . Note: Online registration ends April 302013! "Green Marathon" awaits its heroes!

2-08-2013, 10:33, eng news
No, at first wanted to laugh: Well, at least this way and won ¬ devils did our father, though a stroke of a pen what ¬ ever there deputy for educational work, but still A miracle! There were devils...

19-03-2013, 12:00, eng news
Artem prosecutors approved the indictment of a former employee UFSKN. Employee UFSKN in Primorye is accused of fraud is accused of fraud by using his official position, as well as illegal possession...
19-06-2013, 13:30, eng news
18 June, the head of Vladivostok Igor Pushkarev, met with the participants of the project «people's expertise. On the summer terrace of the cinema «Ocean» in the Sunny day there was an unprecedented...

19-08-2013, 12:17, eng news
On Saturday, August 17 at the Bay "Azure" (Shamora) Primorye three people drowned, one was missing, told RIA «VladNews» law enforcement source. Despite all the warnings rescue officers, people...
7-05-2013, 09:20, eng news
In the region, partly cloudy, no precipitation. Night and morning fog in places. Wind southwest moderate. Night temperature +9 -5 ° C, daytime +8 +23 ° C......

13-08-2013, 17:32, eng news
Memorial to victims of political repression, set on Forest Cemetery (sector number 7), will open this coming Wednesday, August 14. Recall that in November 2010 on "Forest" took the reburial of human...

19-03-2013, 05:54, eng news
In Khorol area has increased significantly the number of wolves and foxes......

20-03-2013, 13:03, eng news
There will be repaired for about 38 miles of road, and the work will take place in five stages......

9-07-2013, 12:15, eng news
The draft law "On the free provision of land in the Primorsky Territory" was supported by more than 70 percent vladivostoktsev. The same data gave the organizing committee, "the People's expertise."...

3-04-2013, 06:30, eng news
April 2 this year, law enforcement agencies with downcast message that the apartment house in the city of Nakhodka unknown raped 7-year-old girl. In Nakhodka looking rapist attacker freely walked...