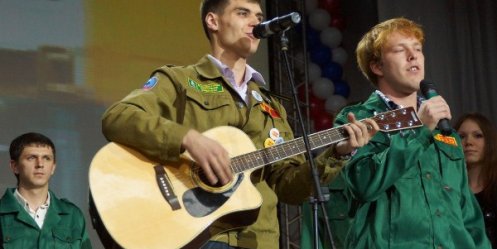 Photo: Administration of Vladivostok

April 15 at 1800 great room "Underground" has opened its doors and warmly received by fighters of the city of Vladivostok student teams (500 people). After all, a significant occasion - a festival - Eurovision Song student teams in Vladivostok "Old Record" of 2013.


This year, the festival has taken part in 20 teams, five areas - youth leaders, guides, construction workers, miners and putinschiki. The primary outcome for the judges were, of course, vocals, originality and the idea of the performance.


For several hours the guys piled into the atmosphere 60 - 80 years, as if turned back. At first, viewers were presented to the company officer songs where the men were singing about his direction, the activity during the summer semester of employment, that is costly to them about the movement as a whole. Then came a block solo songs, particularly the 60-80s.


It was truly a magical evening filled with joy, happiness, sincere smiles of all the fighters Maritime traffic. Before the judges had a difficult choice in determining the winner.


Places for the company officer song was distributed as follows:


1) CCO "Miner",
2) ACT "OASIS",
3) ACT "Together."


As a solo number:


1) ACT "Together",
2) SOP "ST.O P",
3) The SPO "Istok".


Special prize of the Authority for Youth Administration of Vladivostok - this is the song in the recording studio was awarded the student construction brigades "Primorets."

The organizers of the event were:


Primorsky Regional Branch of the Youth All-Russian public organization "Russian Student Groups" VSUES, the Department of Youth Policy Palo.