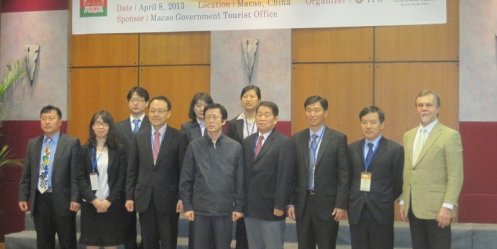 In the city of Macau (Macau), a regular, 22-th meeting of the Executive Committee of the Organization for the Development of Tourism in the cities of Asia Pacific. It was attended by Head of International Relations and Tourism Administration of Vladivostok Vladimir Saprykin.
The main items on the agenda were preparations for the General Assembly of the ORT, which will be held in September this year in Daejeon (South Korea), as well as approval of the list of activities carried out under the auspices of the tourism development.
Considering that in 2013 the Organization for the development of tourism in the Asia-Pacific cities celebrates 10-year anniversary, it was decided to include a general assembly in Daejeon International Tourism Symposium 2013 and a large tourism exhibition. The symposium will be held seminars, lectures, presentations and speeches, participation in which invited experts, teachers and students of the participating cities ORT. It is planned that the international tourism exhibition will bring together representatives of 50 organizations and companies, they will be organized on 70 Fair stands. The exhibition will also be held the presentation of projects of cooperation and business negotiations in the field of tourism.
Vladivostok delegation presented to the participants of the meeting of the Executive Committee of ORT presentation and leaflets on international events in 2013 that will be held in the capital of Primorye. Given the great interest on the part of other members of the executive committee decided to extend these materials through the secretariat to all participants ORT organization to expand the geography of events taking place in Vladivostok.
Following the meeting of the ORT led to new cities - Kuala Lumpur (Malaysia) and Takeo (Japan). Thus, today, of the Organization for the development of tourism in the cities of Asia and the Pacific are 65 cities from twelve countries.
Vladivostok - the only city in Russia, part of ORT. May also be recalled that in 2010 in Vladivostok, the first time and with great success Forum ORT. It authoritative tourist community of the Pacific confirmed the role of Vladivostok as a promising center for international cooperation in the region.
This high status and prospects of development of the capital of Primorye recorded also in the Agreement on cooperation between Vladivostok and the Organization for the development of tourism cities APR. It was signed in 2009 the head of Vladivostok Igor Pushkarev and Secretary General of ORT Joo Myung Hwan.