ЗНАКОМСТВА
КРАСОТА
ЗДОРОВЬЕ
ТУРИЗМ
АВТОНОВОСТИ
НОВОСТИ СПОРТА
Vladivostok resumed trial on "coastal partisan"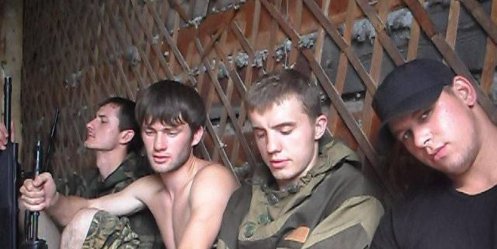 A hearing in the criminal case "maritime guerrillas" were resumed on April 10 in Primorsky regional court after a break from March 20.
At the trial the prosecution continues to provide evidence. Meetings will be held three times a week.
The case of "coastal partisan" judge Alexander Kirov district residents and Vadim Kovtunov, Roman Savchenko, Maxim Kirillov Vladimir Ilyutikova and Alexei Nikitin. They are accused of the murders, banditry, robbery, theft of documents, illegal purchase, possession, carrying a weapon, the deliberate destruction of another's property, assaults on police officers, stealing weapons, theft, car theft.
As reported at the first court hearing on January 23 lawyers, two of the six defendants partially admitted his guilt. The case heard by a panel of jurors.
25-06-2013, 16:45, eng news
A charity event aimed at maintaining low-income families, "Help get ready for school," launched in Artem. The action "Help get ready for school" started in Primorye It runs for 11 years in a row,...

14-08-2013, 13:30, eng news
Zagreb hockey club "Medvescak" did not play a friendly match with the Vladivostok "Admiral," said the vice-president of the KHL Vladimir Shalaev. On Monday, the official site of the CHL appeared text...

23-03-2013, 04:48, eng news
Interior Ministry has set new defendants in the criminal case of embezzlement of budget funds allocated for the preparation and holding of the APEC summit in Vladivostok. Director of "Civil Control"...

4-03-2013, 02:40, eng news
In Ussuri court will consider the criminal case against the head of the local branch of the traffic police. Ussuriisk trial goes chief of traffic police officer, exceeding official powers, to...

31-08-2013, 20:16, eng news
The first in the environmental campaign "Green Russia" took part Vladivostok. More than a hundred residents gathered at the site near the station "Morgorodok." With a good mood, cheered by the music...

20-09-2013, 18:15, eng news
Now the underground rooms and tanks accumulated about 440000 tons of contaminated water. According to experts, the technical tunnel stations - 15 thousand tons. Operator nuclear power plant...

22-05-2013, 18:30, eng news
In June of this year in the capital of Primorye will open a French visa center. French Consulate opened in Vladivostok during his visit to Moscow in February this year, President of the French...

6-05-2013, 15:30, eng news
New kindergarten was opened in the guerrilla zone. Preschool "Fairy Tale" in the village of Sergeevka recovered from the ruins of the means of Eastern Petrochemical Company before his second birthday...
29-03-2013, 08:00, eng news
Information Service Radio "Lemma" - News of the full range!......
11-09-2013, 15:21, eng news
Heating networks in Primorye prepare for the heating season, today the work is done by 90 percent. By 15 September, all social sites and buildings housing stock should get a certificate of readiness....