ЗНАКОМСТВА
КРАСОТА
ЗДОРОВЬЕ
ТУРИЗМ
АВТОНОВОСТИ
НОВОСТИ СПОРТА
Japan gave a false report about the launch of the North Korean missile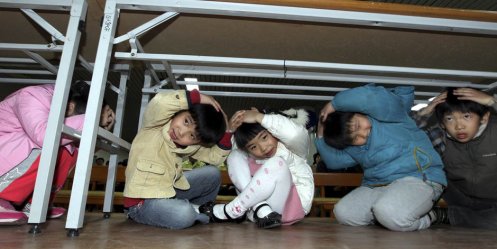 Photos: re-actor.ne

Ministry of State Land and Transport today announced that its subordinate air traffic management center today gave the wrong signal about the launch of the rocket North Korea. Recently, this is the second case of the transmission of erroneous messages in Japan, Xinhua reports .

One of the staff located in Fukuoka City's air traffic control center today in the afternoon because of the admitted errors in the Japanese sent to all departments to monitor aircraft prefab email about North Korea's missile launch. Upon receiving this message part of agencies to wireless communication systems reported in the air aircraft - "Attention, launched missiles". 4 minutes after sending a false report of air traffic management center sent a letter, as amended.

Ministry of State Land and Transport stated that there is no evidence that this message is affected aircraft flights in the future will be taken to prevent the recurrence of similar incidents.

Agencies to counter the crisis, the government of the city of Yokohama in April 10 in the microblog page sent the wrong signal that "North Korea has launched missiles," the city government later apologized to the citizens.
21-05-2013, 17:30, eng news
Primorsky Territory Governor Vladimir Miklushevsky at the Russian Children's Center "Eaglet" took part in the meeting on the issues of children's activities, which Dmitry Medvedev. In Primorye, plan...
14-05-2013, 17:20, eng news
In the course of the next 27 draw large families Vladivostok received plots of land......

3-07-2013, 16:00, eng news
Целью совещания является установление надлежащего контроля со стороны Управления Федеральной налоговой службы и Управления Федеральной службы судебных приставов по Приморскому краю за деятельностью...

3-08-2013, 15:16, eng news
Arsenyevskiye municipal court convictions against two former employees of the department number 4 IER traffic police MOI of Russia for the Primorye Territory, found guilty of crimes under Art. 290...
8-06-2013, 17:01, eng news
Following the governor Miklushevsky, made a report to the Legislative Assembly, a report on the work in 2012 presented to the MPs City Council mayor of Vladivostok Igor Pushkarev. Judging by the...

22-08-2013, 13:16, eng news
It seems that the most dire predictions of Khabarovsk authorities and hydrometeorologists coming true: according to the Ministry of Emergency Situations of the region at the level of the Amur...
25-04-2013, 19:30, eng news
Nearly 27 tons of vegetables partially infected thrips......

17-08-2013, 17:30, eng news
Territory Governor Vladimir Miklushevsky took part in the "round table" on "traditional territories of indigenous peoples of the Primorsky Territory: Prospects for Development". It was held in the...

24-08-2013, 16:45, eng news
In the night from 23 to 24 August the most dedicated fans of "Ray" did not sleep - because our team played another away game, this time - in the Caucasus. Despite the fact that many football...

30-04-2013, 11:00, eng news
"Aurora" can become a training ship for the Kronstadt Naval Cadet Corps and Nakhimov Naval College......