ЗНАКОМСТВА
КРАСОТА
ЗДОРОВЬЕ
ТУРИЗМ
АВТОНОВОСТИ
НОВОСТИ СПОРТА
Ilya Lagutenko and electronics DZA recorded a song for the loudest domestic premiere this spring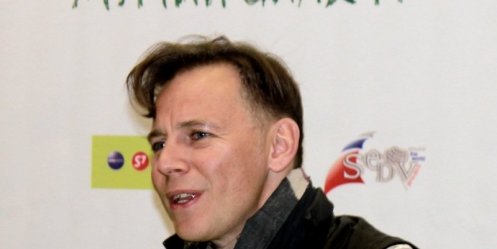 Photo: Anatoly Filatov

Ilya Lagutenko voice will sound in a new cartoon George Danelia "Ku! Kin-dza-dza "(VIDEO).

Music video with "videonarezkoy" from his upcoming animated film in rolling Danelia available on YouTube. However, while it is not known if the song will sound leader of the "Mummy Troll" in the final version of the film.

Told myself Ilya Lagutenko , To write a song for the cartoon based on the film "Kin-dza-dza!" Because he decided long passion for the feature film. At the time this picture made a strong impression on him. Moreover, the group is watching a movie in 1986 in each of their tours.

The new project "Ku! Kin-Dza-Dza "began in 2005. Cartoon premiered on 21 February. In rolling picture should emerge on April 11 that is already on next week.

Note that with Lagutenko worked on the song Alexander Holenko Performing under the pseudonym DZA. Musicians are familiar from school - they learn in Vladivostok in one educational institution, however, a difference of ten years. Before the project, "Ku! Kin-dza-dza " Holenko recorded a version of Ilya Lagutenko " Speed "Project for the magazine" Billboard ". Now the name of their joint project sounds like IL-DZA.

Official cartoon composer was listed Kancheli . Recall synopsis. Beginner DJ Shreds and world renowned cellist Vladimir Chizhov meet on a noisy street in Moscow barefoot man. Clicking on the strange machine, the characters move to the desert planet Plucker. Animated remake of beloved movie "Kin-dza-dza!" No less exciting and funny than the original, the adventures of the Shred and Uncle Vova. In this world of sand people are divided into two categories - patsaks and plyukan, simple match has incredible value, and people meet and see off the color of pants.

Cartoon was launched in February 122005. Work on the film was delayed because of the withdrawal of funding in late 2008 and the subsequent trial. The film was completed in 2012 by order of the Government of the Russian Federation Ministry of Culture. The actor, who voiced the Shred for the filming had to finish school, go to the army and to return from it.

14-05-2013, 14:20, eng news
Release of the new album Mummy Troll closer. August 252013 the whole world will know that the same will be on the album cover. Fans with special services involved in its creation (PHOTOS)......
17-06-2013, 14:45, eng news
9 June 1900 in the Primorskii regional centre of folk culture in support of an exhibition of computer graphics Tatiana Зорькиной «Life» will take place the concert of an author's song. Will...

1-08-2013, 14:01, eng news
OWEN. From a professional point of view, bad day. It is suitable for both new start and to complete the old cases. You can negotiate, take the initiative, to implement their ideas. Please refrain...
5-06-2013, 15:30, eng news
Nearly 13000 counterfeit discs seized from circulation in the Primorye Territory. A large consignment of counterfeit discs seized in Primorye and the cost of DVD discs with the software, labeled...
10-06-2013, 16:46, eng news
Every day Vladivostok more blooms. Specialists MBU «Горзеленстрой» daily planted on city beds and lawns variety of flowers. Begonias, pelargonium, тагетисы, roses and many other flowers of different...

8-03-2013, 03:48, eng news
Sites on the route M60 "Vladivostok-Ussuriisk," is now the reconstruction, last night of a traffic jam stretching for about 7 km. According to eyewitnesses, the movement is difficult because of a...

17-07-2013, 19:30, eng news
Many municipalities have already started summer promotion "Help get ready for school." There is a fundraiser for the purchase of clothing and shoes, school supplies. In Primorye, launched a campaign...
26-03-2013, 12:50, eng news
Quick small vessels in the Maritime Territory will not be soon, but, despite this, the guards continue to detain the waters of small vessels. Illegal sea cucumber seized in Primorye late evening of...

11-04-2013, 12:50, eng news
beneficiaries. Overall, in the province as part of additional drug supply are 56 pharmacies and pharmacy items......

17-04-2013, 11:11, eng news
In the coastal food manufacturers discovered bacteria harmful to health. Dangerous bacteria found in the products of the coastal manufacturers These laboratory studies show held last week showed that...