ЗНАКОМСТВА
КРАСОТА
ЗДОРОВЬЕ
ТУРИЗМ
АВТОНОВОСТИ
НОВОСТИ СПОРТА
Vladivostok reign dampness and fog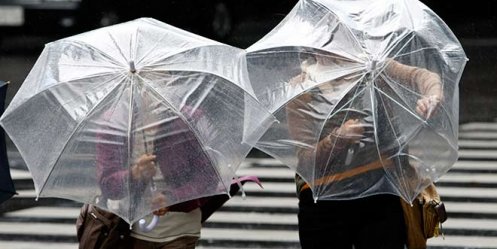 Today, May 28 weather conditions in the Maritime region determines the cyclone and fronts.
The region is small, sunny rain. On the coast, fog in places. South-west wind is moderate, on the west edge of the strong. Air temperature +9 +30 ° C.
In Vladivostok, overcast, fog, drizzle, turning from time to time in the rain. Southeast wind is moderate to strong, from the second half of the day strong. Air temperature +9 +11 ° C. Radiation levels 13 mR /hr.
B Ussurijsk cloudy, light rain. South-west wind is strong. Air temperature +13 +15 ° C.
In Nakhodka rain, fog, drizzle, turning from time to time in the rain. Southeast wind moderate. Air temperature +12 +14 ° C.

21-08-2013, 18:32, eng news
Viktor Ishayev today visited Khabarovsk Shipyard and examined the civilian ships being built under the program of development of transport infrastructure. Also envoy visited azimuth tug, which is now...

6-04-2013, 17:30, eng news
Do not forget the police and homeless pets. They will be required to "create the conditions"......

2-08-2013, 15:31, eng news
The doctors figured out, which is why children of VDTs "Ocean" hit with food poisoning in the hospital. Causes of ailments doctors called a violation receiving food and water during the journey to...
25-07-2013, 15:18, eng news
Region Prosecutor's Office summed up the work of supervision over the implementation of legislation in the implementation of priority national projects. Analysis of the state of the law in this area...

1-08-2013, 19:17, eng news
In the department of bailiffs in Hope area was initiated enforcement proceedings to recover from the men of the criminal fine of 14000 rubles. To pay the debt, the man stole the money Once the debtor...
4-06-2013, 19:46, eng news
In Vladivostok continues its work the exhibition «Beauty, girls and other persons» in the Primorsky state picture gallery. The exposition represents a collection of rag dolls, collected Tatyana...

23-05-2013, 14:20, eng news
All classrooms where students will write exams will be removed from the stands of reference and cognitive information. Anyone with a mobile phone is found, will be removed from the examination......

29-08-2013, 22:47, eng news
Decoupling will provide transit transport from the village to the village Nightingale key ease-Nadezhdinskoye, Novy, village Cool and the railway station. Also, thanks to the roundabout will be able...
18-06-2013, 14:01, eng news
Tomorrow, 19 June, will take place the field session of the Public Council under the Ministry of internal Affairs, on Vladivostok in the building of the police Department №5 (Sovetsky district). In...

3-09-2013, 15:46, eng news
Former commander of the company of a battalion police control of private security to stand trial in Vladivostok. Police officer to be tried for bribery He is accused of abuse of office and bribery....