ЗНАКОМСТВА
КРАСОТА
ЗДОРОВЬЕ
ТУРИЗМ
АВТОНОВОСТИ
НОВОСТИ СПОРТА
Toyota is recognized as the most expensive car brand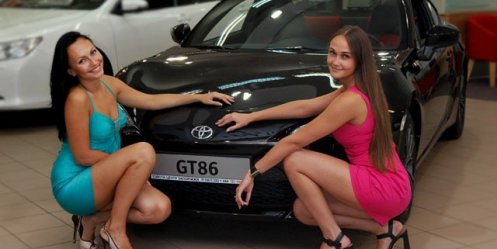 Photo: autoandgirls.ru

According to the rating compiled by BrandZ, Toyota became the most expensive car brand. Its cost is estimated at 24497 billion dollars. In the overall ranking of brands of the company was on the 23th place, behind Apple, Google, McDonalds, and others. Right behind Toyota, the place to be for 24 BMW, whose value was estimated at 24015 billion dollars.

In the third place among the cars and by 43 in the overall ranking was Mercedes, whose value was estimated at 17952 billion dollars. In general, a little automakers were in the top 100 most valuable brands.

In addition to the top three in the list are present - Honda - 71 seats and the cost of 12401 billion dollars, Nissan - 86th and 10186 billion. The list is located on the 100-m site Volkswagen - the cost was estimated at 8790 billion dollars.

18-04-2013, 01:20, eng news
Complaining about where distributing potion Primorye have become much more......

12-08-2013, 16:36, eng news
Special program IFF "Pacific Meridian" "Moving Forward" will present films that were the result of an experimental approach to the creation and production of the movie. Movies section of one thing -...

11-07-2013, 17:48, eng news
Another hooligan incident occurred today in Vladivostok. Unknown smeared intercom in entrance of an apartment house on the street Skipper Gek, 24 faeces. This RIA «VladNews» managed to find out from...

9-09-2013, 00:30, eng news
In Primorye, the traffic police are checking on the fact of an accident involving a moped driver. The owner of the moped was injured, not compatible with life, and died before the arrival of the...

31-07-2013, 13:48, eng news
The pensioner said that in her apartment, located on the fourth floor, through the unlocked window on the balcony, holding a mosquito net, entered the unknown. Was stolen from the home DVD-player and...

31-07-2013, 20:16, eng news
Improving the quality of the labor force of citizens with disabilities - one of the most important problems to be solved by the employment service of Primorye. Disabled in Primorye try to provide...

22-05-2013, 13:20, eng news
Almost all Soviet leaders evoke positive emotions of most citizens. For example, Joseph Stalin commends the 50% of citizens......

15-03-2013, 13:40, eng news
Continuation of the exhibition Chagall, Matisse and Dali will be the work of Kandinsky and Miro (PHOTO)......

23-07-2013, 10:01, eng news
Today, July 23 weather conditions in the Maritime region determines the field of high blood pressure. The region places a little rain in the morning fog. Wind southwest moderate. Air temperature 17 ...

22-08-2013, 18:01, eng news
August 21 to participate in the celebrations of the 70th anniversary of the Victory in the Battle of Kursk, in the heroic city of Vladivostok Kursk a delegation that will participate in the...