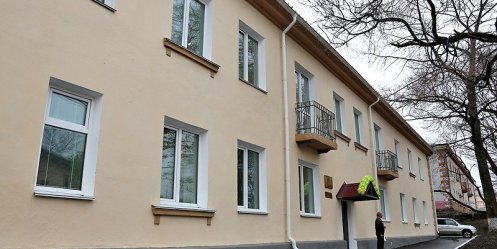 Photo: Administration of Vladivostok

This week the young teachers and educators Vladivostok celebrated the housewarming party: at Nesterov, 5 opened up for them the first hostel. The plans - construction of residential houses for teachers with high-grade apartments.

"Building on Nesterov, 5 was for many years in the lease, gradually fell into disrepair and decay, - told the news agency Primore24 the press service of the Administration of Vladivostok. - Last year, on the instructions of Igor Pushkarev he was returned to the property of the municipality, the city's budget has allocated money for major repairs, prepared in a dorm double rooms with furniture. The hostel is designed for 50 people, and yet not fully populated. Novoselov is open to any teacher, the experience of not more than three years. "

How to tell the agency Primore24 deputy head of the administration of Vladivostok Natalia Maltsev "The hostel will be a great help in solving the problems of personnel and to attract young professionals in the education system of Vladivostok. Through the efforts of the city administration, young teachers now receive a decent wage, on time and without delay. This set up can attract recent graduates of pedagogical universities and colleges, active and motivated young people in our schools and kindergartens. "

The first resident of the hostel was an English teacher from school number 62 Catherine Tkachev Who moved to Vladivostok, from Komsomolsk-on-Amur, two years ago. Previously, she had to rent an apartment for a young woman that was very expensive: Apartment dispensed almost half the salary. Now the situation has changed: the disposal of young faculty lounges and self, a kitchen equipped with new electric stoves, microwaves and Potter, laundry room with new automatic washing machines, showers and double rooms with furniture. So the first residence in the new dorm young teacher came in handy.

"The issue of attracting young professionals in the field of education is serious enough - the head of Vladivostok Igor Pushkarev - The first thing we did - it created a special program to attract young teachers. It includes a number of measures to support the teachers. Example, when the young people just come to work, he gets a lump sum cash payment in the amount of five tariff salary. And then every month in addition to the salary paid to him for 10000 rubles. "

Building at Nesterov 5 a long time, stayed in a frightening condition: a crumbling facade, leaking ceilings, rooms in utter desolation. As a result, repair undergone almost everything. The windows were replaced by plastic, perestelili floors, sheathed with plasterboard walls, replaced the power supply system, sewage system.

Note that the housing is provided for young teachers and teachers of Vladivostok for free. In order to qualify for it, the teacher should have experience of working in the education system of Vladivostok is not more than 3 years.