ЗНАКОМСТВА
КРАСОТА
ЗДОРОВЬЕ
ТУРИЗМ
АВТОНОВОСТИ
НОВОСТИ СПОРТА
The stadium "Youth" in Vladivostok laid artificial turf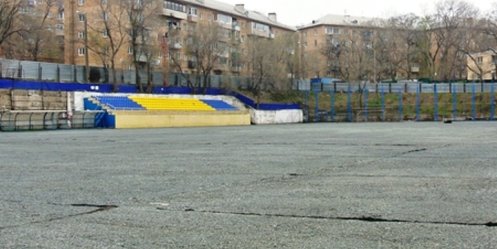 Photo: FC "Luch"

The long-awaited reconstruction of the stadium began in Vladivostok "Youth", which train students and conduct games TSPYUF "Luch-Energia", as well as the club's youth team.

Old carpet, "spent" 9 years, had already withdrawn, and the beginning of June in its place will be laid modern artificial turf last generation. The same as at a training base of the club on Sedanka.

In addition to the young players, "Ray-Energy" on the new stadium, "Youth" will be able to engage in amateur football teams Vladivostok, as well as children's and youth teams of the city. In addition, there will be the official championship game Primorye Cup and the Championship of Russia among the teams third league zone "Far East" and children's and youth tournaments at various levels.

23-03-2013, 02:53, eng news
Employees of the Department of Forestry in the Far Eastern Federal District and the experts of the World Wildlife Fund is to meet the "Earth Hour" in a raid in the Bikin River in Primorye......

24-05-2013, 11:20, eng news
deputies. According to the bill, get a free plot of land for housing will be able to several categories of citizens......

3-08-2013, 15:17, eng news
General manager of "Admiral" Alexander Filippenko announced the signing of a contract with the German striker Felix Schutz. "The club has signed a contract with Schutz for one year - said...
30-05-2013, 13:40, eng news
For the sale of drugs in large and extra large sizes could face long imprisonment up to life......
20-06-2013, 13:15, eng news
On the fact of theft from a shop and property damage review. The question on excitation of criminal case. Last night at the grocery store on the street, red banner in the city of Ussuriysk worked...
14-06-2013, 12:00, eng news
During customs supervision the unloading of the goods from the ship «OCEAN PRIDE», came to Vladivostok from the Japanese port Тоямашинка, revealed the fact of illegal movement across the customs...

29-08-2013, 22:45, eng news
Vladivostok, IA Primore24. Not every day - but what's there, not every year - Vladivostok fly the stars of world boxing. However, the Federation DRAKA decided that it was a guest - Roy Jones Jr -...
10-06-2013, 22:15, eng news
Bailiffs in Primorye unwittingly made conciliators between spouses. The child's father, a long time did not pay child support, citing the fact that he had no steady income. Debt increased to 700...
14-06-2013, 12:03, eng news
Director of the Institute of marine biology Feb RAS academician Andrey Adrianov scientific merit was awarded the State prize. Awards ceremony for outstanding achievements in science and technology,...

11-08-2013, 18:31, eng news
Yingmey Duan (Braunschweig) and Anna Parmenov (Vladivostok) invite everyone to leave a "trace" in the history of modern art - August 22 artists will work on a giant canvas: on the surface of the...