ЗНАКОМСТВА
КРАСОТА
ЗДОРОВЬЕ
ТУРИЗМ
АВТОНОВОСТИ
НОВОСТИ СПОРТА
The stadium "Youth" in Vladivostok laid artificial turf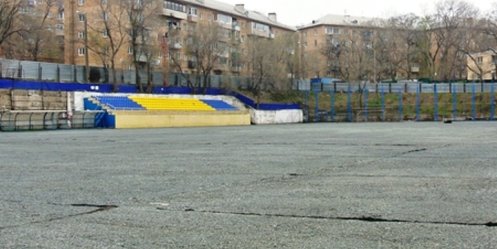 Photo: FC "Luch"

The long-awaited reconstruction of the stadium began in Vladivostok "Youth", which train students and conduct games TSPYUF "Luch-Energia", as well as the club's youth team.

Old carpet, "spent" 9 years, had already withdrawn, and the beginning of June in its place will be laid modern artificial turf last generation. The same as at a training base of the club on Sedanka.

In addition to the young players, "Ray-Energy" on the new stadium, "Youth" will be able to engage in amateur football teams Vladivostok, as well as children's and youth teams of the city. In addition, there will be the official championship game Primorye Cup and the Championship of Russia among the teams third league zone "Far East" and children's and youth tournaments at various levels.

24-08-2013, 16:30, eng news
On Saturday, August 24 Primorye Governor Vladimir Miklushevsky visited areas affected by severe floods. As the press service of the head region, the first item on the itinerary was the governor of...

31-07-2013, 13:31, eng news
In the course of the government commission governor of Primorsky Krai Vladimir Miklushevsky a presentation of the project of creating a fish processing in the region of the cluster. In Primorye, the...

26-03-2013, 11:40, eng news
The next tournament will be held April 20 Pankration in the building Vladivostok Circus. The event is supported by the Mayor of Vladivostok......
27-06-2013, 16:15, eng news
Primorsky Territory Governor Vladimir Miklushevsky met with the Rector of the University of California at Los Angeles David Gene Block. In Palo will introduce startups head of the region said that...

11-09-2013, 18:31, eng news
Police in Vladivostok with FSB officials in Primorye stopped the distribution channel five thousandth of counterfeit bills - this VestiRegion.ru the press service of Ministry of Internal Affairs of...

1-04-2013, 07:10, eng news
In the near future Boeing 777-300ER will operate flights to Bangkok, Phuket, New York, Hong Kong and Petropavlovsk-Kamchatsky and Yuzhno-Sakhalinsk......

21-03-2013, 03:30, eng news
Until the end of 2013 they have the ability to change the rate of contributions to the funded part of the pension......

17-04-2013, 20:00, eng news
Before the end of the school year, bikers and traffic police will carry out preventive activities among high school students in the schools of Vladivostok......

28-04-2013, 14:00, eng news
Wealden Psychology and Victor Simonov started on April 6 at the North Pole and set a goal to reach the southern tip of Greenland......

15-07-2013, 23:45, eng news
During the week of 11 teams, which included more than 100 children and adolescents from the Amur, Sakhalin and Magadan regions, Primorye, Kamchatka, Khabarovsk, the Jewish Autonomous Region, the...