ЗНАКОМСТВА
КРАСОТА
ЗДОРОВЬЕ
ТУРИЗМ
АВТОНОВОСТИ
НОВОСТИ СПОРТА
The stadium "Youth" in Vladivostok laid artificial turf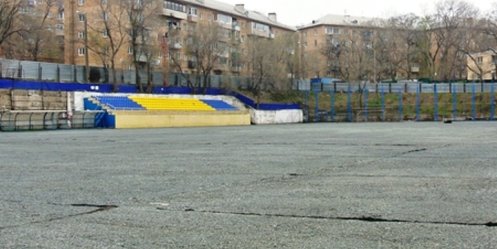 Photo: FC "Luch"

The long-awaited reconstruction of the stadium began in Vladivostok "Youth", which train students and conduct games TSPYUF "Luch-Energia", as well as the club's youth team.

Old carpet, "spent" 9 years, had already withdrawn, and the beginning of June in its place will be laid modern artificial turf last generation. The same as at a training base of the club on Sedanka.

In addition to the young players, "Ray-Energy" on the new stadium, "Youth" will be able to engage in amateur football teams Vladivostok, as well as children's and youth teams of the city. In addition, there will be the official championship game Primorye Cup and the Championship of Russia among the teams third league zone "Far East" and children's and youth tournaments at various levels.

8-03-2013, 03:04, eng news
Even on Thursday, March 7 in the capital of Primorye sun was shining, and today, a holiday, outdoors snow and icy conditions......

4-08-2013, 18:16, eng news
Law enforcement officers conducted a verification of compliance with the rules of stay in the Russian foreign nationals. The operation was conducted in the Bay of Azure near Vladivostok. Those who...

21-08-2013, 18:31, eng news
All evacuees in Khabarovsk deliver comfort gorodokVseh evacuated in Khabarovsk Krai deliver comfort gorodokvskogo Vyacheslav Shport currently inspects residential areas that fall under the flooding...
20-06-2013, 13:16, eng news
Last week the Department of mining and integrated development of georesources school of Engineering University of graduation papers took place. The ordinary procedure is a bit has changed: on the...

2-04-2013, 06:20, eng news
Leninsky District Court in Vladivostok has considered the criminal case against the drug traffickers. Husband and wife Trifonov, and their "companion" Vedernikov was arrested in February last year....

24-04-2013, 13:20, eng news
In Artem runs marathon "Soldiers of Victory - with gratitude." During the campaign has already collected 790000 rubles. His contribution made by labor groups and citizens. Marathon for the Victory...
20-06-2013, 13:00, eng news
Evening of June 19 this year in the forest in the village of Livadia, near Nakhodka in the car's body was found a woman born in 1951. Boyfriend strangled woman in Primorye According to this criminal...

7-03-2013, 09:53, eng news
On the eve of the eighth March bouquets can be purchased not only in specialized stores, but also on the street. The closer the holiday, the closer to choose flowers......

1-04-2013, 09:20, eng news
Today, Russia launched the spring conscription campaign. Draft campaign started April 1 in Primorye first recruits began to pass a medical examination. In the Eastern Military District this year...
28-05-2013, 10:20, eng news
The pilots of fighter-interceptor MiG-31 had dogfights in the stratosphere, where the second crew acted as targets. (PHOTOS)......