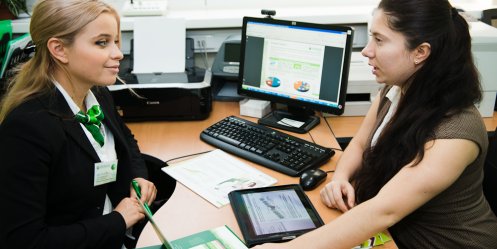 Photo by press-service of the Far Eastern branch of the "Sberbank of Russia"

Primorye branch of JSC "Sberbank of Russia" offers customers acquainted with the unique loan product for small businesses, "state order". This loan allows you to get the money to finance the costs of performance of government contracts, as well as for refinancing costs already executed contracts.

Credit "state order" granted to individual entrepreneurs and small businesses with annual revenues of no more than 400 million rubles. The minimum amount of the guarantee obligation is 150 thousand rubles, and the maximum - is determined by the ability of customers. Credit refers to a program of short-term loans, the term of which is from 1 to 24 months. Payment of interest on the loan on a monthly basis, and the principal is repaid with the proceeds from the customer.

Advantages of credit "State Order" - is funding the government contract to 70% of the total order and the possibility of returning to the turnover of funds spent on contracts already executed. Moreover, the bank may make an individual schedule of repayment of principal on the loan with the proceeds from the customer under the contract. Also, customers can get cash for property rights under the contract.

To qualify, a company must be resident in the Russian Federation. In this period of economic activity of the company should not be less than three months in the field of trade and six months - for other activities apart from seasonal. Companies borrowers who are engaged in seasonal activities, must have experience in this field for over 12 months.

For credit requires the following documents: application form, foundation and registration documents of the legal entity or individual entrepreneur, the financial statements, as well as documents on the company's business. You must also guarantee business owners or security of property rights under the contract, or guarantee of available property.

The loan provides for various forms of financing: credit, non-revolving credit line with the schedule of sampling and non-revolving line of credit with a free sample of the regime.