ЗНАКОМСТВА
КРАСОТА
ЗДОРОВЬЕ
ТУРИЗМ
АВТОНОВОСТИ
НОВОСТИ СПОРТА
Vladivostok starts bimonthly purity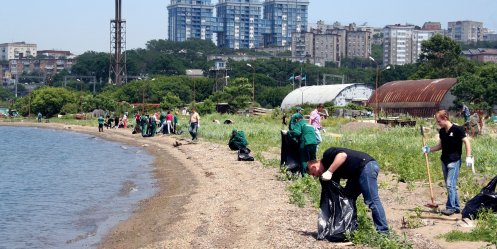 On April 10 in Vladivostok starts bimonthly health, announced the Mayor Igor Pushkarev.
Bimonthly conducted in order to improve the health and improvement of the status of Vladivostok, cleaning of roads, sidewalks, parks, adjoining areas of debris, it will last until May 31. And on April 20 of Vladivostok residents are invited to a citywide Saturday.
Within bimonthly will scale works on cleaning and landscaping, which will cover all areas - the main streets and yards, sidewalks and highways, transitions and squares. Participation in the event will be members of relevant organizations, such as travel services, asset management companies and companies specializing in the garbage disposal, and transportation companies, educational institutions, culture and health. It should be noted that to bring order to their territories must enterprise trade and catering, property owners and tenants of the buildings, as well as enterprises of all forms of ownership.
In particular, management companies must provide repair and painting of small architectural forms on the local area, delivery of land and seedlings for planting and stake beds, installing benches and bins at the entrances of apartment buildings. Transport companies will lead to the proper health and aesthetics of the rolling stock of public transport. MUPV "VPES" will work on cleaning the lighting poles from advertisements and labels, as well as provide sanitary cleaning of the fuel and energy complex (substations, boilers, boiler). OJSC "Electric transport" will hold traditional painting works catenary poles, renovation (painting and sanitary cleaning) tram trailers.
From 19 to 21 April at the incinerator and complex for the processing and disposal of solid waste in the creek Nameless will be free acceptance of waste.
The tradition to hold subbotnik and direct purity throughout the city - has been for decades. This year, the residents of Vladivostok are also invited to be active and to participate in the sanitation of the city, for example, tidy and weed your yard.
3-06-2013, 12:40, eng news
In Pozharsky district moped driver knocked down two children in a crosswalk. 7 accidents involving mopeds occurred in Primorye per night Teens 10 and 11 years were injured, but it did not require...
30-07-2013, 13:18, eng news
In Vladivostok, completed for one of the largest and most colorful events - Days of Latin America. During the festival, August -15-17 - Vladivostok will visit about 200 Latin American guests....

15-07-2013, 18:17, eng news
In the city of Nakhodka, the prosecutor sought to eliminate violations of the legislation on the state of municipal enterprises. As told to the correspondent of RIA «VladNews» Senior Assistant...

30-04-2013, 12:00, eng news
Information service of Radio "Lemma" - News in the full range!......

2-04-2013, 05:10, eng news
For the title fight twenty-five student teams of five areas - "counselors", "Putin", "Builders", "Miners" and "conductors"......

7-08-2013, 17:32, eng news
Primorsky Territory Governor Vladimir Miklushevsky today, August 7 is in the Khasan district, where he participated in ceremonies commemorating the 75th anniversary of the Khasan events. Khasan event...
20-05-2013, 15:30, eng news
Last night the 28-year-old driver in a car «Toyota RAV4» Michael Ivanivka in the area knocked down 34-year-old man. 56 accidents occurred in Primorye per night accident happened around midnight on...

6-05-2013, 16:20, eng news
In addition to judging the line of the best dancers and teachers of Vladivostok will be the stars of the hustle of St. Petersburg......
19-06-2013, 13:33, eng news
To perform artillery and missile firings in areas of combat training in the sea of Japan came guards missile cruiser «Varyag». During several days the crew of missile cruiser will perform some types...

12-09-2013, 19:41, eng news
In the State Duma oppose proposals residents of Yakutsk, where on Sunday committed rape of four girls to toughen penalties for pedophiles including the death penalty. On Wednesday, about a hundred...