ЗНАКОМСТВА
КРАСОТА
ЗДОРОВЬЕ
ТУРИЗМ
АВТОНОВОСТИ
НОВОСТИ СПОРТА
The story of the fugitive former head of the State Unitary Enterprise "Maritime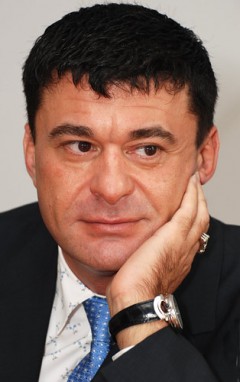 The story of the fugitive former head of the State Unitary Enterprise "Primorsky Regional pharmacy" Basil Sysoykina gets more scandalous sequel. In the course of the investigation, which conducts the investigation department of the FSB of Russia Primorsky Krai on the facts of the illegal activities of the former head of the regional pharmacy, instituted under Part 1 of Article 201 of the Criminal Code ("Abuse of authority"), revealed new episodes of criminal activity "chief pharmacist." As the press service of the regional Federal Security Service, the investigative department of the FSB of Russia Primorsky Krai excitedly 13 criminal cases on the grounds of an offense under Article 160 of the Criminal Code ("Embezzlement"). And all of these cases involve personally Basil Sysoykina. The findings of the investigation materials show that as a result of unlawful actions of the accused to the state suffered damage amounting to more than 100 million rubles. According to investigators, Basil Sysoykina, acting deliberately, using its powers contrary to the legitimate interests of the organization he heads, in order to reap the benefits and advantages for himself, made a number of offenses in the period from 2006 to 2012 was reflected in the application of the State Unitary Enterprise "Primorsky Regional Pharmacy "substantial monetary damages in the amount of more than 24 million rubles. Counterintelligence investigators reveal more and more new evidence of illegal activities of the former head of the State Unitary Enterprise "Primorsky Regional pharmacy." For newly otryvshimsya circumstances under investigation and other legal proceedings aimed at securing evidence. Investigation of the case continues. A source told RIA «VladNews» from unofficial sources, in some cases, "the chief pharmacist" (now former, and fled, presumably abroad) simply took money from the cash register and placed the company or in your account or the accounts of relatives. Such is the "pharmaceutical crime" period of 2006-2012 years. Prior to initiation of criminal proceedings Basil Sysoykina positioned himself as lieutenant colonel of medical service, a former military doctor, a former Marine who was awarded the Order of Courage for service in the North Caucasus. State Unitary Enterprise "Primorsky Regional pharmacy" he chaired from 2003 to 2012. In connection with the change of the governor of Primorye to financial activity Sysoykina was shown a keen interest in, and then "chief pharmacist" urgently resigned and went abroad Final Pharmacy Business Hero of the North Caucasus was somehow criminal

Ivan the Terrible, RIA «VladNews»

10-09-2013, 22:30, eng news
18 foreigners offenders identified officers of the Immigration Control Department of the Federal Migration Service of Russia for the Primorye Territory (DEC FMS Russia for the Primorye Territory)...

3-07-2013, 15:45, eng news
July 2 in an apartment down the street Blucher in Ussuriysk found the bodies of two men with signs of violent death - multiple stab wounds. Woman in Primorye stabbed two men on this fact...

19-04-2013, 15:00, eng news
Since April 23 the subscriber station exit "Dalenergosbyta" in the village of Labor goes into enhanced mode......

18-03-2013, 07:00, eng news
This year will be opened in the Primorye 7 multifunctional centers, based on which will run 95 "single window" for the provision of public and municipal services. The number of "single window" in...

7-08-2013, 13:03, eng news
"Sberbank is a reliable partner for municipalities and is ready to provide financial support on a fairly comfortable environment. Thus, in 2012 to finance the budgets of different levels were sent...

19-08-2013, 18:46, eng news
Administration of Primorsky Territory to decide whether to change the status of the closed administrative-territorial formation of Bolshoi Kamen. As RIA «VladNews» the press service of the...

23-08-2013, 22:16, eng news
The corresponding decree was published on the government website. As reported in the finance department of Primorsky Krai, the implementation of the provisions of the order of the government will...

23-07-2013, 15:46, eng news
Upon the death of two residents of the border region of Primorye investigators have opened a criminal case. Two men killed in Primorye The bodies of men in 1967 and 1960 with the birth of multiple...

16-05-2013, 14:30, eng news
Large-scale reconstruction of the road to the lighthouse Tokarevskoye moved into its final stage - now road workers laid asphalt. Recall that the road construction equipment - excavators, loaders and...

18-07-2013, 17:18, eng news
This decision was taken due to a large number of citizens and to improve the quality of passenger service by sea coastal transport. From tomorrow, approved the following schedule of passenger boats...