ЗНАКОМСТВА
КРАСОТА
ЗДОРОВЬЕ
ТУРИЗМ
АВТОНОВОСТИ
НОВОСТИ СПОРТА
The story of the fugitive former head of the State Unitary Enterprise "Maritime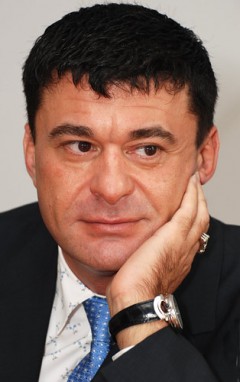 The story of the fugitive former head of the State Unitary Enterprise "Primorsky Regional pharmacy" Basil Sysoykina gets more scandalous sequel. In the course of the investigation, which conducts the investigation department of the FSB of Russia Primorsky Krai on the facts of the illegal activities of the former head of the regional pharmacy, instituted under Part 1 of Article 201 of the Criminal Code ("Abuse of authority"), revealed new episodes of criminal activity "chief pharmacist." As the press service of the regional Federal Security Service, the investigative department of the FSB of Russia Primorsky Krai excitedly 13 criminal cases on the grounds of an offense under Article 160 of the Criminal Code ("Embezzlement"). And all of these cases involve personally Basil Sysoykina. The findings of the investigation materials show that as a result of unlawful actions of the accused to the state suffered damage amounting to more than 100 million rubles. According to investigators, Basil Sysoykina, acting deliberately, using its powers contrary to the legitimate interests of the organization he heads, in order to reap the benefits and advantages for himself, made a number of offenses in the period from 2006 to 2012 was reflected in the application of the State Unitary Enterprise "Primorsky Regional Pharmacy "substantial monetary damages in the amount of more than 24 million rubles. Counterintelligence investigators reveal more and more new evidence of illegal activities of the former head of the State Unitary Enterprise "Primorsky Regional pharmacy." For newly otryvshimsya circumstances under investigation and other legal proceedings aimed at securing evidence. Investigation of the case continues. A source told RIA «VladNews» from unofficial sources, in some cases, "the chief pharmacist" (now former, and fled, presumably abroad) simply took money from the cash register and placed the company or in your account or the accounts of relatives. Such is the "pharmaceutical crime" period of 2006-2012 years. Prior to initiation of criminal proceedings Basil Sysoykina positioned himself as lieutenant colonel of medical service, a former military doctor, a former Marine who was awarded the Order of Courage for service in the North Caucasus. State Unitary Enterprise "Primorsky Regional pharmacy" he chaired from 2003 to 2012. In connection with the change of the governor of Primorye to financial activity Sysoykina was shown a keen interest in, and then "chief pharmacist" urgently resigned and went abroad Final Pharmacy Business Hero of the North Caucasus was somehow criminal

Ivan the Terrible, RIA «VladNews»

27-03-2013, 10:50, eng news
Service "Personal Financial Planning" helps you choose the best option of investing surplus funds......
13-06-2013, 17:00, eng news
As informs a site DVHab.ru the story with the installation of the monument «Упоротому Fox» receives all new and new sequel. It was expected that the monument is just about to be agreed by the...

31-07-2013, 13:47, eng news
has passed the exam. This year, her favorite child graduated from high school. Has passed the exam - well, by the way, deposited by 80-85 points for the exam. And the child went with her mother to...

28-07-2013, 16:18, eng news
Members of the Legislative Assembly of Primorsky Krai took part in the celebrations of the Day of Navy of Russia. The festivities began with a solemn wreath-laying ceremony at the Eternal Flame...

15-08-2013, 00:19, eng news
On Saturday at the beach cove Shamora host music festival "Space." Program became known band performances: 1505 - 1530 Dersu Uzala 1540 - 1605 Korpus 1615 - 1640 Drugie Znaki 1650 - 1715 XP-Reactor...

16-09-2013, 14:01, eng news
Here, he will hold a series of workshops. At 11 regional headquarters to begin the heating season. Together with experts specialized structures will summarize the preparation for winter housing,...
9-05-2013, 14:20, eng news
In Primorye police are checking into the death of a child in an accident......

1-08-2013, 19:34, eng news
Service is provided by the Joint Credit Bureau (EDB). In the development of the Bureau Scoring III generation has been used world's best practices in the construction of similar decisions leading...

20-09-2013, 15:37, eng news
This morning on the Amur Bay in Vladivostok spilled oil. The oil spill occurred in the Amur Bay on the place of the emergency profit investigation group Vladivostok management AMIA transport, police...

19-09-2013, 21:58, eng news
Deputy Prime Minister Dmitry Rogozin has put the issue of the dismissal of the director of the Far Eastern shipyard "Zvezda" Vladimir Averin due to accident on nuclear submarine "Tomsk". "Here, the...