ЗНАКОМСТВА
КРАСОТА
ЗДОРОВЬЕ
ТУРИЗМ
АВТОНОВОСТИ
НОВОСТИ СПОРТА
The story of the fugitive former head of the State Unitary Enterprise "Maritime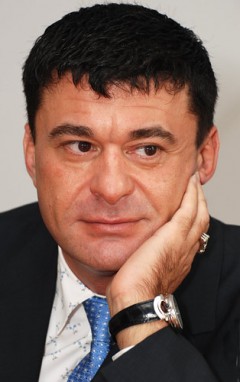 The story of the fugitive former head of the State Unitary Enterprise "Primorsky Regional pharmacy" Basil Sysoykina gets more scandalous sequel. In the course of the investigation, which conducts the investigation department of the FSB of Russia Primorsky Krai on the facts of the illegal activities of the former head of the regional pharmacy, instituted under Part 1 of Article 201 of the Criminal Code ("Abuse of authority"), revealed new episodes of criminal activity "chief pharmacist." As the press service of the regional Federal Security Service, the investigative department of the FSB of Russia Primorsky Krai excitedly 13 criminal cases on the grounds of an offense under Article 160 of the Criminal Code ("Embezzlement"). And all of these cases involve personally Basil Sysoykina. The findings of the investigation materials show that as a result of unlawful actions of the accused to the state suffered damage amounting to more than 100 million rubles. According to investigators, Basil Sysoykina, acting deliberately, using its powers contrary to the legitimate interests of the organization he heads, in order to reap the benefits and advantages for himself, made a number of offenses in the period from 2006 to 2012 was reflected in the application of the State Unitary Enterprise "Primorsky Regional Pharmacy "substantial monetary damages in the amount of more than 24 million rubles. Counterintelligence investigators reveal more and more new evidence of illegal activities of the former head of the State Unitary Enterprise "Primorsky Regional pharmacy." For newly otryvshimsya circumstances under investigation and other legal proceedings aimed at securing evidence. Investigation of the case continues. A source told RIA «VladNews» from unofficial sources, in some cases, "the chief pharmacist" (now former, and fled, presumably abroad) simply took money from the cash register and placed the company or in your account or the accounts of relatives. Such is the "pharmaceutical crime" period of 2006-2012 years. Prior to initiation of criminal proceedings Basil Sysoykina positioned himself as lieutenant colonel of medical service, a former military doctor, a former Marine who was awarded the Order of Courage for service in the North Caucasus. State Unitary Enterprise "Primorsky Regional pharmacy" he chaired from 2003 to 2012. In connection with the change of the governor of Primorye to financial activity Sysoykina was shown a keen interest in, and then "chief pharmacist" urgently resigned and went abroad Final Pharmacy Business Hero of the North Caucasus was somehow criminal

Ivan the Terrible, RIA «VladNews»

25-04-2013, 11:10, eng news
Vehicular traffic on the site will not overlap, but in view of the large number of vehicles lanes will be reduced......

13-03-2013, 03:00, eng news
Hall. The movement should be organized to fit the law and did not violate the legitimate interests of an indefinite number of persons to safety......
27-05-2013, 19:40, eng news
Citizens of China, ignoring the state border of the Russian Federation, illegally entering the border zone of Primorye......

3-04-2013, 06:20, eng news
Now working quickly restore rails that were removed because of work "Primvodokanala." (PHOTOS)......

31-07-2013, 15:31, eng news
Today, 31 July, seaside parliamentarians in the second and third readings of the amendments adopted, according to which the system receiving state services on the principle of "one window" is much...

3-07-2013, 20:45, eng news
Среди таможен безусловным лидером по формированию доходной части федерального бюджета в 2013 году является Владивостокская таможня – 51 млрд 308 млн рублей. Существенный вклад в пополнение...

22-05-2013, 13:40, eng news
The region has developed legislation that will define the main directions of development of coastal tourism, as well as measures of the state support the tourism industry......

29-04-2013, 15:00, eng news
First of May due to the holiday parade some of the streets of Vladivostok will be closed to vehicular traffic......

28-03-2013, 03:00, eng news
As a result, a man was taken to hospital with severe head injuries - he was not wearing a helmet......

11-03-2013, 05:45, eng news
From March 17 it stops executing ferry route "Vladivostok - about. Russian (Pospelovo). "......