ЗНАКОМСТВА
КРАСОТА
ЗДОРОВЬЕ
ТУРИЗМ
АВТОНОВОСТИ
НОВОСТИ СПОРТА
Department of the Russian Interior Ministry in Hope area searched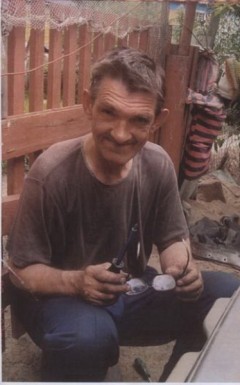 Department of the Russian Interior Ministry in Hope area searched missing person Kustyshev Youri, 06091950g.r., Who resigned from 02062012 the number 140 cottages on Fifth Street in the horticultural society "Far Gardener" and now his whereabouts are not known. Signs: to look 62-65 years, height 178 cm, slim build, oval face, straight hair, dimpled chin, eyes bright, narrow lips, eyebrows arched. He was wearing: gray track suit, black shirt with a picture (wolf snout), a black jacket with a small lock on the collar. Special features: a tattoo on the middle finger of his right hand in the form of seals on the back of the head scars, wearing glasses. For information on wanted or establish its location are encouraged to contact the duty of the Russian OMVD in Hope area by phone. 8 (42-334) 2-01-0925141205.
4-06-2013, 13:51, eng news
The court in the Kirov district of Primorye obliged to pay local debt 198000 rubles Seaside forestry for damages. However, the man does not extinguish the debt in a hurry. Debtor in the Primorye not...

19-03-2013, 03:53, eng news
Far Sberbank change rate policy from trading in currencies and precious metals......

12-09-2013, 01:42, eng news
This week, the oldest maternity hospital Primorye - № 4 which is the Aleutian, turns 55 years old. On this occasion, September 13 at 1430 in the Pushkin Theater will host the meeting. History...

17-05-2013, 13:40, eng news
The campaign communication with red-eared sliders, photo with the inhabitants of the aquarium and gifts......

2-04-2013, 03:10, eng news
Make a deposit or a savings certificate before May 302013 bank customers have the opportunity to win cash prizes......
23-05-2013, 09:20, eng news
The project will make use of human resources and capacity building, previously involved in the construction of bridges across the Golden Horn and the Bosphorus East in Primorye......
24-06-2013, 17:16, eng news
Flowers and wreaths to the Eternal flame of the memorial «Battle glory of the Pacific fleet and the Stela «City of military glory» laid representatives of the deputies, the Pacific fleet, the...
21-06-2013, 22:30, eng news
The applicant - a shop assistant told that two minutes ago in the trading room came a man in a mask of black color with slits for eyes and under the threat of gun stolen from a cash day proceeds....

20-05-2013, 11:20, eng news
The air forces of Japan were put on alert, despite the fact that the airspace was not violated......

21-07-2013, 00:32, eng news
6 divers left the submarine so-called "wet" method, the crew plans to launch a torpedo tube. Force Pacific Fleet submariners JI were raised on board the diving vessel. In securing mining episode of...