ЗНАКОМСТВА
КРАСОТА
ЗДОРОВЬЕ
ТУРИЗМ
АВТОНОВОСТИ
НОВОСТИ СПОРТА
Together with the residents of improvement works pridomovoy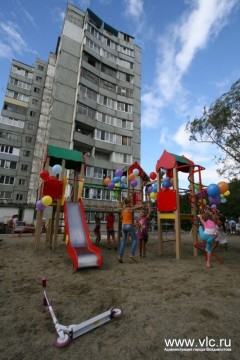 Together with the residents work on the improvement of territory took Mayor Igor Pushkarev. In the courtyard of an apartment building, a multi-repair - installed curbs, new asphalt concrete pavement is laid, including on site laundry, and for the youngest residents installed a beautiful playground. Now come to the yard for a walk with the children of all the houses around here because there was a big swing set, swing, rocking on a spring rocker-style, and a sandbox. "It used to stay in the yard was very boring, and now my friends and every day we come to ride on a swing. And there was a lot of new guys - come to us from all around, "- shared their impressions guys. "It was very convenient to walk with young children, it is convenient to look after them," - said Catherine, who comes to walk to the playground with the little sister. Residents of the neighborhood thanks Igor Pushkarev for landscaped courtyard and playground, which appeared here for the first time in 37 years, and was asked to install an additional security guard for the kids. The mayor immediately instructed specialists will work out the issue. "Now in Vladivostok is a comprehensive improvement adjoining areas, repaired roads and sidewalks, and be sure to set children's playground, - said Igor Pushkarev. - Let your yard always sounds childish laughter. Most importantly, the site is preserved as long as possible and please you and your children, take care of it. " In addition, the mayor discussed the issue with the residents of major home renovation and development of the district as a whole. After acceptance of work for the neighborhood kids holiday was made: clowns, Carlson and children's creative team of "Dream" leisure center "Firefly", cheered by the music of great fun contests for the guys. Recall that this year in the regional center capitally repaired about 70 houses adjoining areas. In addition to 30 yards of new curbs and asphalt install playgrounds and sports complexes. Completed and accepted work on the street Russian, 35 of the Assumption, 106 Zigure, 22 Gamarnika, 19-21. Ongoing repairs adjoining areas along the street Karl Zigure, 12-16 Kharkov, 3 Nekrasov, 57 Tolstoy, 35 Tukhachevsky, 42 and others. In the near future the residents of these small houses will be able to ride on the swings, roundabouts and slides, as well as exercise on fitness equipment, horizontal bar and gym complex.

26-03-2013, 14:00, eng news
Near schools eliminated 13 outlets drugs seized over 4 kg. different types of drugs, identified 39 offenses......

22-03-2013, 04:25, eng news
On Friday, March 21 at 01:42 Services Manager "01" reported fire in a five-storey house in Dalnegorsk. 3 minutes later arrived at the scene fire departments. There was a strong smoke on the 4th and...

5-04-2013, 02:30, eng news
The preliminary investigation revealed that the Russian arrived in the country on a tourist visa. Police continued to find out details of the incident......

13-05-2013, 13:30, eng news
In Vladivostok, detained two ladies hunted stealing expensive items of clothing shops. The total value of the stolen mink and leather products - 180000 rubles. Fur Salon wanted to rob the two ladies...

5-03-2013, 10:00, eng news
Customs officers at the checkpoint Ussuriysk "Poltavka" detained Russians who wanted to smuggle into China party trepang. Nearly 7 pounds of dried sea cucumber seized at customs in Ussuriysk Russian...

14-07-2013, 21:32, eng news
Legendary athlete praised constructed objects, noting that even in Moscow and St. Petersburg, few schools can boast of such a modern sports facilities. State Duma deputy and three-time Olympic...
13-05-2013, 15:20, eng news
Fired several bursts of automatic weapons in the bay area Diomede, the Ka-27 turned and quickly disappeared. (VIDEO)......

10-04-2013, 17:50, eng news
This year, take the exam in Vladivostok will graduate in 2504. To obtain a high school diploma high school students must pass the Russian and mathematics. (Address)......

1-09-2013, 15:16, eng news
Internet-addicted people can try to scare away from social networks: students from the Massachusetts Institute of Technology offered a tough but effective way - electrocution, according to "News"...

5-09-2013, 18:16, eng news
In Primorye, will appear before the court for the head of the inquiry commission of malfeasance, including - for forging signatures prosecutors of the closed Bolshoi Kamen Primorsky Krai, the...