ЗНАКОМСТВА
КРАСОТА
ЗДОРОВЬЕ
ТУРИЗМ
АВТОНОВОСТИ
НОВОСТИ СПОРТА
Together with the residents of improvement works pridomovoy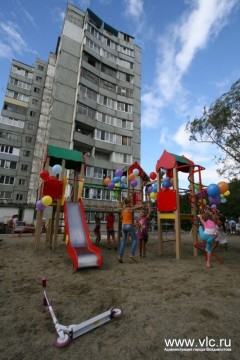 Together with the residents work on the improvement of territory took Mayor Igor Pushkarev. In the courtyard of an apartment building, a multi-repair - installed curbs, new asphalt concrete pavement is laid, including on site laundry, and for the youngest residents installed a beautiful playground. Now come to the yard for a walk with the children of all the houses around here because there was a big swing set, swing, rocking on a spring rocker-style, and a sandbox. "It used to stay in the yard was very boring, and now my friends and every day we come to ride on a swing. And there was a lot of new guys - come to us from all around, "- shared their impressions guys. "It was very convenient to walk with young children, it is convenient to look after them," - said Catherine, who comes to walk to the playground with the little sister. Residents of the neighborhood thanks Igor Pushkarev for landscaped courtyard and playground, which appeared here for the first time in 37 years, and was asked to install an additional security guard for the kids. The mayor immediately instructed specialists will work out the issue. "Now in Vladivostok is a comprehensive improvement adjoining areas, repaired roads and sidewalks, and be sure to set children's playground, - said Igor Pushkarev. - Let your yard always sounds childish laughter. Most importantly, the site is preserved as long as possible and please you and your children, take care of it. " In addition, the mayor discussed the issue with the residents of major home renovation and development of the district as a whole. After acceptance of work for the neighborhood kids holiday was made: clowns, Carlson and children's creative team of "Dream" leisure center "Firefly", cheered by the music of great fun contests for the guys. Recall that this year in the regional center capitally repaired about 70 houses adjoining areas. In addition to 30 yards of new curbs and asphalt install playgrounds and sports complexes. Completed and accepted work on the street Russian, 35 of the Assumption, 106 Zigure, 22 Gamarnika, 19-21. Ongoing repairs adjoining areas along the street Karl Zigure, 12-16 Kharkov, 3 Nekrasov, 57 Tolstoy, 35 Tukhachevsky, 42 and others. In the near future the residents of these small houses will be able to ride on the swings, roundabouts and slides, as well as exercise on fitness equipment, horizontal bar and gym complex.

15-08-2013, 00:19, eng news
On Saturday at the beach cove Shamora host music festival "Space." Program became known band performances: 1505 - 1530 Dersu Uzala 1540 - 1605 Korpus 1615 - 1640 Drugie Znaki 1650 - 1715 XP-Reactor...

3-07-2013, 15:45, eng news
July 2 in an apartment down the street Blucher in Ussuriysk found the bodies of two men with signs of violent death - multiple stab wounds. Woman in Primorye stabbed two men on this fact...

18-07-2013, 23:01, eng news
Vladivostok end shooting 12-series film "Belovodie. Mystery of the lost country "by Eugene Bedareva, known to the public for the TV series" While fern blossoms "and the films" Waiting for the Miracle...

9-09-2013, 21:41, eng news
Salaries of state employees in the Primorsky Krai now depends on the results of their work. The new payment system was introduced in September. State employees will receive a salary in the new scheme...

23-03-2013, 05:30, eng news
I am waiting for you last summer - one of the most remarkable phenomena in the contemporary Russian scene......

22-07-2013, 12:18, eng news
Recall that appointed EM Sandler for the position former President of the RSE Alexander A.Krasnenkov in April 2011. During his time Sandler were created Basketball Federation in all regions of the...

10-07-2013, 14:31, eng news
As explained to the presenters, the project - one of the stages of activities aimed at developing a new brand of Vladivostok. In preparation for the 2012 APEC summit in Vladivostok, was built a...
31-07-2013, 13:46, eng news
In these moments - from 8 to 10 am There is a direct broadcast on the radio, "Lemma" with the head of administration of the city of Vladivostok Igor Pushkarev. One of the first questions that was...

1-04-2013, 09:10, eng news
Thanks to co-operation between maritime security services and their counterparts from other regions such facts will be promptly stopped and the future......
12-06-2013, 12:15, eng news
In most of the continental regions of Primorye June 7 established in summer hot weather - light-wind air is heated to +25 +33 oC. The average daily air temperature is above historical averages for...