ЗНАКОМСТВА
КРАСОТА
ЗДОРОВЬЕ
ТУРИЗМ
АВТОНОВОСТИ
НОВОСТИ СПОРТА
At Thursday, August 15 at night there was a thunderstorm, and in the morning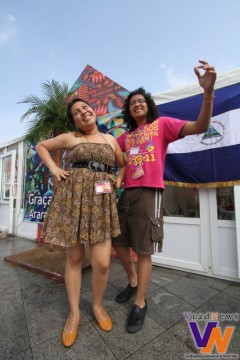 At Thursday, August 15 at night there was a thunderstorm, and in the morning and then it was drizzling rain. And it seemed, well, what can be in this weather and gray sky bright juicy holiday? But by midday - if ordered - the sun sliced through the clouds, and on the waterfront Sports harbor sounded exciting rhythms, delicious smell of coffee and the air - a little dense, humid, stuffy - filled with guttural Spanish-Portuguese dialect. Days of Latin America's open! Along with the nice weather we were visited by a different continent. - Amazing - admires Nicaraguan Said - I was traveling to Vladivostok, nothing about him knowing, and suddenly here we meet exactly the same weather as in Nicaragua. In my opinion, this is a good sign. Together with his friends - by the way, the same as he did, the students of the University of Friendship of Patrice Lumumba - Said will teach everyone the tricks of the Nicaraguan folk dance, show how to make a simple but bright souvenirs to talk about their country. - Look, here's this doll is dressed in the national women's clothes. Look how beautiful it is, what kind of patterns, delicate work. And in these boxes - cigar. You know, we really are the best cigars in the world where there is a Cuban - smiles Said. - You just smell! I do not smoke, but the smell - delicious. Kalhari Dominguez also from Nicaragua. She came to show Vladivostoktsy national dishes. - Oh, we will prepare a yummy rice and beans, maize is a miracle - you lick your fingers - smiles Kalhari. - After a meal you know what you want? Dance! Because in our kitchen, our dances laid passion, rhythm and feeling. The next two days will tell about their countries of Venezuela (in a tent in this country, anyone can join the books of the great Hugo Chavez), Mexico (make sure you visit try on a sombrero), Brazil (where artists will teach everyone to draw parrots and talk about what how many species of these amazing beautiful birds live in Brazil and in Latin America), as well as 14 other countries. There are a lot of dance, laugh, smile, tasty feed. Deployed their tents not only among countries in Latin America, but Vladivostok restaurants serving this spicy continent - everyone can appreciate how creatively rethink our cook recipes buritos, enchilados, fajitas. Here are treated to a delicious mojito here in the evenings dance the lambada and samba, tango and rumba. Here, go to ponchos and bright white-toothed smile. Come! Latin America is waiting for you! It is very close - on the waterfront Sports harbor.


Love Berchanskaya, photo by Alexey Voronin, the newspaper "Vladivostok"

4-07-2013, 07:31, eng news
The result of negotiations with the company Summit Ascent Holdings Ltd was the agreement on investments in the irz «Primorye». Summit Ascent Holdings Ltd - one of the leading companies-participants...

11-03-2013, 06:06, eng news
Main objective of the action - Improvement of crime in residential areas and reducing drug-related crime......

10-05-2013, 14:20, eng news
Gala evening for the family living in the private sector in the suburbs of Vladivostok, was marred by an unpleasant incident......

22-07-2013, 19:34, eng news
In Primorye, the court will consider criminal charges in the crime of drug trafficking, committed with the participation of the traffic police. Deputy City Prosecutor Ussuri, the indictment in the...

31-08-2013, 20:15, eng news
Now, the presidential envoy to the Far Eastern Federal District will be ex-aide Yury Trutnev. This was announced at today's meeting of Vladimir Putin. Viktor Ishayev released including the Minister...

22-03-2013, 04:25, eng news
On Friday, March 21 at 01:42 Services Manager "01" reported fire in a five-storey house in Dalnegorsk. 3 minutes later arrived at the scene fire departments. There was a strong smoke on the 4th and...

13-08-2013, 22:48, eng news
For 7 months of this year, the Far East Savings Bank entrusted more than 16 billion rubles, which is 131% higher than the same period last year. The Internet offers new, almost unlimited...

16-04-2013, 17:00, eng news
The mayor pointed out public services on the health of underpasses required to wash them thoroughly and remove debris. (PHOTOS)......

29-07-2013, 18:31, eng news
In Vladivostok, near Cape Kungasny discovered human limbs. Cut off the legs of a man, presumably men, were in the storm sewer under the train tracks and was wrapped in a cellophane bag. The identity...

17-09-2013, 11:34, eng news
Rescuers in the Far East continue to go about their direct and sometimes heroic duties, helping not only the 100000 inhabitants of a district, but to pets. In one of the houses of Komsomolsk-on-Amur,...