ЗНАКОМСТВА
КРАСОТА
ЗДОРОВЬЕ
ТУРИЗМ
АВТОНОВОСТИ
НОВОСТИ СПОРТА
Primorsky Territory Governor Vladimir Miklushevsky spent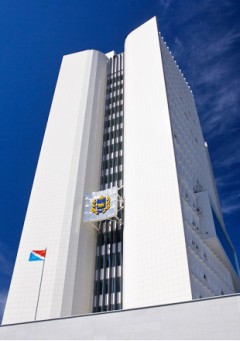 Primorsky Territory Governor Vladimir Miklushevsky held a meeting on the establishment of the province of special economic zones of the port type in the bay and the port of Trinity East. As reported to the Director of the Department of Economics of Primorsky Krai Nikolai Dubinin, these special zones are created in the framework of the development of transport corridors "Primorye-1" and "Primorje-2", as well as the development of intermodal transport in the region. For business development of SEZ is a unique resource that allows 30 percent lower costs of the resident company. Vladimir Miklushevsky stressed that today is not only important to work out a mechanism to create the zone, but also to carry out a complete re-engineering of administrative processes in this area, in particular to optimize the speed of cargo clearance. "Right now, the average load is issued 14 days, and you need to 1-2 days. But you need to move away from the usual standards. We solve the issue with the Government of obtaining the status of the pilot areas ", - said Vladimir Miklushevsky. The head of the region commissioned a working group with the participation of specialists from the regional administration and potential residents, who will build the SEZ. Recall special economic port zone created in Primorye on behalf of Dmitry Medvedev. The corresponding order was given after a meeting of the State Commission for the development of the Far East, the Republic of Buryatia, Trans-Baikal Territory and the Irkutsk region. Vladimir Miklushevsky has repeatedly pointed out that the special economic zones "bonded" warehouses will attract transit of Chinese goods, imports of goods re-orient to the Far East through the ports of Primorye.

Yegor Ivanov, RIA «VladNews»

15-04-2013, 19:11, eng news
For shipping company "Roman" in the Primorye Territory in Bailiffs 40 execution proceedings. By decision of the Frunze district court of Vladivostok bailiffs must collect from the company 37 million...

5-09-2013, 18:01, eng news
Sentencing resident finds, staged a drunken brawl on the island of Russian. In July 2013 the inspectors of traffic police traffic police made out a traffic accident that happened on the island....

18-09-2013, 22:10, eng news
The group - 38 parents and 56 children, including toddlers 2012 and 2013 birth. It's free and residents of villages Grodekovo, Ust-Ivanivka, Upper and Chigiri Blagoveshchensk, Amur Region. In...

31-05-2013, 14:30, eng news
In a large freezer warehouse in Vladivostok Rosselkhoznadzor officers discovered 70 tons of silver salmon, shelf life has expired two months. Stale fish again found in Vladivostok This result gave an...

9-07-2013, 12:31, eng news
As the member of the Legislative Assembly of Alexander Bekhter, the construction of a fitness center was planned in the regional development program of physical education and sport, but because of...

15-04-2013, 19:00, eng news
A child cries attracted the attention of passers-by "mother."......
13-06-2013, 12:15, eng news
In the Vladivostok customs office organized a reception of documents for the issuance of targeted recommendations for admission on the day departments of the different departments of the Vladivostok...

9-09-2013, 04:42, eng news
As reported at the polling station number 736 located in the school number 67 at Zigure 52a, elections are no accidents and incidents - "You see that all of us quietly, no contingencies, all in...

4-09-2013, 01:46, eng news
Today in Vladivostok on the street Gulbinovicha opening of a new kindergarten "The Ship". The long-awaited kindergarten joins a number of pre-school institutions, the newly discovered and built the...
10-05-2013, 16:20, eng news
Concerning the arrested criminal case under part 1 of article 158 of the Criminal Code (theft). He faces a sentence of imprisonment for a term not exceeding two years......