ЗНАКОМСТВА
КРАСОТА
ЗДОРОВЬЕ
ТУРИЗМ
АВТОНОВОСТИ
НОВОСТИ СПОРТА
At East Avenue Vladivostok first street lights were lit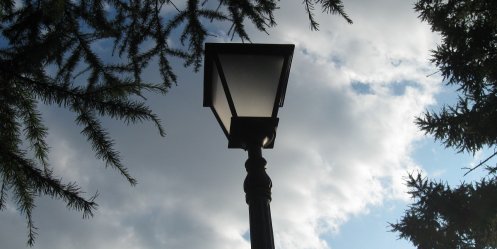 New lights installed on East Avenue in Vladivostok - lighting here has never happened before.
45 new lighting poles installed specialists CBM "Vyatskiye Polyany Electric Networks" last week in a suburb outside Eastern Avenue. Today housing estate in the area highlight the new energy-saving lights. Also, street lights installed on the Walk of Deputies (street Russian) on the Irtysh and Postyshev. Soon teams of workers will drop to Akademgorodok, Khabarovsk and gardens.
Recall, for 5 years on the streets of the seaside capital has become much lighter. The number of street lights with 3 thousand rose to 34 thousand. This large-scale systematic work in a street-lighting started in 2008 on the instructions of the head of Vladivostok Igor Pushkarev. The annual number of new light is increased by several thousand. Lights appear, especially in remote areas, remote areas, including where previously they never existed. Became lighter in underground and surface pedestrian crossings, which reduced the number of accidents involving pedestrians. Covered school grounds and stadiums, playgrounds kindergartens. Thanks to the systematic work of lanterns in five years has increased by 10 times.
However, this work does not end there. On the instructions of Igor Pushkarev this year in Vladivostok will install another 10000 lights.

12-04-2013, 16:00, eng news
Investigators have reason to believe that once free, the accused may escape, put pressure on witnesses and otherwise obstruct the investigation of the criminal case......

19-08-2013, 23:30, eng news
On Wednesday, August 21 kicks off in Vladivostok Vladivostok 8th Biennale of Visual Arts, which will be held in the regional center from August 21 to September 1. On this day in Primorsky Krai Youth...
17-06-2013, 14:46, eng news
This Letov in the region will work 658 camps. Of them 35 summer camps, four of which are located outside the Russian Federation in the PRC, in the cities of Dalian and Qingdao. Although camps are...

29-03-2013, 06:11, eng news
62-year-old resident of Vladivostok is suspected of abusing minors. The reason for the criminal case was a statement received by the police from the mother's 16-year-old girl. Aged lecher detained in...

8-07-2013, 23:45, eng news
According to the press service of the administration of Nakhodka city district, a specialized company this year has trained for Bedding record number of seasonal flowers. 300000 copies of seedlings...

6-03-2013, 04:25, eng news
Customers pay for the purchase in the online store with the card Mascotte Savings, receive 15% thanks for the bonus account......

6-09-2013, 18:32, eng news
Internet technologies provide access to social assistance anywhere in the Maritime Provinces. The portal can be electronically adjusted statements on measures of social support, and them in Primorye...

29-03-2013, 08:10, eng news
In the capital of Primorye in the freezer warehouse in the street. Xmas staff Rosselhoznadzoara found another, a large shipment of frozen fish of questionable quality. Thank Rosselkhoznadzor for...

29-07-2013, 12:46, eng news
Celebration began with a solemn ceremony of laying wreaths and flowers at the Eternal Flame memorial "Battle Glory of the Pacific Fleet." The ceremony was attended by the Deputy Prime Minister of...

10-04-2013, 10:50, eng news
Sergei Andrienko previously held the position of first deputy chairman of the Far Eastern military district court experience as a judge - more than 22 years......