ЗНАКОМСТВА
КРАСОТА
ЗДОРОВЬЕ
ТУРИЗМ
АВТОНОВОСТИ
НОВОСТИ СПОРТА
At East Avenue Vladivostok first street lights were lit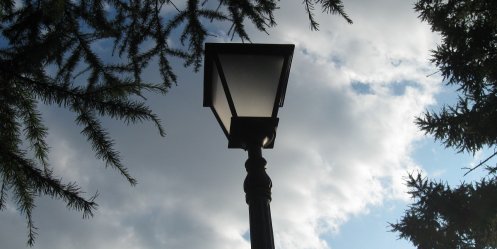 New lights installed on East Avenue in Vladivostok - lighting here has never happened before.
45 new lighting poles installed specialists CBM "Vyatskiye Polyany Electric Networks" last week in a suburb outside Eastern Avenue. Today housing estate in the area highlight the new energy-saving lights. Also, street lights installed on the Walk of Deputies (street Russian) on the Irtysh and Postyshev. Soon teams of workers will drop to Akademgorodok, Khabarovsk and gardens.
Recall, for 5 years on the streets of the seaside capital has become much lighter. The number of street lights with 3 thousand rose to 34 thousand. This large-scale systematic work in a street-lighting started in 2008 on the instructions of the head of Vladivostok Igor Pushkarev. The annual number of new light is increased by several thousand. Lights appear, especially in remote areas, remote areas, including where previously they never existed. Became lighter in underground and surface pedestrian crossings, which reduced the number of accidents involving pedestrians. Covered school grounds and stadiums, playgrounds kindergartens. Thanks to the systematic work of lanterns in five years has increased by 10 times.
However, this work does not end there. On the instructions of Igor Pushkarev this year in Vladivostok will install another 10000 lights.

25-07-2013, 15:17, eng news
The accident occurred last night on the 100 km of Komsomolsk-on-Amur - Khabarovsk, the press service of the Main Directorate of the Regional Ministry for Emergencies. According to authorities, public...

19-03-2013, 03:03, eng news
From February to April, will be the regional stage of All-Russian Festival Competition "Crystal star 2013", organized by the Office of the Federal Bailiff Service Primorye Territory......

11-07-2013, 17:48, eng news
Another hooligan incident occurred today in Vladivostok. Unknown smeared intercom in entrance of an apartment house on the street Skipper Gek, 24 faeces. This RIA «VladNews» managed to find out from...

29-04-2013, 15:00, eng news
"Primorsk heating networks" asking residents to treat with understanding to the ongoing trials. (SCHEDULE)......

31-07-2013, 13:46, eng news
Vladivostok ring road (VKAD) - the project leader, supported by more than 100000 residents of Vladivostok. As told Igor Pushkarev, the project bypass road, which is now popularly called VKAD...

27-03-2013, 12:50, eng news
Festival of educational innovation is held for five years in a row. It Vladivostok teachers share advances in the use of innovative technologies......

21-03-2013, 04:13, eng news
All vehicles are sold on the Russian market, offered pasted special warnings about violations of traffic regulations......

28-05-2013, 15:20, eng news
Over the past few years on the instructions of the head of Vladivostok Igor Pushkarev under the "Sports Vladivostok" were built 15 new stadiums and sports grounds. (PHOTOS) ......

21-05-2013, 18:30, eng news
Although the erection of "Fetisov - Hall" in Vladivostok in the budget Territory incorporated more than 900 million rubles, but to complete the construction still requires about a billion rubles....
19-06-2013, 13:30, eng news
At night near the village of Rozhdestvenka on the Federal highway Khabarovsk-Vladivostok officers noticed that the car «Ural». The driver автомарины grossly violated the traffic rules than created a...