ЗНАКОМСТВА
КРАСОТА
ЗДОРОВЬЕ
ТУРИЗМ
АВТОНОВОСТИ
НОВОСТИ СПОРТА
Vladivostoktsev invited to the Day of Slavic Writing and Culture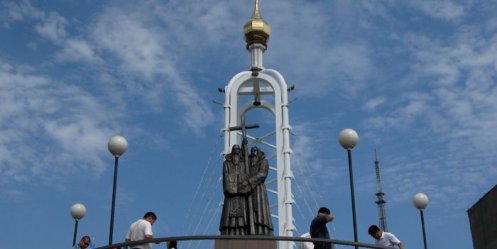 Photo: wise-travel.ru

Tomorrow, May 24 at the House of Culture of Railway will be a big gala concert dedicated to the Day of Slavic Writing and Culture.

According to the organizers, guests feast awaits crafts exhibition and a concert.

The event starts at 14 hours. Admission is free.
16-06-2013, 16:16, eng news
Today, on 16 June, the weather conditions in Primorye defines the field of low atmospheric pressure. In the edge of the rain, thunder-storms are possible, on the coast of the fog. Southern wind of...

12-07-2013, 20:47, eng news
Today in Vladivostok held a master class in Chinese cooking festival of culture and cuisine of the north-eastern Asia. The event, organized by the department of international cooperation and tourism...
12-06-2013, 17:15, eng news
Defined plot of land on which to begin construction of a fish market in Vladivostok. Select it in the shortest time ordered the Governor of the Primorsky territory. About it RIA "VladNews" have...

18-07-2013, 17:15, eng news
Participants of the festival - the winners of the regional initiative of the show among people with disabilities, "HOPE, INSPIRATION, TALENT", which was held in the municipal districts of the...

18-03-2013, 02:40, eng news
March 18 at about 7 am on fire a car wash in the street Neybuta Vladivostok. Vladivostok burned car wash The announcement came at 0702. Firefighters arrived at the scene in 9 minutes. At 0858 the...

31-03-2013, 07:10, eng news
Subsidies per hectare of cultivated land under cereals in Finland is 28 thousand rubles, in Germany - 26 thousand rubles. For comparison, in Russia in 2013 grants do not exceed 200 rubles per 1...

27-03-2013, 15:10, eng news
Vladivostok linear control the Russian Interior Ministry in transport applied a local resident, a statement on the theft of 1 million 300 thousand rubles. As it turned out, the money the victim...
11-07-2013, 17:47, eng news
Dalnerechensk. Operational staff of drug control have brought to justice not only the ordinary traffickers, but also go out to the organizer and its henchmen. Organizer, and they turned out to be a...

18-04-2013, 18:00, eng news
Food Fair will run weekly on Fridays and Saturdays from 9 to 18 hours, with the exception of days when the central square will be held solemn and festive events......
29-03-2013, 08:11, eng news
March 28 in Vladivostok Gospozhnadzora experts and FEMA conducted a joint raid by the private sector and on the First Dormitory town. Fireproof raids in Vladivostok These houses - a special control....