ЗНАКОМСТВА
КРАСОТА
ЗДОРОВЬЕ
ТУРИЗМ
АВТОНОВОСТИ
НОВОСТИ СПОРТА
Sberbank took 70th place in the ranking of the most expensive brands BrandZ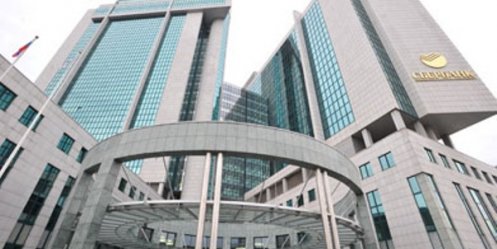 Photo: Savings

Sberbank took 70th place in the ranking of the most expensive brands BrandZ, compiled by Millward Vrown Optimor (MBO). An estimated MBO, the brand value of the Savings Bank for the year increased by 19% and reached 12655 billion U.S. dollars. As a result, Sberbank rose rating of four positions. Among Russian brands Savings Bank maintains strong leadership.

Sberbank was ahead in the ranking of such well-known brands, such as, Siemens, IKEA, Pepsi, BP, Yahoo!, JP Morgan.

Millward Brown Optimor rankings of the most valuable brands in the world each year. In estimating the cost brands accounted for as financial performance, and the perception of brands.

In the ranking of the most expensive brands, published earlier consulting firm Brand Finance, a brand of the Savings Bank was even more appreciated - Sberbank ranked number 63 in it, rising for the year, 15. Cost Savings brand valued at 1416 billion U.S. dollars.

13-09-2013, 03:03, eng news
Russian Deputy Prime Minister - Ambassador to RFE Trutnev today visited Nanay and Komsomol district of Khabarovsk Krai. Trutnev today continued monitoring of work in the aftermath of large-scale...

29-07-2013, 18:31, eng news
In Vladivostok, near Cape Kungasny discovered human limbs. Cut off the legs of a man, presumably men, were in the storm sewer under the train tracks and was wrapped in a cellophane bag. The identity...

17-08-2013, 17:30, eng news
Prosecutor's Office of the Leninsky district of Vladivostok revealed numerous violations in the activities of subordinate Far Eastern Branch of the Russian Academy of Sciences institutions using...

24-08-2013, 16:31, eng news
Map of the problems of the educational process in the Far Eastern Federal University campus on about. Russian. In the editorial office of "Novaya Gazeta in Vladivostok" was a curious document -...
11-06-2013, 12:45, eng news
The beginning of summer. A day off. Wonderful weather!!! Couples walking with children along the Sports promenade. Kites, ice cream, sweet smile and sparkling eyes! Rainbow plays all its colors on...

29-07-2013, 18:33, eng news
Here, every day, all day long ride skateboards and roller skates kids of all ages, bringing their skills to perfection. Also open area for bike trial. The site has been built in the past year as part...

28-04-2013, 14:00, eng news
Wealden Psychology and Victor Simonov started on April 6 at the North Pole and set a goal to reach the southern tip of Greenland......
25-06-2013, 17:02, eng news
As you know, growing tariffs are unlikely to have someone to make happy. But recent events show that grow on the territory of Primorye tariffs cause dissatisfaction not just specific individuals, and...
11-07-2013, 11:47, eng news
Investigative team arrived at the scene. During the inspection of the apartment forensic expert found traces of the fingers. Fingerprint examination found that the traces belong to two of the 24-year...

18-09-2013, 22:10, eng news
The group - 38 parents and 56 children, including toddlers 2012 and 2013 birth. It's free and residents of villages Grodekovo, Ust-Ivanivka, Upper and Chigiri Blagoveshchensk, Amur Region. In...