ЗНАКОМСТВА
КРАСОТА
ЗДОРОВЬЕ
ТУРИЗМ
АВТОНОВОСТИ
НОВОСТИ СПОРТА
A soldier dressed in the Eastern District of form with antibacterial protection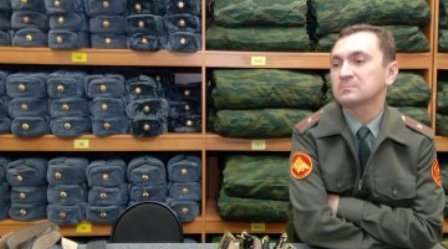 Photo: sarov.cc

Approximately 30000 sets of military uniforms field new model is planned for the end of 2013 for the needs of military units and formations of the Eastern Military District. Sets in the first place will be provided by military personnel serving in areas with unfavorable climatic conditions, particularly in the formations and military units stationed in the northern regions of the Far East and Trans-Baikal.

When sewing a new form of use of new fabrics with antibacterial protection, membrane technologies that effectively remove moisture and retain heat.

Along with a new form of planned deliveries to the troops of the two types of districts underwear and sportswear clothing.

Fully staffed field form a new sample compounds, military units, as well as the assembly point of the county is scheduled to end in 2015.

Contracts for tailoring the required number of new field form for the troops of the Eastern Military District with the producers have already been concluded.

2-07-2013, 16:00, eng news
Since the beginning of the year more than six thousand Primorye took the opportunity to make an appointment to see a doctor over the internet. To the doctor - the Internet's deputy director Gause...

1-07-2013, 11:46, eng news
Obstetric Department of the institution resumed its work after the planned sanitary processing and ventilation. As has informed the head physician of the КГБУЗ Vladivostok clinical maternity hospital...

31-07-2013, 13:47, eng news
has passed the exam. This year, her favorite child graduated from high school. Has passed the exam - well, by the way, deposited by 80-85 points for the exam. And the child went with her mother to...

24-08-2013, 16:47, eng news
Rosreestr will be fully and efficiently deliver public services to citizens in the Far East, the flood victims. The relevant order given service deputy economic development minister Pavel...

27-04-2013, 17:50, eng news
"Victor Faleev" ready to fulfill the tasks at sea and on shore. (PHOTOS)......
22-06-2013, 22:01, eng news
Красноярск принял активное участие в проекте «Восточный ветер». Приезд автопутешественников из Артема совпал с юбилеем города. В этом году Красноярску исполнилось 385 лет со дня основания....

10-09-2013, 15:40, eng news
The Investigative Committee in the Primorsky Territory completed a criminal case against 62-year-old woman - General Director of "Maritime design office." For failure to pay wages - She is accused of...

1-07-2013, 21:15, eng news
During this period revealed ten violations of the land legislation, the Commission of which drew up reports on administrative violation, given orders to eliminate violations of the acting...

4-04-2013, 07:20, eng news
On April 1 the directorate staff stopped going to work due to wage arrears in the current year. In this regard, a number of workers have applied in the Frunze district court of Vladivostok......
14-06-2013, 12:00, eng news
13 June 2013 inaugurated a new automated line for production of sausage at the leading bakery company in Primorsky region OAO Владхлеб». The event was attended by Vladivostok mayor Igor Pushkarev,...