ЗНАКОМСТВА
КРАСОТА
ЗДОРОВЬЕ
ТУРИЗМ
АВТОНОВОСТИ
НОВОСТИ СПОРТА
Affected by "Mortrans" Vladivostok residents brought to the island Popov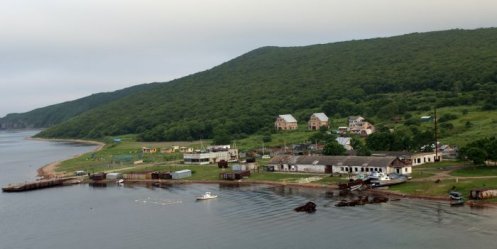 Photo: PhotoVladivostok.ru

Today, thanks to the measures taken by the city government, residents of Vladivostok island Popov were able to get home from the mainland .

Recall that on Monday the company-carrier "Mortrans" suddenly ceased to operate flights to the islands of Vladivostok, citing "security reasons." And it was done without advance warning: this morning the islanders brought into the center of Vladivostok and in the evening they had not drove back.

As it became known on Tuesday, after such a demarche Vladivostok administration unilaterally broke the contract with the "Mortrans" and has already found a new carrier. According to our correspondent of today at 14:00 on the 30th berth boat departed with the inhabitants of the island Popov. Many people on the board are pleased that after four days (counting from Sunday, when many were visiting with relatives or come to the mainland for), they were still at home. The main thing that people do not understand Vladivostok - why "Mortrans" allows himself to put pressure on the mayor's office, using as a "battering ram" for themselves and their families.

11-07-2013, 18:15, eng news
With the construction of hotels promise to lower taxes on income, land and real estate, simplified approval procedure......

29-08-2013, 22:47, eng news
Nikita Mikhalkov, Michael Madsen, Isabelle Huppert and Pierre Richard - with all the movie stars can communicate in meetings Film Festival "Pacific Meridian". At a press conference today in the...
6-06-2013, 17:45, eng news
In the capital of the Primorsky Territory of private security officers detained a 17-year-old boy. Young lover of easy money would rob jewelry store on the street Russian. 17-year-old robber arrested...

10-04-2013, 17:50, eng news
After the theory of children along with Uncle Barrens, the regional traffic police inspector and a teacher went to the street, a pedestrian crossing, where consolidated knowledge in practice....

29-04-2013, 20:00, eng news
By order of the head of Vladivostok Igor Pushkarev on cleaning out this recreation staff of the city administration......

17-09-2013, 12:03, eng news
- Vladivostok Duma is scheduled work on the transfer of objects that are not used by the Ministry of Defence, the municipal ownership - explained to journalists before a meeting of the chairman of...
10-07-2013, 21:00, eng news
A resident of Ussuriysk bought the triumph of "mind blowing" dress almost 9000 rubles. Suddenly caught in the rain, a woman became as bright as the colors and attire. Bailiffs in Primorye arrested 18...

9-08-2013, 22:30, eng news
Favorite several generations of citizens melodies sound in parks from Vladivostok on June 28. Speech orchestras in city squares Vladivostoktsy had in mind, so this year the brass bands play, not only...

16-03-2013, 04:30, eng news
Russia's budget this year, 130 billion rubles will receive less revenue from value-added tax (VAT). This was announced by Deputy Finance Minister Tatyana Nesterenko. These losses are due to the...

18-04-2013, 11:10, eng news
Investigators in the Primorye Territory has completed work on the criminal case against 26-year-old woman - she is cold and starve her two daughters. Mother hid the body of girls under the porch,...