ЗНАКОМСТВА
КРАСОТА
ЗДОРОВЬЕ
ТУРИЗМ
АВТОНОВОСТИ
НОВОСТИ СПОРТА
Agricultural fairs operate around Vladivostok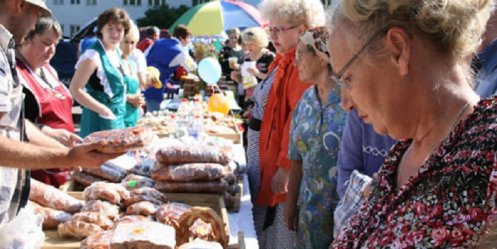 Food fairs continue to work in all areas of Vladivostok and on the island of Russian.
In all areas of Vladivostok, including the islands, continue to work food fair. As noted in the management of trade and services, trade fairs are held to the numerous requests of citizens.
Daily from 9 to 18 can buy agricultural products at fairs at the address: ul. Fadeev, 47 str. Nekrasov, 69 str. Borisenko, 17 str. Balyaeva, 48a; pr.100 years Vladivostok - st. Shuya - st. Ryazhskaya (near Children's Park "Fantasy"); pr.100 anniversary of Vladivostok, 153a (district stop vehicles "Factory" Dawn "), Str. Verkhneportovaya, 10 str. 3rd Working (turning circle).
Every Thursday, Friday and Saturday from 9 to 18 hours of work fairs at the address. Gulbinovicha, 29 str. Snow, 4 - st. Rustic, 20 as well as on the island of Russian at Base camp, st. School, 30.
On Fridays and Saturdays, food products from 250 manufacturers are available at the Maritime Square Revolution Fighters (except for the days when there are celebrations and festivities).
All the fairs citizens are encouraged to purchase the dairy, fish, meat products, honey and bee products, vegetables, pickles, sausages, groceries, bakery, confectionery and fresh herbs on producer prices Vladivostok, Artem, Arsenyev, Spassky-Far, Ussuriysk the Big Stone and others.
Vladivostok Administration invites you to take part in the fairs of individual entrepreneurs, citizens engaged in peasant (farmer), personal and household plots. For more information, contact the Department of Agriculture and Fisheries of the Department of Trade and services at st. Posyetskaya, 24 of. 103 and 203 tel: 8 (423) 26144412614442.
7-06-2013, 17:16, eng news
In the capital of Primorye awarded scholarships to novice musicians and artists. Young talents have won awards in Vladivostok Vladivostok Young talents were congratulated and cash awards from the...

8-05-2013, 12:30, eng news
The capital of Primorye is preparing for the celebration of the Victory. The main event will be a parade in the city center, will be big concerts, guests can enjoy traditional soldier's porridge....

20-03-2013, 11:34, eng news
Experience allows you to repair bridge builders, not blocking the main traffic on the bridge, it will be convenient for drivers......
18-06-2013, 14:30, eng news
Sown in 2013 slightly lower than last year, farmers constantly adjust plans on the areas planted crops to meet deadlines......

2-03-2013, 02:31, eng news
But on March 1 no longer need to obtain a special license for the production of cider and mead - these have become exotic drinks can soon return to store shelves......

9-05-2013, 14:20, eng news
North Korea reduces its military buildup and mobilizes the people in the country to overcome the acute food crisis......

4-09-2013, 23:32, eng news
The appearance of the police was unexpected for the entrepreneur. In the premises of the store found about 1000 liters of various alcoholic beverages, ranging from elite alcoholic beverages to...

5-04-2013, 08:41, eng news
In Vladivostok, a conviction in respect of Torun Kochoyana. He is accused of using violence and insulting the authorities and intentional damage of another's property. Four-year suspended sentence...

25-08-2013, 23:00, eng news
The test equipment was provided to health care facilities within the regional healthcare modernization program for 2011-2012. According to the results of the audit found that two computer tomograph...
6-05-2013, 11:30, eng news
May 6 and 7 at Theater Square of Vladivostok will operate a mobile video studio, cameraman, director and makeup artist. Vladivostok residents are invited to write for veterans videopozdravlenie...