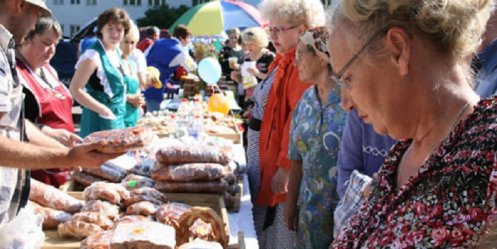 Food fairs continue to work in all areas of Vladivostok and on the island of Russian.
In all areas of Vladivostok, including the islands, continue to work food fair. As noted in the management of trade and services, trade fairs are held to the numerous requests of citizens.
Daily from 9 to 18 can buy agricultural products at fairs at the address: ul. Fadeev, 47 str. Nekrasov, 69 str. Borisenko, 17 str. Balyaeva, 48a; pr.100 years Vladivostok - st. Shuya - st. Ryazhskaya (near Children's Park "Fantasy"); pr.100 anniversary of Vladivostok, 153a (district stop vehicles "Factory" Dawn "), Str. Verkhneportovaya, 10 str. 3rd Working (turning circle).
Every Thursday, Friday and Saturday from 9 to 18 hours of work fairs at the address. Gulbinovicha, 29 str. Snow, 4 - st. Rustic, 20 as well as on the island of Russian at Base camp, st. School, 30.
On Fridays and Saturdays, food products from 250 manufacturers are available at the Maritime Square Revolution Fighters (except for the days when there are celebrations and festivities).
All the fairs citizens are encouraged to purchase the dairy, fish, meat products, honey and bee products, vegetables, pickles, sausages, groceries, bakery, confectionery and fresh herbs on producer prices Vladivostok, Artem, Arsenyev, Spassky-Far, Ussuriysk the Big Stone and others.
Vladivostok Administration invites you to take part in the fairs of individual entrepreneurs, citizens engaged in peasant (farmer), personal and household plots. For more information, contact the Department of Agriculture and Fisheries of the Department of Trade and services at st. Posyetskaya, 24 of. 103 and 203 tel: 8 (423) 26144412614442.