ЗНАКОМСТВА
КРАСОТА
ЗДОРОВЬЕ
ТУРИЗМ
АВТОНОВОСТИ
НОВОСТИ СПОРТА
Livnevki on Postyshev already renovated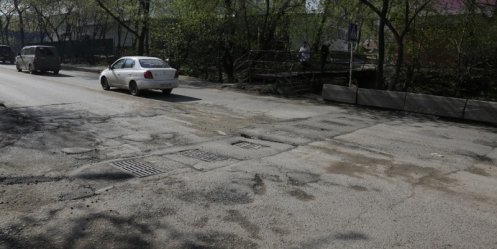 Photo: Press-service of the Vladivostok

Battered storm grates on Postyshev restored promptly.

Last night experts carried out the first major phase of renovations, and only tonight fully complete recovery.

Recall that on the carriageway in the streets Postishev 7 collapsed livnevok . Immediately left the place of experts to determine the causes and extent of damage, and then went to the place of travel professionals.

On the night of 22 on May 23 will be held the last renovation works stormwater system. Note that now the street Postyshev car traffic passes normally.

19-07-2013, 18:49, eng news
The relevant decision of the Primorsky Territory Administration signs installed Municipal Enterprise "Roads of Vladivostok." Resolution is set to maximum speed permitted on the following road...

31-07-2013, 20:31, eng news
In the duty of Vladivostok turned 26-year-old resident of the regional center. According to the applicant, near the women's clinic in the street Ostryakov 6 beat her unknown. The victim,...

5-08-2013, 15:33, eng news
The majority of offenders - the citizens of Uzbekistan, China, Armenia and Vietnam. All of them were taken to the police station for Ocean fingerprinting, photographing, and checking for involvement...

18-04-2013, 13:00, eng news
Lady's bag was found on the turnpike at the entrance to the territory of the television center. The main entrance was cordoned off, but employees of radio and television continued to operate as...

23-08-2013, 15:00, eng news
In the province of short rains in parts of thunderstorms. Wind west, north-western moderate. Air temperature 18 28 ° C. In Vladivostok, partly cloudy, no precipitation. Wind west, north-western...
18-06-2013, 18:32, eng news
The Pacific Fleet continued delivery of the second course task, ships and submarines. The cruiser "Varyag" To perform artillery and missile firings in the areas of combat training in the Sea of Japan...

6-03-2013, 03:10, eng news
Driver training in Russia: the learning process - itself, the legislation - in itself......

18-04-2013, 14:00, eng news
Students in urban schools to conduct action "Clean City". Competition for selective waste collection is held control of the environment and natural resources administration of Vladivostok......
22-04-2013, 19:30, eng news
The jury chose to set on the banks of the Amur Bay sculpture Konstantin Novikov (study number 8)......

8-05-2013, 10:20, eng news
The main area of basketball club "Spartak-Primorye" next season will be a new sports arena campus of the Far Eastern Federal University on the island of Russian. (PHOTOS)......