ЗНАКОМСТВА
КРАСОТА
ЗДОРОВЬЕ
ТУРИЗМ
АВТОНОВОСТИ
НОВОСТИ СПОРТА
Livnevki on Postyshev already renovated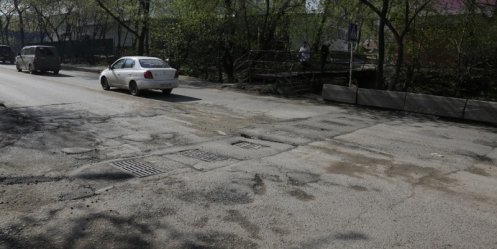 Photo: Press-service of the Vladivostok

Battered storm grates on Postyshev restored promptly.

Last night experts carried out the first major phase of renovations, and only tonight fully complete recovery.

Recall that on the carriageway in the streets Postishev 7 collapsed livnevok . Immediately left the place of experts to determine the causes and extent of damage, and then went to the place of travel professionals.

On the night of 22 on May 23 will be held the last renovation works stormwater system. Note that now the street Postyshev car traffic passes normally.
28-06-2013, 21:16, eng news
June 16 this year when extinguishing a fire in an apartment house on the street in Vladivostok Ilicheva man's body was found with signs of violent death. Murder suspect arrested in Vladivostok on...

4-09-2013, 01:16, eng news
10 billion rubles - a preliminary amount of damage to agriculture in the Far East by the floods. 600000 hectares of land in the Far East went under water this figure at a meeting on the aftermath of...

2-03-2013, 06:34, eng news
The original video from the Hollywood Bowl for the first time digitally scanned and restored so that the audience will hear two tracks previously unreleased......

7-03-2013, 04:10, eng news
It allows you to configure the auxiliary equipment of thermal power plants and pumping, industrial boilers and......

12-09-2013, 23:52, eng news
"Luch-Energia" and "Dynamo" St. Petersburg agreed to postpone the match of the 16th round of Championship First Division. The game will take place in St. Petersburg on September 30 October 1 and not,...

4-09-2013, 23:15, eng news
September 6th in the regional rehabilitation center "Sail of Hope" will solemnly open avtogorodok and AVTOKLASS. Platform equipped with everything necessary to teach children safety on the roads. The...

17-09-2013, 14:53, eng news
In carrying out veterinary checks at the port of Vladivostok was detained party cooked frozen shrimp. 16 tons of shrimp are not missing in the Primorye In conducting veterinary inspection at the port...

18-09-2013, 19:28, eng news
The exhibition "Building" is supported by the Primorsky Territory Administration, the National Association of Builders, the National Agency of low-rise and cottage construction, the Russian Union of...

9-09-2013, 21:51, eng news
The guys who came to rest in the flood-affected regions of the Far East, Primorye will rest in longer than planned. This order gave the governor Vladimir Miklushevsky. According to the department of...

13-05-2013, 10:20, eng news
In the city administration decided to hold an international festival of brass bands. Idea was supported by the head of Vladivostok Igor Pushkarev......