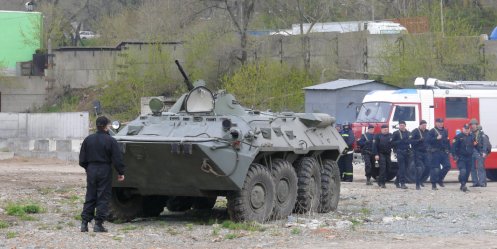 Photo: Federal Security Service of Primorye

Operational headquarters in Primorsky Krai, from 6 to 17 May 2013 conducted a planned, tactical and special tion doctrine to curb terroristicheskog of the act on the object zheleznodarozhnogo transport, as well as the elimination of its possible consequences.

According to legend, the exercises in Vladivostok infiltrated a terrorist group with intent to commit a terrorist act on an object w /d of transport.

At the first stage of the exercise for a few days, the law enforcement agencies of Primorsky Krai were taking search and neutralization of conventional terrorists. In implementation verification has been made of anti-terrorist protection of transport infrastructure of Primorsky Krai, perfected skills of interagency cooperation. As a result of implemented special operations attackers were found in passenger traffic and captured.

The second stage of the exercise were worked out practical steps to prevent an act of terrorism, eliminate and minimize its effects.

According to the plan handles tasks contingent armed terrorists seized a train car with a cross in it by passengers as hostages. Criminals put forward obviously impracticable political demands and threatened to kill the hostages in the event of non-performance. The head of the Operational Headquarters in Primorsky Krai was made the only possible decision to force option resolve the situation. Consolidated special combat unit carried out the assault captured the car in which the terrorists were neutralized and the hostages released.

During the special operation to neutralize the terrorists, the script phase involved testing of the task of seizing boats with accomplices of criminals who tried to escape by small boat through the waters of the sea port of Vladivostok. After the failure of the implementation of their criminal intentions, boarding team carried out the seizure boat with the attackers, followed by filtration activities.

Upon completion of the power stage to free the hostages were worked out of the action of the elimination of possible consequences of a terrorist act to prevent all possible scenarios, including on the most worst.

The focus is on the final stage of the exercise on the effectiveness, coordination and cooperation of all involved structures included in the grouping of forces Operational Headquarters in Primorsky Krai.

According to the head of the Operations Staff - Head of the Russian Federal Security Service of the Primorsky Major General IS Kolosov All participants teachings coped with the tasks, the personnel involved structures demonstrated a high level of proficiency and professionalism.