ЗНАКОМСТВА
КРАСОТА
ЗДОРОВЬЕ
ТУРИЗМ
АВТОНОВОСТИ
НОВОСТИ СПОРТА
This year's first group of "visa-free" Japanese people went to the Kuril Islands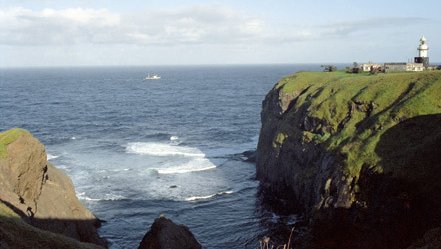 Photo: ITAR-TASS

This year's first group of Japanese in the 62 man went today for visa-free exchange program for the Southern Kuriles. Specially built for such trips ship "Etopirika" from the port of Nemuro on Japan's northernmost island of Hokkaido bring this delegation to the island of Kunashir.

Members of the group are going to, in particular, to visit the Japanese cemetery and hold a series of meetings with local Russian residents. Return to Nemuro is scheduled for May 20.

New ship "Etopirika" specially prepared for transportation of participants visa-free exchanges. Ship of 1124 tons calculated by almost 90 passengers. On the "Etopirike" include lifts for elderly travelers, cabins adapted to move in a wheelchair, as former Japanese residents of the South Kuril Islands are in very old age. The name "Etopirika" is taken from the Ainu language and refers to a species of sea birds.

This year, the Kuril Islands will visit about 30 visa delegations from Japan. The Russian side will travel to Japan, the first group of the Kuril children, they will visit Tokyo.

Visa-free exchanges of this kind carried out in 1991. Since then, the Japanese have visited about 8.5 thousand inhabitants Etorofu and Shikotan. Southern Kurils visited over 18 thousand Japanese.
28-06-2013, 21:31, eng news
Traditionally, the court experts presented projects of the buildings, where this time it was about the most important and critical areas edge of the capital. So, the first was presented a revised...

7-08-2013, 12:46, eng news
In Primorye, came into force a conviction handed down a man who killed two people. The killer of two people hold the colony for over 20 years found that the March 92009 Elbek Kaplanov born in 1980 in...

10-09-2013, 15:51, eng news
Ussuriyskaya Customs reminds of illegal border crossing of cash in large or a large scale, provides for criminal liability. For example, in early September at the customs post Dappa Poltavka Ussuri...

8-08-2013, 18:34, eng news
Deputy Prosecutor General of Russia in the Far Eastern Federal District Yuri Gulyagin confirmed the indictment in a criminal case against the head of the dental clinic of the Jewish Autonomous...

5-03-2013, 10:00, eng news
Customs officers at the checkpoint Ussuriysk "Poltavka" detained Russians who wanted to smuggle into China party trepang. Nearly 7 pounds of dried sea cucumber seized at customs in Ussuriysk Russian...

17-09-2013, 13:57, eng news
More than 17 million rubles from the reserve fund will pay the Government of the Russian Federation, the residents affected by the flood areas of Primorye. Primorye receive compensation from the...
27-04-2013, 18:50, eng news
Accounts receivable of housing and communal services was 10 billion rubles, of which 6 billion - due to non-payment of the population......

16-07-2013, 22:18, eng news
Signs: to look about 20 years, height 165-170 cm, slim build, straight hair and dark in color. Upon detection of the presence or sought information about his possible location has to immediately...
22-04-2013, 19:30, eng news
26 April from 0830 to 1200 in Vladivostok on the Regional Blood Transfusion Station will be an action on blood donation......
21-05-2013, 12:20, eng news
"Sharks or spider" - the second single from the new album Mumiy Troll and the first song written by the group during his world tour (VIDEO)......