ЗНАКОМСТВА
КРАСОТА
ЗДОРОВЬЕ
ТУРИЗМ
АВТОНОВОСТИ
НОВОСТИ СПОРТА
Today in Vladivostok celebrate Day of Slavic Writing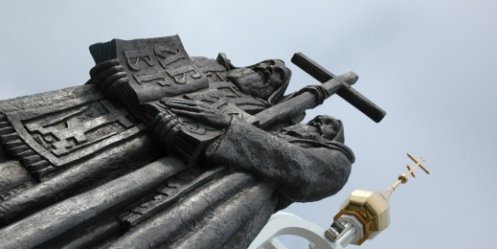 With the assistance of the Primorsky Territory Administration, Municipality of Vladivostok, several NGOs and Maritime Metropolis, in the Primorsky Territory hosts the Festival of Slavic Literature and Culture of the memory of Saints Cyril and Methodius, the Slavic educators.
In the coming days in Vladivostok held a number of events dedicated to the Days of Slavic Writing and Culture.
So, on Friday, May 172013 Gala Evening will be held for the Day of Slavic Writing and Culture "Slavic Spring". The event will be held in Primorye Public Library. Gorky (street Nekrasovskaya 59-a), beginning at 1600.
And Sunday, May 19 at the Vladivostok Pacific Fleet Officers' (street Svetlanskaya 48) - Russian Dance Evening, beginning at 1700.
11-06-2013, 17:15, eng news
In guerrilla five people were injured in an accident involving three vehicles. By a drunk driver speeder hurt a child, "Toyota Harrier" speeding and collided with a moving in the same direction...

22-08-2013, 18:03, eng news
Yesterday, August 21 in Vladivostok Administration held a meeting under the leadership of the mayor Igor Pushkarev on the use of property and land military towns passed from the jurisdiction of the...
5-06-2013, 15:45, eng news
04 June 201319 hours and 19 minutes from eyewitnesses on the telephone fire protection (010) received the call, in which it was reported that in the Лесозаводске the street Labour lit construction...

1-03-2013, 12:03, eng news
More than 50 applications for the photocross "Our City" filed photographers Vladivostok......
11-06-2013, 22:15, eng news
In Primorsky Krai prevented drift and, accordingly, the threat of contamination of Russian territory dangerous quarantine pest plants. Burnt over 2700 copies delivered from the Republic of Korea...
8-07-2013, 23:47, eng news
In addition, the hall in the near future to install additional lighting equipment. The spacious lobby assemble lighting that simulates the starry sky and the signs of the zodiac. Note that the...

25-04-2013, 22:21, eng news
In the Thursday, April 25 in the central Russian TV channels goes "straight line with Vladimir Putin". Citizens addressed to the president of the country more than 1750000 calls and questions....

30-07-2013, 13:17, eng news
Regional Health Insurance Fund of Primorsky Krai became closer to their affiliates. Thanks to new software TrueConf, which is from June of this year is set to TFOMS have six branches of the regional...
27-06-2013, 21:16, eng news
In this framework, the police invited me to visit children's home. Twenty-seven boys aged from 13 to 18 years together they visited the Ministry of internal Affairs of Russia in the city of...

2-07-2013, 16:01, eng news
Bailiffs in the Border Region of Primorsky Krai on Sunday decided to go fishing in Khankaisky area. Bailiffs instead of fish caught offender camp beside them stood a few fishermen. The face of one of...