ЗНАКОМСТВА
КРАСОТА
ЗДОРОВЬЕ
ТУРИЗМ
АВТОНОВОСТИ
НОВОСТИ СПОРТА
Today in Vladivostok celebrate Day of Slavic Writing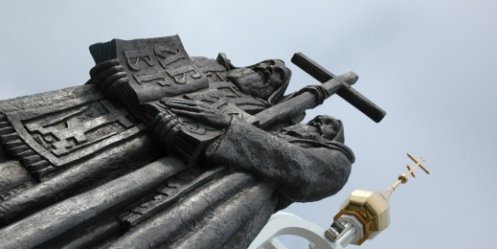 With the assistance of the Primorsky Territory Administration, Municipality of Vladivostok, several NGOs and Maritime Metropolis, in the Primorsky Territory hosts the Festival of Slavic Literature and Culture of the memory of Saints Cyril and Methodius, the Slavic educators.
In the coming days in Vladivostok held a number of events dedicated to the Days of Slavic Writing and Culture.
So, on Friday, May 172013 Gala Evening will be held for the Day of Slavic Writing and Culture "Slavic Spring". The event will be held in Primorye Public Library. Gorky (street Nekrasovskaya 59-a), beginning at 1600.
And Sunday, May 19 at the Vladivostok Pacific Fleet Officers' (street Svetlanskaya 48) - Russian Dance Evening, beginning at 1700.

3-08-2013, 10:32, eng news
The government is preparing to change the rules of putting the qualifying examination and the issuance of driver's licenses. The exam is planned to split into two separate: a theoretical exam and for...
26-06-2013, 11:46, eng news
With respect to the former chief accountant, who was the guarantor of the loan agreement fishing farm "First of May" Shkotovsky district prosecuted. The reason - the willful evasion of payment of...

9-07-2013, 23:00, eng news
The meeting is organized by the Department of International Cooperation and Development Tourism of Primorsky Krai. The administration of Khasan district is waiting for proposals from entrepreneurs...

14-07-2013, 00:01, eng news
The exhibition will feature approximately 29 works from the series "Labyrinth", "limitless" and "Romans". And on July 17 for the guests and the press gallery "Arka" vernissage will take place. From...
17-05-2013, 12:30, eng news
In April Governor of Primorye was among the ten most quoted governors - bloggers. The Governor of Primorye in the top ten most cited According to the company "Medialogia" head of Primorye up in the...

8-08-2013, 18:16, eng news
Transport police in Primorye have collected the required amount of evidence for the court's verdict of guilty against the chief state inspector working at the customs post Lesozavodskaya Ussuri...

2-08-2013, 15:30, eng news
Primorsky Territory Governor Vladimir Miklushevsky today, August 2 is scheduled to visit Terneisky, Kavalerovsky and Dalnegorsky areas. The governor will visit the cyclone-affected areas of head of...

30-04-2013, 17:10, eng news
In Nakhodka Customs criminal case against the captain of a foreign schooner. The vessel was detained for smuggling of strategic resources and commodities on a large scale. For smuggling foreign crab...

24-05-2013, 19:40, eng news
The prosecutor's office in the province within its competence organized an audit of the agency......

9-03-2013, 04:09, eng news
Chinese authorities have accused the Tibetan spiritual leader the Dalai Lama that he financed campaign of self-immolation of Tibetans......