ЗНАКОМСТВА
КРАСОТА
ЗДОРОВЬЕ
ТУРИЗМ
АВТОНОВОСТИ
НОВОСТИ СПОРТА
Sidewalks in the center of Vladivostok "dressed" in paving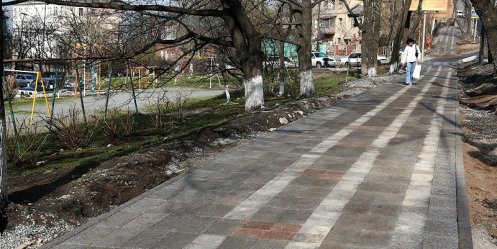 Photo: Press-service of the Vladivostok

The sidewalks on the street first Marine gets a new look. This work is carried out the work on laying new pavement.

According to the press service of the city administration, for the first Marine to its intersection with Posyetskaya to the intersection with Tiger on both sides of the road are setting new granite curbs and granite pavers are laid. This material was chosen because of its experts in the durability and beauty. The surface of the pavement is not slippery, which is important for the safety of pedestrians.

As reported in the management and maintenance of housing facilities in urban areas, to complete the repair work is expected in June.

9-08-2013, 17:00, eng news
Over the past day fire 6 times went by disturbing calls. To eliminate the fire involved 31 personnel and eight vehicles. No dead, 1 injured people. 6 fires occurred in Primorye for the day on August...
12-06-2013, 17:15, eng news
The traffic police Department of Partyzanski district summed up the results of the creative contest «the Main road to children». The participants presented their drawings, poems, limericks, layouts...

25-04-2013, 19:10, eng news
The working group discussed with the leadership of the Massachusetts Institute of Technology cooperation in the establishment Skolteha......
24-08-2013, 16:48, eng news
In the Jewish Autonomous Region, Khabarovsk and Amur region, the confrontation of man and the elements: the rescuers, the military, local residents and volunteers are building levees to protect...
21-05-2013, 17:31, eng news
Just two waste dumps garbage left behind growers from China in the fields Khankaisky district of Primorye. The Chinese soon will spam all fields of Primorye According to preliminary calculations...
20-06-2013, 13:16, eng news
Last week the Department of mining and integrated development of georesources school of Engineering University of graduation papers took place. The ordinary procedure is a bit has changed: on the...

19-05-2013, 14:20, eng news
The mayor of Vladivostok Igor Pushkarev met with the youth of Vladivostok in the Forum, which was held in the loft project "Factory of Dawn."......
26-06-2013, 16:45, eng news
Dance, which will see the whole world, invented and developed ten representatives of choreographic schools of Vladivostok. A few days ago, the organizers sent to all participants of the video-a...

6-09-2013, 18:31, eng news
Palo artists will give 15 concerts in different parts of the region. End holiday program "Primoushen" with a concert on the main square of Vladivostok on October 20. The project is supervised...

6-09-2013, 18:00, eng news
As a result of the joint work of employees of the TFR and the Ministry of the Interior established a person suspected of committing a murder 10-year-old girl in the village of Lazo. Young woman in...