ЗНАКОМСТВА
КРАСОТА
ЗДОРОВЬЕ
ТУРИЗМ
АВТОНОВОСТИ
НОВОСТИ СПОРТА
Sidewalks in the center of Vladivostok "dressed" in paving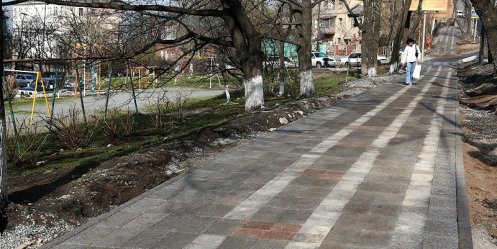 Photo: Press-service of the Vladivostok

The sidewalks on the street first Marine gets a new look. This work is carried out the work on laying new pavement.

According to the press service of the city administration, for the first Marine to its intersection with Posyetskaya to the intersection with Tiger on both sides of the road are setting new granite curbs and granite pavers are laid. This material was chosen because of its experts in the durability and beauty. The surface of the pavement is not slippery, which is important for the safety of pedestrians.

As reported in the management and maintenance of housing facilities in urban areas, to complete the repair work is expected in June.
5-08-2013, 17:45, eng news
As the press service of the Federation of Trade Unions of Primorye Territory, a new piece of laid-off zafikisrovana in razrezoupravlenii "Novoshakhtinskoye" (Michael's district). August 1 lost their...

22-04-2013, 19:10, eng news
In the coming months, the missile cruiser "Varyag" will go on a long trip to the Pacific Ocean during a scheduled visit to several foreign ports of the Pacific. (PHOTOS)......

23-04-2013, 14:10, eng news
The controversy over the uninhabited Senkaku Islands, which discovered deposits of minerals, sharpened between Japan and China in the autumn of 2012......

25-07-2013, 10:18, eng news
Pacific Fleet Commander Vice-Admiral Sergei Avakyants approved the program of major events celebrating the Day of Navy of Russia July 282013 in the Pacific Fleet. In the celebrations will be attended...
10-06-2013, 16:45, eng news
Currently the question on election of detainees in preventive measures. On the fact of robbery in the criminal case. At half past nine in the evening on the remote standby OMVD Russia in the city of...

4-09-2013, 15:31, eng news
Nearly 524 million rubles were spent on the edge lump of social payments to pensioners Primorye. Retirees are invited to receive payment of such information in the first eight months provided in the...

17-05-2013, 10:20, eng news
With the help of "Sberbank Online" Russian cosmonaut Pavel Vinogradov pay land tax, while aboard the International Space Station......

26-03-2013, 14:40, eng news
In the future, more than 2 million tons will be allocated to the planned construction of the Ussuri CHP......

25-03-2013, 08:00, eng news
After working for the project route walking across the bridge over the Golden Horn Bay in Vladivostok. Golden Bridge in Vladivostok According to the Department of Roads of the Primorsky Territory,...

3-09-2013, 01:15, eng news
September 7 at the waterfront in the capital of Primorye Tsarevich host international fireworks festival. Fireworks show will surprise residents of Vladivostok Participation in the event will be a...