ЗНАКОМСТВА
КРАСОТА
ЗДОРОВЬЕ
ТУРИЗМ
АВТОНОВОСТИ
НОВОСТИ СПОРТА
Sidewalks in the center of Vladivostok "dressed" in paving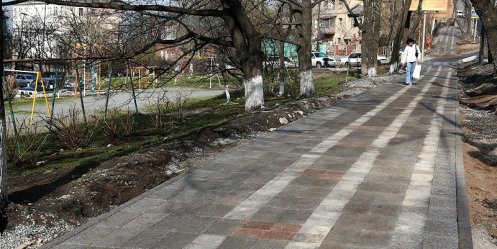 Photo: Press-service of the Vladivostok

The sidewalks on the street first Marine gets a new look. This work is carried out the work on laying new pavement.

According to the press service of the city administration, for the first Marine to its intersection with Posyetskaya to the intersection with Tiger on both sides of the road are setting new granite curbs and granite pavers are laid. This material was chosen because of its experts in the durability and beauty. The surface of the pavement is not slippery, which is important for the safety of pedestrians.

As reported in the management and maintenance of housing facilities in urban areas, to complete the repair work is expected in June.

16-03-2013, 03:00, eng news
Couples from Russia accused of unethical treatment of animals......

17-09-2013, 16:50, eng news
The suspect - a resident of the Primorsky Territory, officially engaged in entrepreneurial activities for the sale of furniture in the city of Nakhodka. Police officers found numerous instances of...

19-04-2013, 11:10, eng news
Ussuri district court in Primorye has sentenced a local resident found guilty of false report of an act of terrorism. For a false report about the explosion punished Primorets In February this year,...

10-09-2013, 22:41, eng news
Quite a different scenario evolved meeting in Novosibirsk, where the local "Siberia" took Vladivostok "Admiral". If in the first period, the game was relatively equal, besides bezshaybovoy and then...

30-07-2013, 19:00, eng news
Action "People's examination" was finished in Vladivostok. As previously wrote RIA «VladNews», participated in the survey 148433gorozhanina, every third adult resident of the city. In addition to the...
24-06-2013, 12:30, eng news
22 June on the territory of the basketball center «Sparta», located in Садгороде, was the first this year's tournament on street basketball 3 x 3 devoted to the opening of the season. Took part in...

8-04-2013, 17:40, eng news
To receive compensation should apply to the district departments control the execution of programs to support the population. (Address)......

9-07-2013, 12:30, eng news
In accordance with the provisions of the Tariff Department of the Primorsky Territory Administration in all the cities of Primorye, set new standards of consumption of hot water in residential areas:...

23-05-2013, 17:20, eng news
Incendiary presenter, the lovely girls from the duo "Crystal", a group of "Coin" impressed the audience with bright, melodic and memorable performances. (PHOTOS)......
11-06-2013, 17:30, eng news
Action «Denounce blood - save life!» dedicated to the world donor day, organized by the administration of Vladivostok in ГБУЗ Regional blood transfusion station (Oktyabrskaya street, 6). June 13 at...