ЗНАКОМСТВА
КРАСОТА
ЗДОРОВЬЕ
ТУРИЗМ
АВТОНОВОСТИ
НОВОСТИ СПОРТА
Sidewalks in the center of Vladivostok "dressed" in paving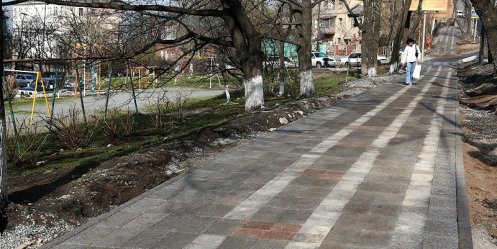 Photo: Press-service of the Vladivostok

The sidewalks on the street first Marine gets a new look. This work is carried out the work on laying new pavement.

According to the press service of the city administration, for the first Marine to its intersection with Posyetskaya to the intersection with Tiger on both sides of the road are setting new granite curbs and granite pavers are laid. This material was chosen because of its experts in the durability and beauty. The surface of the pavement is not slippery, which is important for the safety of pedestrians.

As reported in the management and maintenance of housing facilities in urban areas, to complete the repair work is expected in June.

18-09-2013, 17:55, eng news
In the city of Partizansk a criminal case against the two young men, one of them a minor. The hijackers were detained in Primorye in the night of September 16 of this year from the house on the...

11-04-2013, 13:50, eng news
The winning work will be made in granite and installed on site in Morgorodke species in the area of houses on the street. Ovchinnikov, 26......
3-05-2013, 00:20, eng news
Information service of Radio "Lemma" - News in the full range!......

10-04-2013, 12:00, eng news
Front anti-corruption UFSSP Russia for the Primorye Territory, summarized the work in the first quarter of this year. Held 65 official inspections by 50 civil servants disciplined. Fighting...

2-08-2013, 20:00, eng news
In honor of the holiday in Vladivostok held a memorial rally and a concert. In the morning at the Youth House could meet a lot of blue berets. At 11:00 there began a memorable meeting. Marines...

30-08-2013, 18:04, eng news
For 10 days in Vladivostok trained Daniel Soloviev, Alexey Golyakhov, Ilya Syrovatko, Dmitry Uzinsky, Paul Gromyko, Nikita Gresev, Miguel Artego, as well as boarding students Spartak Yuri Mityuk,...

3-08-2013, 15:01, eng news
On Friday, August 2 Vladivostok ended the match of the sixth round of the championship of Russia in the National Football League. "Ray-Energy" took in his field "Neftekhimik" from Nizhnekamsk. The...

2-08-2013, 15:31, eng news
In the Kirov district of Primorye 29-year-old mother of six does not consider it necessary to provide them with at least the essentials things. Mathieu six children did not consider it necessary to...
29-03-2013, 06:21, eng news
For driver compiled administrative materials, the car put on spetsstoyanku......

18-05-2013, 11:20, eng news
The Dodgers played the "Forex" using money from unsuspecting clients, but came the day when return the money with interest, they just had enough......