ЗНАКОМСТВА
КРАСОТА
ЗДОРОВЬЕ
ТУРИЗМ
АВТОНОВОСТИ
НОВОСТИ СПОРТА
Stained glass windows will have built on Russian kindergarten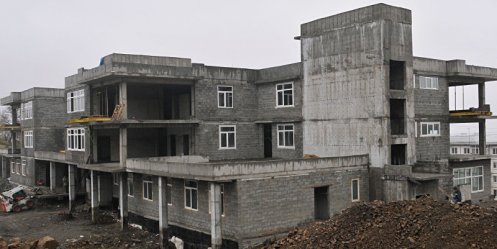 The construction of a kindergarten in the street Russian, 53 is in full swing.
According to the press service of the Vladivostok Administration, working with monolithic structures at the moment is finished, set the internal partitions. Routed network engineering both outside and inside the building. In the near future will begin installation of interior trim and large stained-glass windows.
This kindergarten is created for the same project as in the Snow Pad. The three-storey building has a swimming pool, music and sports halls, a modern catering department, and stained-glass windows teams will get plenty of sunlight. On the territory will be 12 playgrounds. In the pre-school kids will be able to go 230. In addition, during his meeting with the residents of the street Russian Igor Pushkarev assured that the kindergarten will be able to walk and play, and the children who do not attend this particular garden, but live next door.
Recall the construction of the gardens is the program head of Vladivostok Igor Pushkarev on the development of pre-school institutions. In the past four years, the construction and reconstruction of kindergartens were given the opportunity to all children from 4 to 7 years and half of children three years of age, registered in the unified electronic queue, go to pre-school. Since the beginning of 2013 has opened two new kindergartens - "Forest Fairy Tale" on Ugryumova, 42 and the "Crane" on Sakhalin, 37a. Construction and repairs are carried out on Balyaeva, 48 Nekrasov, 76 fir, 33 Neybuta, 47-b, Gulbinovicha, 4 and Makovsky, 201. In addition, under the control of the mayor, the future construction of the gardens at the Sverdlov, and Tereshkova.

3-04-2013, 06:20, eng news
"Bass XXI Century" in Vladivostok perform a single concert, which would be unforgivable to miss......
30-04-2013, 12:10, eng news
Primorsky Krai Administration announced a very unusual tender - officials want to purchase four hundred packages of chewing gum with different flavors. The tender for the purchase of gum Maritime...

20-03-2013, 05:30, eng news
Sailors recalled the promise President - retrofitting submarines, to create conditions for military families. (PHOTOS)......

31-08-2013, 01:31, eng news
Municipal bus number 44-D today began carrying passengers on the line "Coal - Spring - Second River." This - not duplicating other municipal route - № 45 which runs from Coal Train Station. Because...

13-08-2013, 17:15, eng news
Competitions World Cup Rally-raid on aquabikes will meet all international safety standards. In all watercraft will be installed GPS-trackers, you can use them to send a distress signal and...

7-03-2013, 08:06, eng news
As of March 2013 Far East Bank OJSC "Sberbank of Russia" are issued to customers over 104 billion rubles. credit......

4-07-2013, 14:17, eng news
Откроет программу мероприятий торжественный митинг памяти в центре Владивостока. Здесь состоятся парад воинов-тихоокеанцев, праздничный концерт, показательные выступления. Мероприятия продолжатся в...
3-06-2013, 14:40, eng news
In Primorye, a criminal case against two inspectors examination department of traffic police - they are accused of bribery. Also, a criminal case against the director of a driving school "Master" for...

2-09-2013, 17:31, eng news
In Pervorechenskij near Vladivostok police distribute leaflets with numbers five thousandth of counterfeit bills that are supposedly now in circulation in Primorye. Fake bills five thousandth "walk"...

12-08-2013, 16:32, eng news
Surprisingly, sometimes completed cases of corruption - seems to be delaying the official for a large bribe. And then it turns out that this is not a bribe (for which provided millions in fines), and...