ЗНАКОМСТВА
КРАСОТА
ЗДОРОВЬЕ
ТУРИЗМ
АВТОНОВОСТИ
НОВОСТИ СПОРТА
Activists from Vladivostok asked to help a shelter for dogs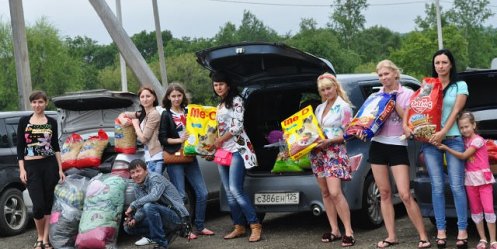 The initiative group "Helping Together" reiterates its call to all caring citizens of Vladivostok and Primorsky Krai.
May 25 planned another trip to the shelter of homeless animals in Kiparisovo. Remember that at the moment there are more than 200 inhabitants tailed, and pulls the shelter heroic woman - Zoe Andryushchenko.
"I would like to thank all those who helped us through this cold and long winter, made a trip with us, transfer money, handed feed and stuff, and the guys in my group for their assistance in organizing, training camp and the trip itself" - Says the founder of the group "Help TOGETHER" Oksana Kudashova.
- Now spring, the ground has thawed, and we are once again on their own will attempt to rebuild the shelter - at the moment, more than half of the pupils are still without kennels and cages. Each of us would have thought - oh well, they are the same animal can sleep in the snow. But none of us will drive a cold snowy night your pet to sleep in the open air. If we call ourselves human beings, and are expected to behave like humans. But people tend to traits such as compassion, experience and mutual assistance. After all, homeless animals are not to blame for the fact that they do not have a loving family, but they also want to live and be loved. So let us be humane and each contributed his bit of help.
By May 25 we are collecting funds for building materials for the construction of kennels and cages, as well as animal feed and cereals. We would be grateful for any input.
How to help: 1) "Hungry phone" Beeline 8-967-959-12-55 on which you can enroll any amount, just like on your phone in any payment terminal, a room attached to a credit card, 2) Savings Card 4276850054839789.
Who wants to pass any drug product or assistance, please call 8-908-993-8881 or 8-902-481-6200 - Nina.
And on all the issues and proposals:
89502816800 - Oksana
295-80-20 - Marina
89502845686 - Anna
The group at classmates

11-04-2013, 20:50, eng news
Not the first time gradsovet "the bones" project examines the cultural and entertainment complex on Dalzavodskoy, 31. Another discussion was held today. At this time the board meeting attended by...

9-08-2013, 17:15, eng news
Under the new law, drivers on highways are allowed to accelerate to 130 km /h, and on ordinary roads - up to 110 km /h It also introduces a new term "parking". As for the Primorye Territory, the...

20-05-2013, 11:20, eng news
The air forces of Japan were put on alert, despite the fact that the airspace was not violated......

19-04-2013, 18:00, eng news
National food does not give up under the onslaught of Japanese sushi, but is undergoing some changes. Instead of traditional dumplings you can apply those in which the filling consists of soup and...
15-05-2013, 19:20, eng news
The deputies unanimously adopted amendments City Council Speaker Elena Novitsky......

4-04-2013, 12:30, eng news
Vladivostok arrested car thief hunted thefts in the village of Labor. The investigation revealed that almost all stolen cars seaside "Detochkin" later burned as useless. As the press-service of...
16-04-2013, 19:20, eng news
In connection with the procession on the eve of the Victory Day in the street Russian also restrict parking......
14-06-2013, 16:46, eng news
On the square of the Fighters of the Revolution continues food fair. More than 200 representatives of peasant farms and producers from Vladivostok, Arseniev, Lesozavodsk, Spassky, Oktyabrsky and...

11-09-2013, 15:20, eng news
Into the ill-treatment of animals by the police Investigative Committee in the Primorsky Territory conducts preliminary inquiry. Information about what to Nakhodka on Kirov Street police shot dead...

26-03-2013, 10:40, eng news
In a friendly match Russian team opened the scoring in the 73rd minute, the 90th minute, the Brazilians were able to win......