ЗНАКОМСТВА
КРАСОТА
ЗДОРОВЬЕ
ТУРИЗМ
АВТОНОВОСТИ
НОВОСТИ СПОРТА
Activists from Vladivostok asked to help a shelter for dogs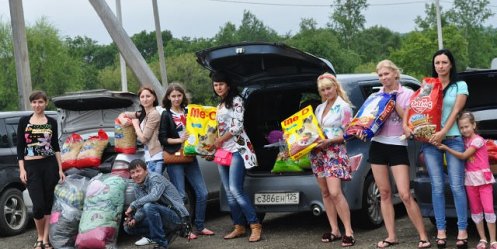 The initiative group "Helping Together" reiterates its call to all caring citizens of Vladivostok and Primorsky Krai.
May 25 planned another trip to the shelter of homeless animals in Kiparisovo. Remember that at the moment there are more than 200 inhabitants tailed, and pulls the shelter heroic woman - Zoe Andryushchenko.
"I would like to thank all those who helped us through this cold and long winter, made a trip with us, transfer money, handed feed and stuff, and the guys in my group for their assistance in organizing, training camp and the trip itself" - Says the founder of the group "Help TOGETHER" Oksana Kudashova.
- Now spring, the ground has thawed, and we are once again on their own will attempt to rebuild the shelter - at the moment, more than half of the pupils are still without kennels and cages. Each of us would have thought - oh well, they are the same animal can sleep in the snow. But none of us will drive a cold snowy night your pet to sleep in the open air. If we call ourselves human beings, and are expected to behave like humans. But people tend to traits such as compassion, experience and mutual assistance. After all, homeless animals are not to blame for the fact that they do not have a loving family, but they also want to live and be loved. So let us be humane and each contributed his bit of help.
By May 25 we are collecting funds for building materials for the construction of kennels and cages, as well as animal feed and cereals. We would be grateful for any input.
How to help: 1) "Hungry phone" Beeline 8-967-959-12-55 on which you can enroll any amount, just like on your phone in any payment terminal, a room attached to a credit card, 2) Savings Card 4276850054839789.
Who wants to pass any drug product or assistance, please call 8-908-993-8881 or 8-902-481-6200 - Nina.
And on all the issues and proposals:
89502816800 - Oksana
295-80-20 - Marina
89502845686 - Anna
The group at classmates

4-07-2013, 19:46, eng news
Two residents of Primorye, among others, the Russians received the highest award from the President of Russia. Primorye won awards ceremony of the President, which honored businessmen, athletes,...

15-08-2013, 10:01, eng news
OWEN. Try not to demand too much from loved ones and remember that even they can not always guess what your secret desires and hopes. A great way to cheer up meetings with friends and various social...
8-05-2013, 17:30, eng news
The victim of a swindler in Primorye was detained in the detention center. Moreover, a large sum of money from a man stole a police officer on duty. Rascal and police go to court crime was committed...

15-03-2013, 06:42, eng news
In 2013 it is planned to reconstruct and put into operation three hectares of greenhouses - FSUE "Far" is being upgraded......
17-07-2013, 19:47, eng news
As RIA «VladNews» the press service of Rosselkhoznadzor for Primorsky Krai, in the course of the state veterinary control for entering the Russian Federation in animal products, veterinary...

13-05-2013, 14:20, eng news
One of the most exciting events for vladivostoktsev Victory Day was the march of the Immortal Regiment. The following year the number of participants in the march were expecting much more. (PHOTOS)......

15-03-2013, 10:30, eng news
Investigators in the Primorsky Territory completed the investigation of the criminal case against former bailiff. He is charged with forgery and embezzlement of money. Police officer to manage the...

16-04-2013, 09:00, eng news
In Primorye, in places at night light precipitation (snow and rain), light rain in the afternoon. Wind west, southwest umerennyy.Temperatura night air +1 -12 ° C, day +1 +13 C......

3-07-2013, 11:16, eng news
Дело в том, что в этот вечер в краевом центре нашла свое продолжение полюбившаяся многим горожанам и гостям приморской столицы акция «Ночь музеев». А проходила она в зданиях музея им. Арсеньева....
24-06-2013, 12:31, eng news
But the need to refill fuel his scooter ended for the debtor to unpleasant consequences: now the «iron pony can buy anyone. The court decision about the debt in the amount of USD 9 thousand rubles in...