ЗНАКОМСТВА
КРАСОТА
ЗДОРОВЬЕ
ТУРИЗМ
АВТОНОВОСТИ
НОВОСТИ СПОРТА
In the "Immortal shelf" with a portrait of his great-grandfather was the eldest son of the head of Vladivostok Igor Pushkarev
Photo: Press-service of the Vladivostok

For the first time this year, Beijing joined the nationwide "Immortal regiment."

More than 300 residents after the victory parade passed through the main street of Vladivostok with portraits of their grandfathers and great-grandfathers fought, which are now no longer with us. Portraits of people that gave us peace and freedom, bore children and adults. In the seaside capital procession "Immortal Regiment" was the most exciting event.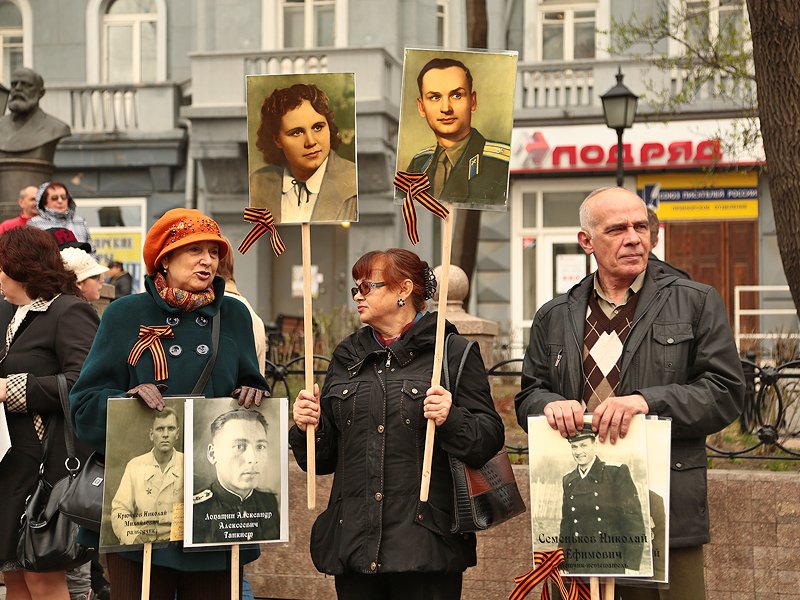 The motto of the campaign - "They have to go to victory formation at all times ". Vladivostok is not only expressed a tribute to our heroes, but also combined generation. Among came with portraits of their relatives who fought in the Great Patriotic War, and was the eldest son of the head of Vladivostok Igor Pushkarev - Pasha Pushkarev. Together with his family, holding a photograph of his great-grandfather, he was in a convoy.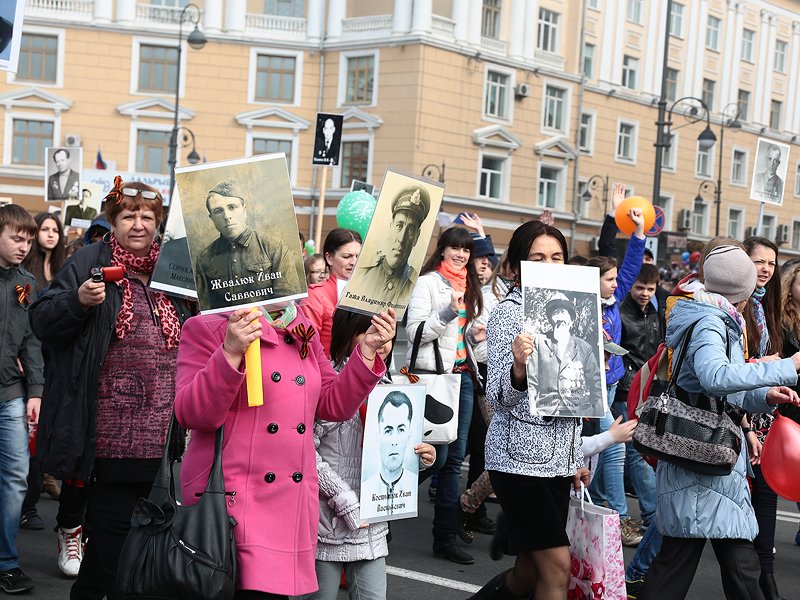 "I came to pay tribute to those who fought in the war. Including his great-grandfather, who came to Berlin," - Said Pasha.

19-08-2013, 18:30, eng news
At night in the Monday, August 19 the Center for Crisis Management, it was reported that on the mountain that Pidan Shkotovsky area from 18 pm Aug. 18 search one of the tourists - a citizen of South...

19-04-2013, 00:00, eng news
By volunteers will be implemented 12 social projects, among them - "an hero", "good day", "family lane" and others......

16-04-2013, 16:00, eng news
Total investment in its implementation is more than 2 billion yuan. The first phase of installations can desalinate up to 200 thousand tons of sea water per day......

5-08-2013, 17:48, eng news
Distinctive, unique culture of Latin America will present artists from Ecuador, Mexico, Brazil, Argentina, Colombia, Chile, Nicaragua, Uruguay, Venezuela and other countries. This celebration of...

9-07-2013, 12:30, eng news
As reported by the Department of Education and Science of Primorsky Krai, Russian language passed 462 people, chemistry - seven people. Another five have chosen to sit for science, 47 - story....

4-04-2013, 05:20, eng news
The Festival of Arts on the basis of the Beijing Dance Academy was attended by about three thousand Russian and Chinese children. Competitions were held in the theater, circus, music, dance venues......
18-05-2013, 18:20, eng news
Far East for housing orphans contributed nearly 2 billion......

24-04-2013, 18:10, eng news
In each of the 11 cars that will take part in the rally and competition in a special child restraint will be a little navigator......

30-04-2013, 13:00, eng news
Today in Vladivostok on the eve of the Victory Day celebrations on behalf of the mayor Igor Pushkarev began to wash the monuments. (LIST, PHOTOS)......

28-08-2013, 22:02, eng news
This summer, especially in August pleasing hot weather and warm sea. Naturally, at the city beaches there is a full house. However, it has already recorded a number of incidents involving tourists,...