ЗНАКОМСТВА
КРАСОТА
ЗДОРОВЬЕ
ТУРИЗМ
АВТОНОВОСТИ
НОВОСТИ СПОРТА
North Korea urges residents to "fight for rice"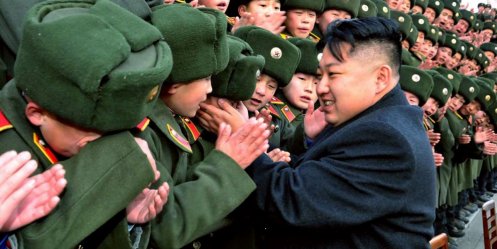 Photo: NHK

The organ of the Workers' Party of North Korea, "Rodong Sinmun" published an editorial, which calls on all citizens to "fight for rice."

In the note indicated that the current situation requires the people of North Korea full of food independence from other states.

It is noted that if the country has enough food, it can continue to develop the economy and its nuclear program, despite the opposition of the United States and joined their conspiracy of other states.

Observers have noted that North Korea reduces its military buildup and mobilizes the people in the country to overcome the acute food crisis. Each year, North Korea lacks food, which is estimated at about one million tonnes.

22-03-2013, 06:16, eng news
A year ago, a man, drunk, he quarreled with his wife and took his shotgun......
6-06-2013, 13:45, eng news
For the first time in the history of hiking sailors dropped anchor in the Kamchatka-based Pacific Fleet submariners - Vilyuchinsk......
25-07-2013, 15:16, eng news
In Spassky's briber sentenced to a heavy fine. As told to the correspondent of RIA «VladNews» Senior Assistant Attorney Primorye Elena Telegina, Spassky District Court handed down a guilty verdict...

21-09-2013, 14:11, eng news
September 20 to maritime lawyers who took part in a seminar on retraining and skills development, made by Alexander Ognevsky - Editor RIA «VladNews» and IA «Primorye24». The seminar was attended by...

18-09-2013, 09:34, eng news
In early autumn, she starred in the music video for the song of the singer Nikita "Go Forward". In a new video, reminiscent of a trendy art-house, turned the whole tragic story of a young girl who...

20-09-2013, 00:17, eng news
Today in the 1st section of the world Leninsky district court decision should be made in respect of Sestaro Michael Keith, a member of the U.S. Consulate General, who was arrested on 26 August 2013...

12-07-2013, 15:30, eng news
Vladivostok and Suifenhe share their culinary traditions in the "Festival of culture and cuisine of Northeast Asia,"......
4-06-2013, 19:46, eng news
In Vladivostok continues its work the exhibition «Beauty, girls and other persons» in the Primorsky state picture gallery. The exposition represents a collection of rag dolls, collected Tatyana...

24-05-2013, 11:20, eng news
The child's life is out of danger. The girl will be received psychological help......

22-05-2013, 18:30, eng news
In June of this year in the capital of Primorye will open a French visa center. French Consulate opened in Vladivostok during his visit to Moscow in February this year, President of the French...