ЗНАКОМСТВА
КРАСОТА
ЗДОРОВЬЕ
ТУРИЗМ
АВТОНОВОСТИ
НОВОСТИ СПОРТА
Chapter congratulates the citizens of Vladivostok on Victory Day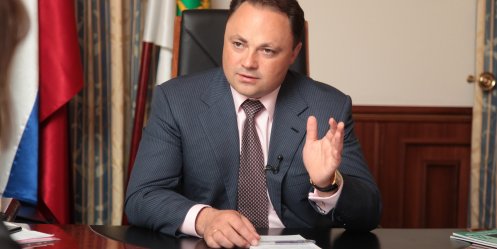 Head of Vladivostok Igor Pushkarev congratulated veterans and other citizens on May 9.
Dear veterans, residents and guests of Vladivostok!
I sincerely congratulate you on the great holiday - the Day of Victory.
68 years ago, spring day, May 9 was announced as expensive which gave the victory to our people. Country tearfully happy offensive long-awaited peace. Victory Day was the most important, expensive, and holy holiday.
Dear veterans! You survived the difficult war years, survived, showed unprecedented courage and heroism! And today, we are indebted to you. Our common goal - to surround you with care and attention.
I wish you good health, prosperity, peace and good.
Happy Victory Day!
The head of Vladivostok Igor Pushkarev

8-09-2013, 00:23, eng news
64-year-old professor and former athlete sure if Tokyo will choose to host the 2020 Olympics, this circumstance will be a great occasion for the Olympic Committee to include the game in the list of...

14-07-2013, 00:01, eng news
"I have already said that Vladivostok need a strong mayor. The man we now put forward as a candidate to go to the polls with the party program. He should at the pre show voters the specific...

23-04-2013, 17:10, eng news
Outside Japan, the flagship Mazda will meet only in the capital of Primorye. (PHOTOS)......

23-07-2013, 16:01, eng news
A woman reported that in October clinic down the street she was attacked by an unknown man, stealing a bag of documents and a large sum of money. Arrived on the scene investigative team. The police...

16-08-2013, 17:30, eng news
Police and representatives of the FMS every day carry out raids on markets Primorye During one of these visits in the capital of Primorye seized tracksuits and T-shirts Olympiad "Sochi-2014"....

21-04-2013, 18:10, eng news
Necessary for treatment in Korea in the amount of 200 thousand dollars her parents can not collect, they decided to come to the aid of professional artists Vladivostok. (PHOTOS)......

8-03-2013, 09:52, eng news
The famous singer is not the first time arrives in the capital of Primorye - his last concert was a huge success......

5-09-2013, 18:00, eng news
Police regional center "hot pursuit" room thief arrested after it went into housing due to carelessness of the owners. A thief arrested in Vladivostok in the duty of the police in Vladivostok turned...

8-08-2013, 23:45, eng news
Khankaisky District Prosecutor's Office audited the compliance KGBUZ "Khankaysky CRH" legislation on health care and sanitary-epidemiological welfare of the population, which resulted in the breach...

26-07-2013, 13:48, eng news
On September 12013 shall come into force new amendments to Article 28 of the Federal Law "On the Road Safety", toughening penalties for drivers who do not care about the safety of their children. New...