ЗНАКОМСТВА
КРАСОТА
ЗДОРОВЬЕ
ТУРИЗМ
АВТОНОВОСТИ
НОВОСТИ СПОРТА
Russian festive television project "Victory Day" began in Vladivostok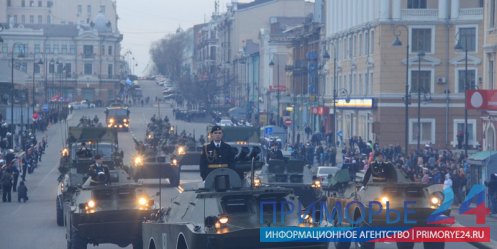 Photo: Alexander Vasilyev

Today, May 9 from 10:00 on the TV channel "Russia-1" forces of creative groups STRC "Vladivostok" live on the edge all the shows celebratory parade in the central square of Vladivostok.

And at 12 am, the parade will be shown in the record on the channel "Russia-24" is already on the entire country. The parade will start in Vladivostok All-Russian TV project "Victory Day". During this unprecedented action holiday strode across the country according to time zones. As a result, viewers will be able to see how the Day of Victory in the Far East, Siberia, the Urals and central Russia.

Then, at 17 pm at the Vladivostok time this telethon will broadcast live from the main parade in honor of the Russian Victory Day in Moscow's Red Square. So Victory Day will bring together the entire country, from Vladivostok.

30-03-2013, 05:00, eng news
Since the beginning of the activity in Primorye turned over three thousand individual entrepreneurs. The reason - the increased insurance fees......

19-03-2013, 07:06, eng news
To save small schools in rural areas of Primorye will use distance learning......

13-08-2013, 11:48, eng news
The new office is self-Sberbank appeared on the street. Sverdlov, 43 in Nakhodka. Now, residents of the city are around the clock to carry out a wide range of operations with your accounts: to remove...

29-07-2013, 12:47, eng news
As reported in the Department of Public Utilities and fuel resources of Primorsky Territory, Primorye, the Fund will receive 97.9 million rubles. In order to co-finance 4577 million rubles will be...
24-06-2013, 17:01, eng news
At the customs post at the border Ussuri customs Russian citizen who goes to China was discovered jade weighing 23.5 kilograms. Russian customs authority showed the passenger customs declaration for...
13-05-2013, 17:21, eng news
For Thailand, followed by South Korea and Japan. The United States and France took fourth and fifth place......

2-09-2013, 17:31, eng news
The investigating authorities in Primorye have completed work on the criminal case against 42-year-old local resident. He is accused of causing death by negligence. Primorets, who shot his friend...

5-08-2013, 17:46, eng news
Employment centers of Primorye are ready to offer jobs to unemployed citizens, with a special mode of operation. A special mode of employment - is part-time, part-time, flexible working hours, shift...
22-06-2013, 17:32, eng news
Yesterday at the Law school of the far Eastern state University was held a scientific seminar on the theme «Optimization of legal policy and the decriminalization of public relations: Federal and...
22-05-2013, 11:20, eng news
JSC "DVEUK": gross violations of building codes jeopardize the reliability of electricity supply to consumers. Russian......