ЗНАКОМСТВА
КРАСОТА
ЗДОРОВЬЕ
ТУРИЗМ
АВТОНОВОСТИ
НОВОСТИ СПОРТА
Poachers Khabarovsk-kept home tonne and 30 kg of sturgeon caviar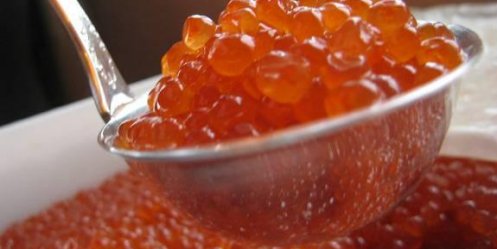 In the Khabarovsk region police seized from poachers more than a ton of sturgeon fish species and about 30 kg of caviar. On it informs "Interfax" referring to the press service of the Ministry of Internal Affairs in the region.
"In the village of nigiri Nikolaev region in 23-year resident of the garage discovered 126 kg of sturgeon fish species. At a makeshift freezer in the yard of another home in 39-year-old woman police found and seized 976 kg and 30 kg of sturgeon caviar" - Told the government.
According to police, the total damage caused to the state of illegal fishing in the Red fish was about 1 million.
Poached fish killed caterpillar bulldozer on a garbage dump in the village in the presence of Lazarev chief of staff and two witnesses, says the agency.

20-05-2013, 10:20, eng news
For this purpose, according to the policy, it is necessary on the basis of the disputed islands to create a free trade zone for the two countries......

19-03-2013, 10:56, eng news
Ceremonies dedicated worker of the All-Russia Day, held in Vladivostok, from 19 to 20 March......

8-07-2013, 12:30, eng news
From 6 to 7 July in Vladivostok, in the waters of the Pacific Fleet water station, pass-Russia competitions - 10th Open Regatta rowing boat "Dragon". The regatta is dedicated to the events on the...

16-04-2013, 09:00, eng news
In Primorye, in places at night light precipitation (snow and rain), light rain in the afternoon. Wind west, southwest umerennyy.Temperatura night air +1 -12 ° C, day +1 +13 C......
5-06-2013, 20:17, eng news
Hot water supply of consumers of Vladivostok will be disabled with 16 hours of June 5 to 12 hours on 6 June at the following addresses: • Aleutian, 3841 • battery-4/6 8 • Western, 27 • red banner...

14-08-2013, 18:34, eng news
September 5-6 in the central square of Vladivostok will host the exhibition-fair "food Maritimes" and the festival of milk. As reported by the Department of Agriculture and Food of the Primorsky...

5-08-2013, 17:46, eng news
Employment centers of Primorye are ready to offer jobs to unemployed citizens, with a special mode of operation. A special mode of employment - is part-time, part-time, flexible working hours, shift...

2-08-2013, 15:45, eng news
As a result of activities in the apartment, located in a house on the street of Kalinin, were found five syringes with an oily brown substance. The seized syringes and their contents were sent for...

29-04-2013, 16:00, eng news
To help the third hospital in Vladivostok you can count on any day and at any time......
19-06-2013, 13:30, eng news
18 June, in the gallery «ARKA» exhibition «Prize Pacifica (USA - Russia), organized by the far Eastern state Academy of arts, Institute of public diplomacy «Track II» (San Francisco, California) and...