ЗНАКОМСТВА
КРАСОТА
ЗДОРОВЬЕ
ТУРИЗМ
АВТОНОВОСТИ
НОВОСТИ СПОРТА
In Vladivostok, commemorated TINRO employees who died in the Great Patriotic War of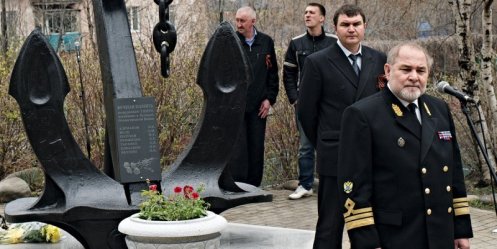 Today, May 8 on the eve of the 68th anniversary of the Great Victory Monument staff at the Pacific Research Fisheries Centre, who died during the Great Patriotic War, the head of the regional capital of Igor Pushkarev, veterans, members of TINRO Center honored the memory of fallen soldiers.
"Victory Day - the most sacred holiday in our country, - Said Igor Pushkarev. - Grateful and kowtow to our veterans for the victory, good health and long life, and only the peaceful sky of winners".
Honored the memory of fallen soldiers a moment of silence. The memorial, established on the basis of TINRO center, laid flowers.

14-04-2013, 13:00, eng news
13-year-old pupils Artyomovskaya boarding school were taken from well-off peers money and cell phones......

11-03-2013, 07:30, eng news
Today at Riviera launched the first stage of the All-Russian operative preventive action "together, where they sell death." In Primorye, started the action "together, where they sell death" first...

24-05-2013, 11:31, eng news
In the Thursday, May 23 in the basement of a house on the street in Vladivostok Mussorgsky's body was found the home owner was born in 1955 with signs of violent death - gunshot wounds to the head...

25-04-2013, 09:10, eng news
Given the changes in the territorial fund revenues in 2013 amounted to 17.3 billion rubles, expenses - 17.8 billion, the deficit - 503 million rubles......

5-09-2013, 18:16, eng news
The exhibition will take place on the second floor of the cinema "Ocean" - where you can immerse yourself in the world of the Arctic and the Antarctic. The organizer of the exhibition were made by...

16-03-2013, 06:28, eng news
Sports minister Vitaly Mutko will discuss with Vladimir Miklushevsky held in Primorye international competitions......
17-06-2013, 19:31, eng news
The appointment of the Minister of economic development Andrei Belousov the post of the Advisor of the President will be held during this week, according to Forbes, citing a source close to the...

23-07-2013, 15:46, eng news
Last night in the police district of Vladivostok Pershamaiski approached by a woman who lives down the street of Kharkiv. She said that the elevator can hear the sounds of fighting. A drug addict...

21-09-2013, 19:24, eng news
Investigative agencies of the Investigative Committee of the Russian Federation in the Primorsky Territory criminal case against the chief of planning areas (the objects of the APEC summit) planning...

1-07-2013, 11:45, eng news
Local resident is in the dispensary at a medical facility with lung disease since 2007. In February 2013 the patient was recorded deterioration in health status, however, on the proposal of the...